South African-inspired dishes with locally foraged ingredients make the arrival of Kudu in Peckham one to put on the to-try list.
Test Drive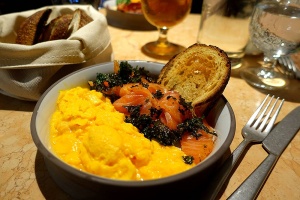 We swung south of the river for a top Saturday brunch and came away wanting to try loads more of the menu at this new Peckham opening. ...
Restaurant details
Address: 119 Queens Road, Peckham, London SE15 2EZ
Telephone number: 020 3950 0226
Nearest station: Queen's Road Peckham
More info
Find them on Twitter|Find them on Facebook|Find them on Instagram
Critic reviews - total score 8 out of 10

Ben Norum
Evening Standard
Reviewed on January 26, 2018
"A succession of small plates which pack big flavours kick off with traditional pan-cooked South African bread and a pot of melted seafood butter for mopping up with it - an indulgent kick off and a sign of things to come."
READ REVIEW