They've been a fixture of Street Feast for many a year, but now Breddos have opened their first restaurant. Expect tacos, tostadas, tortilla-based Mexican pizza tlayudas and more.
Test Drive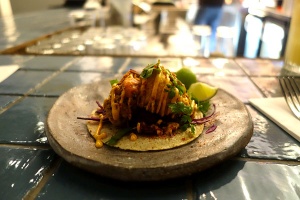 London's taco credentials are massively boosted by the arrival of Breddo's in Clerkenwell
Read more
Restaurant details
Address:
82 Goswell Rd, London EC1V 7DB
Telephone number: 020 3535 8301
More info:
No reservations
Map
82 Goswell Rd, London EC1V 7DB
Critic reviews - total score 8 out of 10

Laura Richards
Time Out
Reviewed on February 03, 2017
"Make no mistake – these are some of the most creative soft shells in town, blending trad Mexican salsas with global ingredients: from the masa fried chicken, made famous in their stall days, to a pig's head cochinita pibil, the nicely fatty meat served with a fiery Mayan 'x ni pek' salsa."
READ REVIEW

Marina O'Loughlin
Guardian
Reviewed on January 06, 2017
"This isn't Mexican food. Or Tex-Mex food. Or even the kind of ingredients-led Mexican food I ate recently in Arizona. It's a mad, chaotic fusion where, if the flavour is big enough, it's in."
READ REVIEW