Chicken wing with sanbei glaze and caviar
So what do we need to know about Xu?
If we tell you that's it's the new restaurant from the team behind the hugely successful Bao restaurants, that should really do it. I mean, given that track record, who wouldn't want to try out their new place? But if you'd like to know a little more, this is a new direction for Erchen Chang, Shing Tat Chung and Wai Ting Chung. They've moved on from the canteen/counter dining style of the two Bao to something which looks like it's been dropped on Piccadilly from 1930s Taipei.
How do you actually pronounce it?
We spent ages going around referring to it as shu but it's actually sue.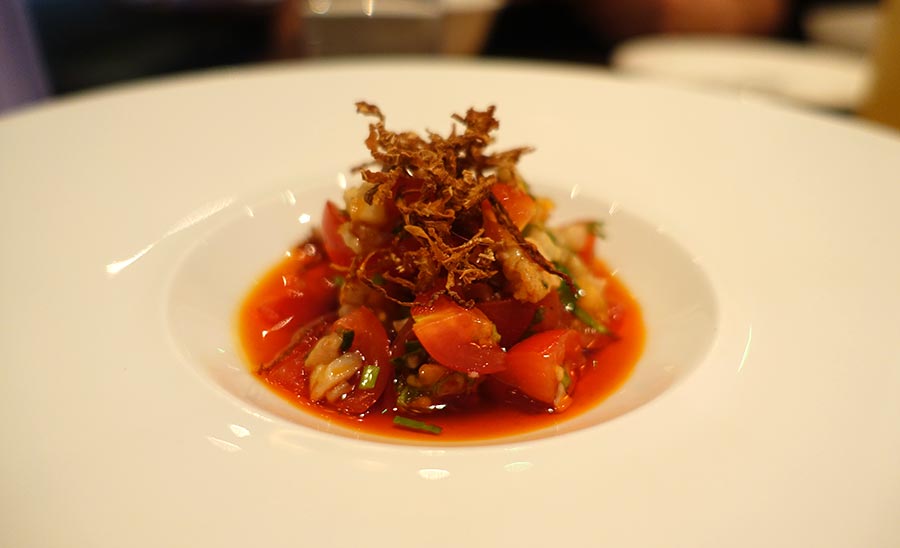 Tomato and smoked eel with dried soy daikon
And where is it?
Right beside Palomar on Rupert Street. It used to be an old school Italian called Franco's.
Where should we sit?
Xu has two floors of dark wooden panelling, ceiling fans and booth seating. On the ground floor there's room for 24 diners, a special Taiwan tea booth dispensing teas and, at the back, two semiprivate mahjong tables. Right now they're bookable along with all the other tables, but feature a set menu. But there are plans for these to be booked for special feasting menus. After dinner, your dishes are cleared away and the table top flips to allow you to play.
Upstairs is a slightly larger dining room where solo diners might like the counter dining up at the bar. We loved our table for two with hidden compartments under each seat for our jackets and bags.
Pork pancakes with vinegar and chilli oil
And the food?
For lunch and pre-theatre there's a great value, two course set menu for £19.50. Push the boat out a little more and a £35 three course set menu takes you through the restaurant's key dishes from lotus crisips and beef and marrow pancakes to the must-have dish of Char Siu Iberico pork collar.
Really the menu reads like a dream. Your best bet is coming in a group of four so you can try more things off it.
There are seven sections - Taiwanese bak kwa (jerkey), xiao tsai — bar snacks, mian shi - dumplings, buns, pancakes; mains; classics - the aforementioned pork and shout pa chicke a whole marinated chicken, torn apart and served with chicken skin dip (£18.50); and then vegetables and rice. But no desserts.
What to order?
We'll try and narrow down our favourite dishes from our deeply piggy order. It's hard, but from what we had, this is what you really shouldn't go home without trying:
Tomato and smoked eel with dried soy daikon (£5.25) - Fay Maschler was right. We're not even big fans of smoked eel and we loved this.
Cuttlefish toast served with whipped cods roe (£5)
Xian Bing - two pork pancakes with a vinegar and chilli dipping sauce (£5.50)
Chilli egg drop crab - served with fermented shrimp and garlic (£14.50) - a dish of fire and umami
Char Siu Iberico pork (£18.50) - just wonderful
You're probably going to need some steamed rice with this, but if you can manage it the oyster congee made with Jersey rock oysters and taro (£7) is also pretty special.
Cuttlefish and prawn toast with whipped cods roe
What about drinks?
From a brief cocktail menu we picked Takkiri (10 Year Oolong, Kavalan Single Malt and Curdled Milk Soda) - £9.50 and Lo Tsui Ke (Hong Yu Tea, Gin, White Miso and Apple) - £9 and thought the former just edged ahead. If you find choosing hard, sit up at the bar and order the cocktail Tasting Menu of three sake-based cocktails for £35. The wines are pretty punchy - only two under £30 and then it rises pretty sharply topping out with a Burgundy Pinot Noir at £100. But our Gruner Veltliner at £33 seemed to go with most of what we ordered.
Overall thoughts?
It's been a while since we were last in a restaurant that was so obviously going to be a huge hit. It looks amazing, the menu has all manner of dishes to excite and entice and the service was great - our waiter who'd been in hospitality, gone on to college, but couldn't resist the lure back, was just great. Your only problem is going to be getting a reservation, but persist - it's worth it.
What: Xu
Where: 30 Rupert Street, London W1D 6DL
How to book: Call 020 3319 8147
Hot Dinners were invited to Xu. Prices are correct at the time of writing.