Manx Loaghton Rib & Asun Relish
What can you tell us about Ikoyi?
Run by co-founders Iré Hassan-Odukale (front of house) and Jeremy Chan (Head Chef), it has its roots in classic West African cuisine, but with something of a modern take. Chan certainly has the pedigree, having worked at Heston Blumenthal, Noma and Hibiscus. It's a relatively unique offering on the London dining scene - more of that in a bit.
Where is it?
It's in the relatively new St James's Market space that's just off Haymarket, where you'll also find Duck and Waffle and Aquavit among others. Just a couple of minutes walk from Piccadilly Circus.
Beef Suya Blade & Traditional Condiments
Where should we meet for a drink first?
Despite St James's Market being built more or less from scratch, it could really have done with someone planning in a new bar for the area. Although you can grab a drink at next-door Aquavit, you can also head a little further afield into the outskirts of Soho. We personally had an aperitif while propping up the bar at Mele e Pere afterwards.
And how about in the restaurant itself?
The restaurant is a small affair - but there are a couple of stools at the bar if you're waiting for a table.
Anything we should start with?
The menu's blissfully short and one which should change regularly but you should head straight for the snacks while you're making up your mind on the main event.
The Chicken oyster, tamarind and penja pepper make for a perfect bite size snack (and we do like a chicken oyster) while the buttermilk plantain is a must - coming with smoked scotch bonnet sauce that gave the right kind of kick without overwhelming.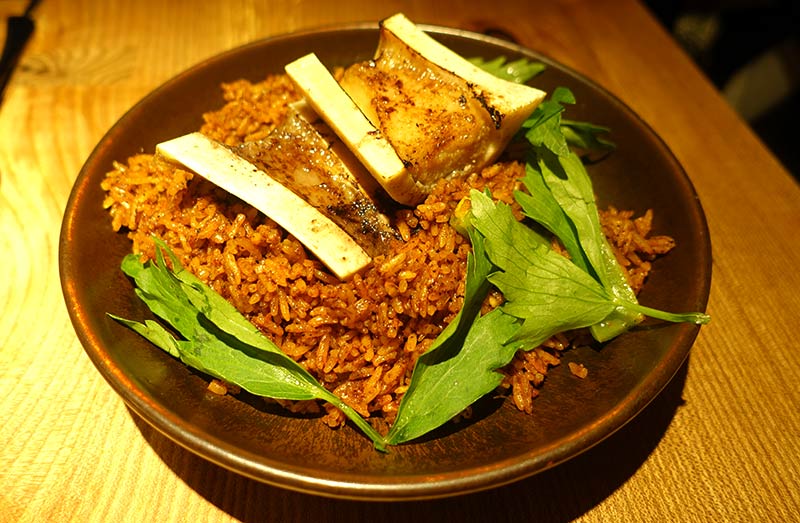 Jollof Rice & Smoked Bone Marrow
And how about the main event?
In an ideal world, particularly if there are more than two of you, we'd suggest ordering as much of the menu as you can get away with. Starters are around the £12-13 mark and mains range from £23 to £29.
We pretty much fell in love with everything we had, and there was a considerable amount of food envy going both ways across the table. It's easy to pick up on the African spices throughout the menu which really help to hold the whole meal together - adding the spice but not overdoing the heat.
If we had to pick out a few must-haves, they'd be:
The Manx Loaghton rib and asun relish (£10.50) - A surprisingly generous portion of rib with a little extra meat as a bonus, a perfect use for those sheep.
The beef blade and traditional condiments (£22) - Slow cooked for hours, falling apart in just the right way.
The side of jollof rice and smoked bone marrow (£11.50) - just scoop the bone marrow out and mix it into the rice as the perfect side for the beef. Because bone marrow makes everything better.
Also worth noting - ask what the special of the day is. On our visit, it was "acorn fed Iberico pork chop cured in smoked peanuts, served with a hibiscus and apple miso". So yes, OF COURSE we ordered that.
Zobo Papaya, Paradise Meringue & Buttermilk
And dessert?
The winner here is easily the zobo papaya, paradise meringue and buttermilk. Marvellous stuff.
How about drinks?
The cocktails are well done and well worth kicking off with, all once again touching on the west African theme. Our favourite was the roasted, caramelised plantain old fashioned (£12) which tasted as great as it sounds.
As for wines, they start at the £28 mark (Spanish Verdejo or Portuguese tinto prunus), heading up to the £70-90 mark. So it's on the pricey side, but those house bottles were absolutely fine.
Overall?
We haven't seen much else like Ikoyi in London recently. It tackles a type of cooking not encountered often in town, does it with great panache, all in a very welcoming environment. An easy one to recommend.
Hot Dinners were invited to Ikoyi, prices are correct at the time of writing.
What: Ikoyi
Where: 1 St. James's Market, London, SW1Y 4AH
How to book: Book online
Find out more: Visit their website and follow them on Instagram @ikoyi_london.