A look inside Sussex
So what do we need to know about Sussex?
The fourth restaurant by The Gladwin Brothers aims to follow the success of their other London restaurants - The Shed, in Notting Hill, Rabbit, on the Kings Road, and Nutbourne, in Battersea. Oliver Gladwin heads up the kitchen team, serving an 'English countryside' menu in the heart of Soho.
Where is it?
It's on Frith Street, already teeming with great establishments. On your way to Sussex, you'll pass Hoppers, Koya, Barshu and Ronnie Scott's - to name just a few. The team have (rather ambitiously) taken over what was previously Anthony Demetre's Arbutus, which closed in 2016 after 10 years in operation.
And why should we go now?
One of the strongest points of any of the Gladwin's restaurants is the provenance of the food served. Ingredients are sourced directly from the Gladwins' family farm, which is entirely organic for both produce as well as meat. Similarly, there's a specific section of the wine list dedicated to wines produced at the Gladwin family vineyard, a 10ha plot which produces 40,000 bottles a year (see more on this below).
Oliver's menu, as with other restaurants in the Gladwin group combines both rustic and the refined dishes, Sussex will additionally focus on using local ingredients and produce which creates minimal waste, throughout each course.
Where should we meet friends for a drink first?
The simple answer is - right here. Thanks to a generously sized space, the team have been able to create a cosy bar, which both casual drinkers and diners are welcome. It's here that we first started with a glass of the Gladwin's very own English Sparkling wine, Nutty Brut – made on their West Sussex vineyard, this champagne dead-ringer was the perfect way to get off the mark. There's also a fetching selection of cocktails which we couldn't quite manage on this occasion – but are already eyeing up a return to perch, grab a drink and demolish some bar snacks.
So what's on the menu itself?
The menu at Sussex is divided up into snacks, starters, mains with an additional space for specials. The snacks are all around £4, starters are mostly £9.50 and mains ranging from £16-25. If you're visiting in a group then you'll want to have a glance at the specials – a list of sharing dishes such as a whole roasted mallard which start at £50 (for two).
We made a significant dent in the menu, here's what we had:
Mushroom Marmite Eclairs (£4) - love it or hate it, these little morsels were just the thing to get our appetites moving
Chopped Raw Sussex Beef, Bone Marrow, Quail's Egg, Cheddar and Umami Relish (£9.5) - a Gladwin classic, their take on a tartare, tarted up with cheddar and relish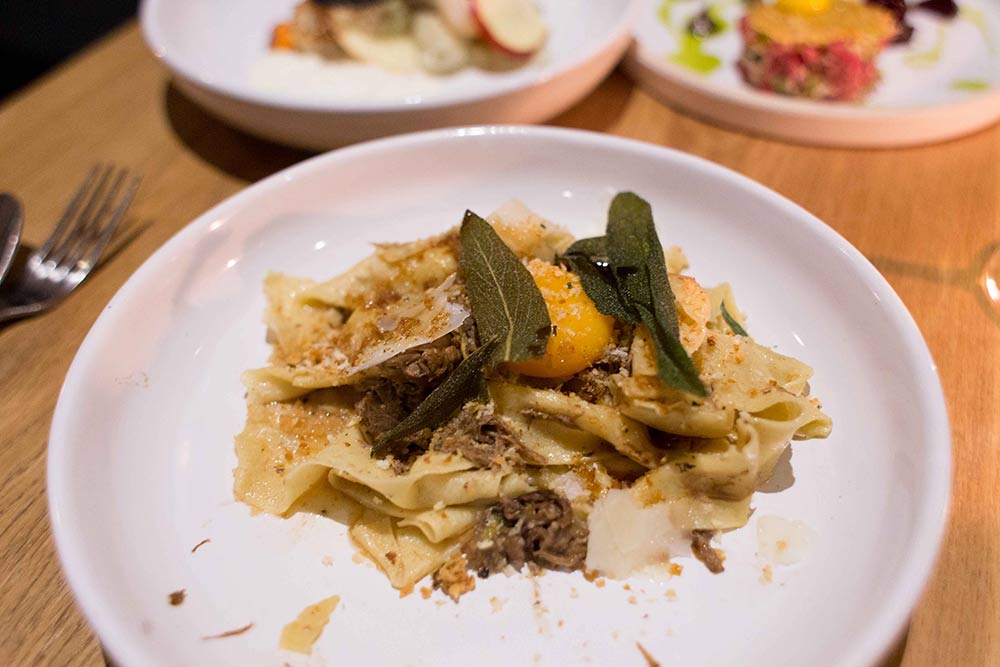 South Downs Hare Ragu, Egg Yolk, Pappardelle, Tarragon, English Pecorino (£16) - We couldn't pass this one up, this 'Britalian' dish featuring wild Hare was a fantastic dish
Oxford Sandy & Black Pork Loin, Cured Belly, Lardo, Rainbow Chard, Hazelnuts (£22) - The portion sizes at Sussex are quite significant. This dish of Pork loin, belly and lardo was well balanced with pickled cauliflower and vibrant rainbow chard
Fallow Deer, Salsify, Smoked Garlic, Brassicas, Button Onions, Red Wine Jus (£24.5) - Another well constructed dish, lots of bold flavours - definitely benefits when paired with an equally bold glass of red
How about the wines?
In addition to an excellent selection of homegrown wines, the list at Sussex will be a breath of fresh air for many – featuring 18 rather alluring options by the glass. We tried our way through a few glasses, each of which was chosen by the friendly team. Looking through the bottle list, there are some gems to be found at a relatively reasonable (£40-£50) price. We would go as far as to say that Sussex has one of the best wine lists of any Soho restaurant right now.
Should we save space for dessert?
We found the mains to be quite filling but would recommend pushing through to try a few of these. The Dark Chocolate & Salt Caramel Viennetta – their take on the dinner party staple is worth a shot. However if there's one course you should save room for, it's a visit to the cheese table – a spread of Britain's finest cheesemakers.
Fallow Deer, Salsify, Smoked Garlic, Brassicas, Button Onions, Red Wine Jus (£24.5) - Another well-constructed dish, lots of bold flavours - definitely benefits when paired with an equally bold glass of red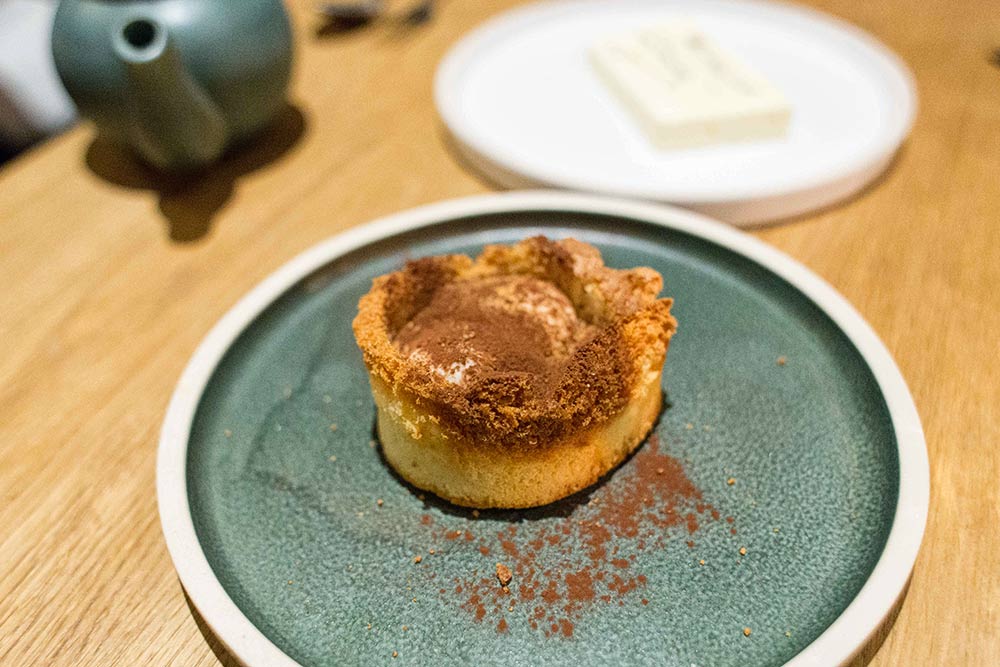 The Sussex Cheesecake - A nod to New York with a lighter-than-air mascarpone filling
Our overall thoughts
Soho has undergone a reshuffle over the last few years with a number of long-time restaurants closing their doors in favour of smaller and often more casual affairs. Sussex bucks the trend and instead looks to bring something more traditional and proven – which we think is a welcome addition to Soho's dining scene.
Taking on the sizeable Arbutus site was always going to be something of a gamble, but we're pleased to see that their model of focused produce and menu seems to be paying off for them.
Hot Dinners ate as guests of Sussex, prices correct at the time of writing.
More about Sussex
Where is it? 63-64 Frith St, Soho, London W1D 3JW
Find out more: Visit their website or follow them on Instagram @sussex_resto.
Subscribe to be the first to get the news from Hot Dinners