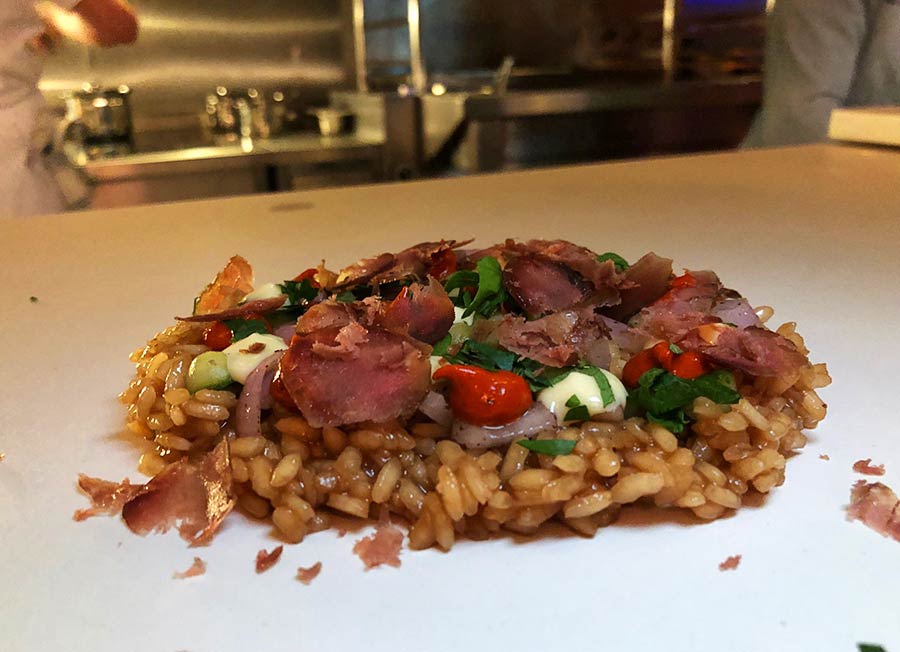 If you've been reading up on Kebab Queen, you'll have seen a version of this pic a few times. Called a Doner Risotto, it's served onto the counter and is "lamb jus risotto finished with classic kebab garnishes and shavings of lamb tongue". Designed to have the flavour of a kebab in a new form, it does that job surprisingly well.
What can you tell us about Kebab Queen?
First off - it's all part of Covent Garden's Maison Bab. We've already given that a Test Drive and we left rather impressed. At that time, we'd heard about a new hidden room that was being created in the basement - that's Kebab Queen.
How do we find it?
First off, head to Maison Bab - that's a couple of minutes walk from Covent Garden tube. Once there, it's down to the basement. You'll be brought down to something that looks like a town square looking into a couple of high-street kebab shops. Walk into the main restaurant kitchen and then you're escorted into a secret hidden room.
There's a hidden restaurant behind all this. Hint - it's on the right.
Is there anything special about the hidden room?
It's a 10 seater counter - so it's a much more intimate experience than you'll get upstairs. But the counter itself is pretty special. It's made of a very high-tech material called Dekton - that's completely non-porous and impervious to scratches (the kind of thing you wished your own kitchen counter was made of).
It's also - and this is key - heated. That's because all the food is served directly on the counter (between each course it's cleaned with an edible cleaning spray). For all but one course, cutlery is frowned upon. Yes, you're encouraged to eat everything with your hands (plenty of little towelettes are handed out throughout the meal).
As for the meal - we can expect kebabs?
Yes - and no. This is more of a fine dining twist on kebabs. Yes, that's exactly the kind of thing that has The Sun reaching for the word "hipster", but don't let that distract you.
In some ways, a fine dining moniker doesn't do it justice. It's not overly formal, it's hugely fun throughout and pretty much unlike anything we've experienced in London in recent times. Every course sees the chef plate (or "counter") the food directly in front of you, letting you know what's included as he goes. It gets you fully involved with the process, while still having plenty of time to drink and natter between courses. We love a bit of counter dining so this was right up our street.
So what's on the menu?
Expect this menu to evolve over time - but at the moment, the general theme is a twist on what's usually expected from a kebab restaurant. Everything is created with love and we're not going to call these "posh kebabs" because we all know how well that goes down on Twitter...
It's a six-course menu (plus a canape, sorbet cleanser and petit fours), all for £60. Everyone is served the same dishes together - although not all at the exact same time (so you may want to avert your gaze from your neighbour's counter space if you don't want spoilers). Allow about 2.5 to 3 hours for the whole meal.
Now, we're going to go into some of the detail on a few of the dishes below - but we're not going to showcase absolutely everything that's involved. If you're already thinking about going and want to be surprised, just skip past the picture and captions below...
Kicking things off - Secreto Iberico covered in crunchy couscous
Next up - and probably the best thing we had on the night - the Foie Gras Kebabito - all centred around the BBQ foie gras. It's rather special.
This course starts with the chefs searing the cabbage leaf directly onto the counter with a hot iron - the surface really can take QUITE the battering. It's topped with a chargrilled shish kebab of monkfish, monkfish liver and chicken skin.
This is what is probably considered the main course - rum-aged Spit Roast Fesenjan Duck which is inspired by the Iranian stew, and comes with crusted and crisp Persian rice. We'll be honest, our pic doesn't do this one justice - but that duck was bloody amazing (you'll see it being spit-roasted behind the counter all night).

And... here's how it was plated...
And finally, milk bun drenched in caramelised cream and topped with a crème fraiche sorbet. In the pairing, this comes with an alcoholic cream soda that is unmissable. And you'll be drinking that cream out of the bowl at the end...
What about drink?
You may be wondering - how can my drink stay cold if it's on a hot counter? Well, they're served onto raised marble coasters - so that keeps them off the heat source.
We'd say you should go with the matched drinks flight if you can. It's an extra £45 but a pairing works particularly well in this kind of environment (and the final cream soda is really quite wonderful). That said, the cocktails are also pretty fine (and pre-mixed, hooray!). Our sumac and pomegranate negroni was a joy and the rum and raisin (Bacardi ocho, Pedro Ximinez, Dewars 12, Cointreau blood orange - £12) was like a cake in a glass, which can only be a good thing.
If you're ordering by the glass or bottle, there's a short wine list starting at £33 a bottle, and a one-page fine-wine list which starts at £45 and heads up to £250 - if you're feeling spendy.
Plus they'll give you a cold-pressed coffee made by their mates at Jungle Brew to take home for the next morning - handy if you've had one too many of those sumac negronis...
Sumac and pomegranate negroni. And plenty of ice.
Overall thoughts
We'd heard great things about Kebab Queen and were, to be fair, pretty excited about going. The experience both lived up to high expectations while also giving us something that was quite unique from anything else on the London dining scene. And the food was wonderful. Extremely highly recommended.
Hot Dinners ate as guests of Kebab Queen. Prices are correct at the time of writing.
More about Kebab Queen
Where is it? 4 Mercer Walk, Covent Garden, London WC2H 9FA
How to book: Book online
Find out more: Visit their website or follow them on Twitter @EatLeBab.
Subscribe to be the first to get the news from Hot Dinners