So, why go back to the Guinea Grill now?
To be honest, we really don't need much of a prompt to come back to the Guinea - it's become one of our favourite places in town (as a recent visit reminded us). But we covered news of its ambitious new breakfast menu and jumped at the opportunity to try it out.
Steak for breakfast?
Yes and no. There IS steak if you fancy it (a 16oz dry-aged ribeye) so if that's the way you want to start the day, then go right ahead. But the main attraction is the grill section - which includes the obligatory Full English as well as grills that embrace bacon chops, lamb cutlets and more. If you want to pimp up your breakfast further, then there's a big "sides" section with a whopping 15 extra choices, from lamb chops to bubble and squeak. On top of that - there's another entire section of starters and mains.
So, you're really not short of choice here. We'd say your best bet is to go for the two courses at £32. That gives you a choice of starter and any main (including the Full English, bacon chops or lamb grill) and is more than enough (although you'll probably want to pimp it up from the sides menu).
And what did you have?
Obviously with a menu that huge, it's difficult to tackle the entire thing (much as we'd love to). So we took a tactical approach, trying little elements from all parts of the menu. Here's what we had...
We kicked off with the starter section - somewhat like starting a meal with dessert with the Guinea's version of French toast. This is custard-soaked brioche (yes, as good as it sounds), clotted cream and berries (£11). In most restaurants this would be enough - but here we were just getting started. Similar starters are charred grapefruit with sherry syrup and caramel and there's a Scottish oak porridge too.
Also on the starter menu - the buttermilk crumpet with scrambled eggs and salmon (also available with bacon or mushrooms). You could also choose eggs benedict (all versions) or an omelette (including Arnold Bennet or spiced crab and crayfish).
Onto the mains - the Grill section is likely to get the most action. This is the Full English, which includes double sausage and fried egg, black pudding, haggis, fried slice, baked beans, grilled tomato, field mushroom, and thick-cut smoked streaky bacon (£24). With this and the starter, you won't be needing lunch, that's for sure.
And of course, there are the sides. Because we couldn't stop ourselves, we added a few more carbs - hash browns and bubble and squeak. It was hard to ignore the latter, to be honest - a must-order, we think and some of the best bubble and squeak we've ever had.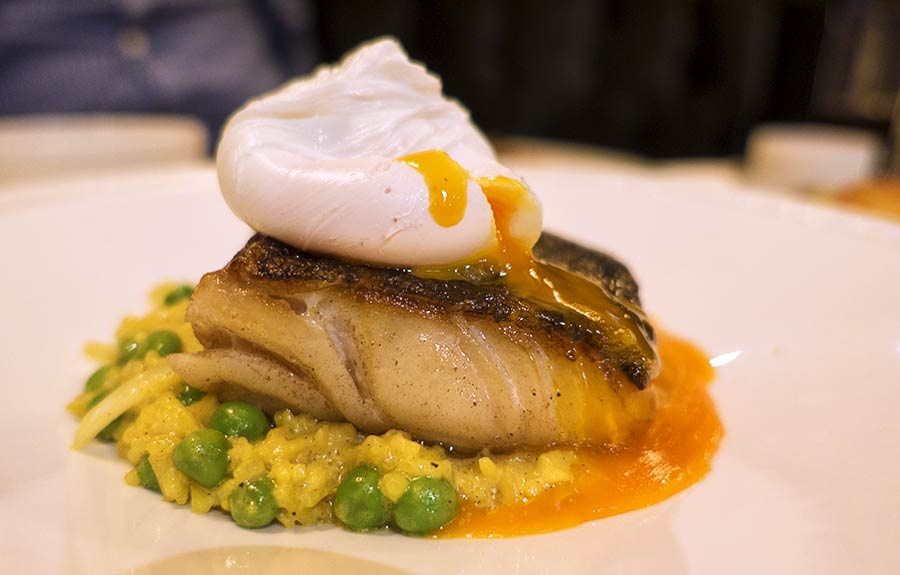 A well as the Grill section, there's a more standard list of mains which includes a fantastic sounding Hangtown fry (a baked omelette with breaded oysters) as well as this, their kedgeree. It's smoked cod loin, spiced rice and peas and a perfectly poached egg (£24). Divine.
That's a lot of meat and fish - anything for vegetarians?
There is the option for a full vegetarian grill as an alternative to the full English - and lots of options on the starter section - from Eggs Florentine (with spinach) or wild mushrooms on the omelettes or crumpets. Of course, there's also all of the fruit options, including the amazing French toast above.
Overall thoughts
Ever since getting a preview look at the menu a few weeks back, we've been looking forward to our breakfast at the Guinea. It was a little on the quiet side when we visited (late Thursday morning) but we think things will start hotting up when news of the quality of the breakfast here gets out. It's up there with London's best - and will absolutely set you up, and then some. Heading to the West End for some shopping? Got a day of intense business meetings planned? Make this your first stop and you'll have fuel for the entire day.
Hot Dinners ate as guests of the Guinea Grill. Prices are correct at the time of writing.
More about The Guinea Grill
Where is it? 30 Bruton Place, Mayfair, London W1J 6N
When is breakfast served? Thursday - Sunday 7.30am - 11am.
Subscribe to be the first to get the news from Hot Dinners