A view across the main section of the dining room towards the open kitchen
What do we need to know about Decimo?
It's the final opening of a trio of high rise-London restaurants within about a month of each other, following Allegra and Seabird. This one sees highly-rated chef Peter Sanchez-Iglesias, of Casamia in Bristol, take on the rooftop restaurant of newly-opened King's Cross hotel The Standard.
Where exactly is it?
You'll find it on the tenth floor of the Standard, taking over almost the whole floor space with views all across south, west and north London. It's barely a few minutes walk out of the tube station at King's Cross. There is a dedicated space-age lift that zooms up the outside of the building, Duck & Waffle style (but it wasn't yet working when we visited).
Where should we meet friends for a drink first?
You could always go to Double Standard - the pub space on the ground floor of the hotel which is a handy place to grab a drink in King's Cross regardless.
But really you'd be crazy not to head straight up to the bars here. There are actually two of them. The first as you come in has eye level views over the clocktower of St Pancras, but there's also a second one - complete with its own fire - further into the restaurant and some of the seats have pretty amazing views across central London.
As for the bar drinks list, it's nice to see a cocktail list that kicks off with its non-alcoholic options. It then splits broadly into signature cocktails and classics - we tried one from both and also had a tiny snifter of some of the bar's extensive Mescal collection. It would be worth coming back just to give that a proper going over.
You'll need to try some of their extensive Mescal collection...
Clearly we'll need advice on where to sit...
There's no simple answer to that. There are loads of booths that would be good for smallish groups of up to eight. The sunken central section with a view on to the restaurant also has a rather wonderful central fireplace - very Bond movie villain's lair style. There are two tables for two either side of the DJ booth which have lovely views and are nicely tucked away (Christina Aguilera apparently sat at ours for the opening party) and plenty of tables by the windows overlooking King's Cross.
The space behind the bar (which probably has the best view) is a semi-private dining space and that can seat up to 24 people, either as one long table or two tables of 12.
So what's on the menu?
Decimo say the food is "a fresh interpretation of live fire Spanish and Mexican dishes". So it kicks off with snacks (or para picar), and then there's a selection of chilled seafood dishes, tacos, salad/veggie options and then meat and fish mains.
Here's what we had:
Croquetas de Jamon (£3.50 each) and superb examples - Decimo should enter for next year's Croqueta Challenge for sure.
There are three tacos to choose from - pork or baja (both £6) and cauliflower (£5). The cauli one is teeny and pretty and gone in one delicious bite, while the baja is huge and requires you to cram it into your face indelicately - but it's very good.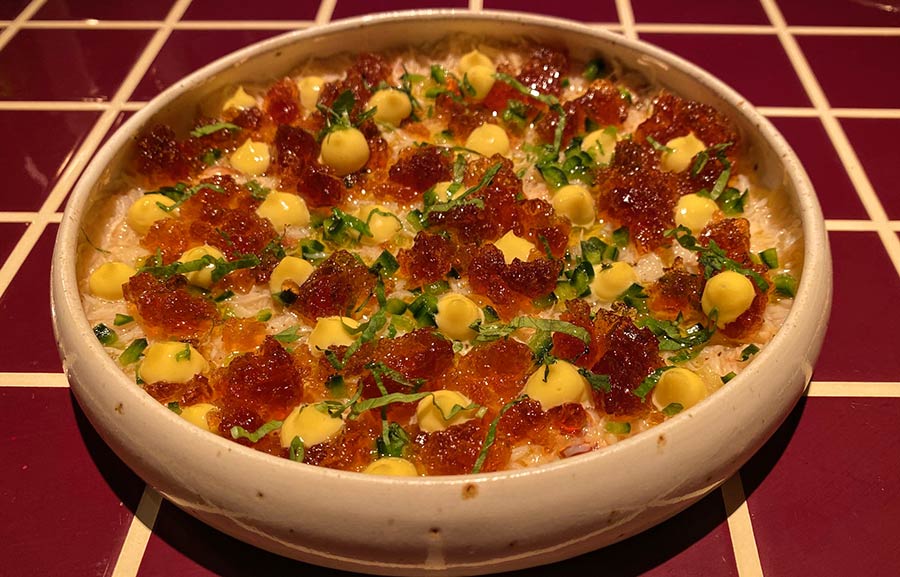 From the aquachile section we went for the simple sounding crab with jalapeno £22) which turned out to be anything but. Almost too pretty to eat, this featured loads of Cornish crab, dotted with lime mayo and a kombo and jalapeno jelly. Outstanding.
The Decimo tortilla is probably the one dish you've seen people talking about in advance of this place opening. It's £40 topped with 25g of caviar and £75 with 50g. Think of this as a Barrafina-style runny tortilla given some bling - and yes, the caviar does go very well with it.
The lamb chops (£16). Simple but dear god these were cooked beautifully.
Quail with mole glaze (£18) you'll see this hanging up in the kitchen and we were anxiously watching as they disappeared one-by-one when ordered. But we managed to nab one ourselves and were very glad of it - it's a superb way of serving the quail, with a lovely mole glaze on the skin and very tender meat. They do also serve - in a separate dish - the head if you're not squeamish. We are, so you'll have to try it yourselves and tell us what it's like.
What is there for vegetarians?
The most intriguing dish is the Mushroom Bomba rice (£22) which is a vegan take on paella which by all accounts looks and tastes amazing. But there's plenty of other interesting veggie dishes on the menu including that lovely cauli taco and the following:
Marinated red peppers (£5) - a bald description on the menu that doesn't prepare you for the beautiful prepared and presented dish. We do think this could definitely do with some light crackers or chips alongside, though.
Triple cooked potatoes with aioli (£6) - described, quite accurately as it turned out - by our waiter as crispy clouds, with the aioli made of "only lemon, eggs, garlic and love". We love a good potato dish and these were excellent.
Kalibos cabbage (£6) a side dish featuring this unusual red pointed cabbage served with Spanish Seville Blue cheese.
And dessert?
Dessert sees Decimo take a different approach - the dessert menu gives four options - you choose between two for £11, three for £16 or all four for £20. The good news is the three we tried were all small. We love this approach. If like us, you've had a lot to eat before, these are the perfect size if you fancy a small sweet dish at the end of a blowout meal.
Set cream served with Arbequina olive oil, Maldon sea salt and roasted fig - an interesting twist on Crema Catalana.
Chocolate tartlet - a tiny, perfectly presented tartlet filled with chocolate cream.
Anything else?
We've skipped out quite a bit of the mains (we can only eat so much...) but there's a good selection of seafood dishes, with grilled turbot, monkfish, langoustines and more on the menu when we visited. There's also a huge rib of beef for £85, and while it wasn't on the menu when we visited (it's still early days), the planned suckling pig shoulder should be worth a look too.
What about the wine list?
As you might expect, it focuses on Spanish and Latin American wines with a lot of low intervention options. We wanted a lightish red from South America, and the sommelier directed us to a lovely organic Argentine Livvera from La Arboleda vineyard in Mendoza (£55).
Overall thoughts
There have been many attempts to open a big-hitter restaurant at King's Cross. Some of them have succeeded to a certain degree, but we think that Decimo is really the game changer for the area. A bustling space with a DJ on the decks won't be to everyone's taste, but it was to ours. Bringing in a chef of the calibre of Peter Sanchez-Iglesias to this beautiful high-rise space was a genius idea and it's a decision that has paid off in spades. Excellent food, great vibes - this is destined to be a big hit.
More about Decimo
Where is it? 10 Argyle St, Kings Cross, London WC1H 8EG
Find out more: Visit their website or follow them on Instagram @decimo.london.
Hot Dinners dined as guests of Decimo. Prices correct at time of publication.
Subscribe to be the first to get the news from Hot Dinners