Pancetta amuse-bouches
So what do we need to know about Core?
It's been quite a year for this Notting Hill restaurant. First up, Core was named Best Restaurant at the GQ Restaurant Awards and Clare was announced as the Best Female Chef for The World's 50 Best Restaurants 2018. In September she stormed straight on the Good Food Guide at No 3 with a perfect 10 score and the restaurant was then awarded two stars by Michelin. Luckily we had a notion that this might be the case and booked our lunch here the day before the Michelin announcement came out.
The kitchen team here - led by Clare and Head Chef Jonny Bone - aim to turn out exceptional food but in a relaxed atmosphere.
Where exactly is it?
It's on Kensington Park Road. The nearest tube is Notting Hill, although it's also a short walk from Holland Park or Westbourne Grove too.
Where should we meet friends for a drink first?
It's probably best to meet them here. Our lunch booking was a little too early to start in the spacious bar at Core, but they have a cracking selection of cocktails and bar snacks that we'd really like to try on another visit. The butter-washed Irish whiskey with kelp, seaweed and cardamom (£13) has our name on it, and you could always just pop in here to try the amuse bouches or desserts that you get with the main tasting menu - prices start at just £2 and go up to £6.50.
And where should we sit?
The obvious choice - if you can gather enough people - would be the chef's table. This seats 7-10 in a semi-private space in front of the glass-fronted kitchen - so all of the action, none of the heat.
But we understand that's not going to be possible for a lot of you - so anywhere in the dining room really will do, which is a lovely space. There's plenty of room between all the tables, with several suitable for larger groups. There are a couple of booths at the far end which are probably the most prized spots.
So what's on the menu?
We were here to try the set three-course menu which is £65 at lunch and £85 at dinner. But alternatively there are two tasting menus - the small one is five courses for £95 and the main tasting menu is £115. Here's what we ate:
ALL the canapes: from top anti-clockwise, Foie gras parfait and Madeira; Cheese and onion gougères, Crispy smoked duck wing, burnt orange and spices; Jellied eel, toasted seaweed and malt vinegar
'Lamb carrot' - braised lamb, sheep's milk yoghurt. One of the signatures and just the very best way to eat carrots - with lamb piled on top...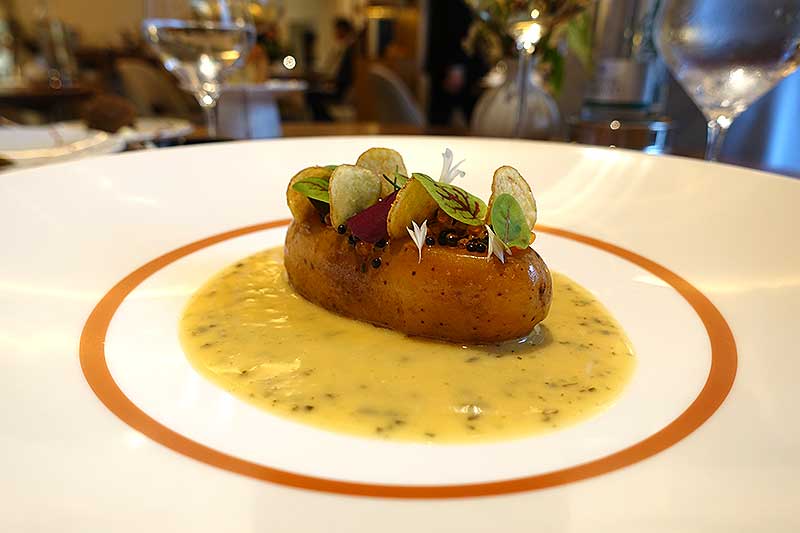 'Potato and roe' - dulse beurre blanc, herring and trout roe, a dish inspired by Clare's childhood growing up on a farm in Northern Ireland by the sea.
Oxtail stuffed Roscoff onion with beef short rib - yes, that onion is stuffed with short rib in a proper "how do they do that?" moment.
Skate - Morecambe bay shrimps, Swiss chard, brown butter - a superb fish course with a butter toast crisp on the top bringing out elements of that brown butter sauce.
Full disclosure - the Core apple pre-dessert isn't on the set lunch menu, you normally need to order the Tasting Menu to get it, but the kitchen brought this out to us gratis.
Lemonade parfait with a honey spun sugar comb over the top - actually tasted of fizzy homemade lemonade as well as looking bloody marvellous.
Core-Teser - chocolate, malt, hazelnut - a dessert so good even Pierre Koffmann Instagrammed a picture of it calling it a "delicious pudding". We would concur. One of the nicest desserts we've had in an age.
The other most-Instagrammed dessert from Core - Pear and verbena with Poire Williams sorbet - a meringue dome filled with verbena jelly and topped with pear sorbet.
What about vegetarians?
There is a vegetarian version available for all three menus.
And the wine?
We opted for a bottle of one of the wines that kicks off the wine pairing by the glass - a 2016 Assyrtiko Estate from Santorini at £70. You can opt of course for the wine pairing with the main tasting menu which works out at £95 and there's a decent selection of wines by the glass ranging in price from £8 for a Triennes Rose up to (gulp) £100 for a glass of Château Palmer, 3ème Grand Cru Classé.
On the main wine list, there's a fair few in the £50-£80 range, but it creeps up rather stratospherically after that. The spendiest bottle we found was a 2004 Syrah from cult winery Sine Qua Non at £2150.
Overall thoughts:
If you think you're over fine dining, then you need to come to Core to see how a superb gastronomic experience has been reconfigured for a modern diner. Yes, there's an incredibly high waiter to guest ratio but everything's done with a very light touch.
And the food? It turned out to be one of our best meals of the year, and you know how much we eat out. If you haven't been, book immediately.
More about Core by Clare Smyth
Where is it? 92 Kensington Park Rd, London W11 2PN
How to book? Book online. Reservations open three months ahead of time.
Find out more: Visit the Core website and see them on Instagram @corebyclaresmyth.