The front room - nice and understated, yes?
What can you tell us about Circolo Popolare?
it's the latest restaurant from the Big Mamma group. They've been having huge success with several restaurants over in Paris for a few years before launching Gloria in Shoreditch - which itself became an instant hit. Gloria is an Italian restaurant that's high on flamboyance, backed up by a really great menu. Circolo is very much in the same mould, this time opening just a few steps from Oxford Street with more of a Sicilian/Mediterranean touch.
Where is it?
It's in Fitzrovia, on the newly built Rathbone Square, with the main entrance on Rathbone Street. The nearest tube is Tottenham Court Road.
And where should we go for a drink first?
There isn't a bar in Circolo, so if you're looking for just a drink before/after, it'll have to be elsewhere. Nearby, there are plenty of pubs (we noted that the Fitzroy Tavern's had a bit of a brush-up) and Bourne and Hollingsworth is just across the road. The punch room at Berners Tavern is also a good bet - but you might want to hold on and make the most of the huge punch bowls at Circolo.
It is a no-booking restaurant like Gloria?
For the large part, yes. It'll definitely be mainly no bookings in the evening to start with - at the time we visited, they hadn't decided on lunchtime. But it's a huge restaurant inside, so even if there is a queue, we don't think it'll be long. Check on their website (link at the bottom of this piece) to see what their latest policy is.
The back room - note all the bottles lining the walls and also the shrubbery-laden terrace outside.
Inside, does it look quite as mad as their first London restaurant?
Yes, and then some. First, as mentioned above, it's a huge restaurant - taking over a large part of the Rathbone Square development. It's all a purpose-built new space, but it looks anything but.
Because views of the outside world (and indeed views into the restaurant itself) are minimal through clever use of foliage and other means, the restaurant really does feel like it's in its own world. It seems designed to feel like you're in an Italian restaurant while on holiday in Sicily, and it somehow manages to pull all that off in the centre of London. It looks like Circolo has been in the space for years - quite the achievement.
Where should we sit?
As with any no-booking restaurant, the answer is usually "wherever they put you". But if you do get a choice, we do like the booths alongside the side of each dining room, and if you're coming in with a big party, there are long sharing tables at the front of the restaurant that look to be a perfect fit for bigger groups (see top pic).
Should we immediately tackle the cocktail menu?
Yes, indeed. As with Gloria, the cocktails at Circolo Popolare are very much on the flamboyant side. They're a combination of mad takes on classic cocktails as well as some original concoctions alongside huge sharing punch bowls. And as each one has a picture in the menu - you know exactly what you're getting yourself in for. Fancy something served in a mermaid's tail? Then there's a cocktail for you. Or alternatively, there's this:
If you're going for a drink that's a little more subtle - how about the berry julep - Wild Turkey bourbon whiskey, watermelon, strawberry, basil syrup, mint, lime (£10). Oh, and a great big piece of parsley for garnish.
And how about the rest of the drink?
Wines start at £25 and there's a large selection by the glass. But because Big Mamma are fond of doing things to excess, there is also a large collection of magnums too (the largest selection being for the red wines). So for those times when a bottle just isn't going to do it, get a 2.5cl magnum - starting at £42. Otherwise, there's a decent selection of beer, softs and some virgin cocktails that also look pretty extreme.
What can we expect from the food this time?
If you've been to Gloria, there are definite similarities - there's an oversized menu split into starters (antipasti and insalate), Neopolitan pizzas, and then pasta dishes and specifically new to Circolo, skewers from the grill. A few dishes do make a reappearance from Gloria, but a large amount are brand new. And, as before, portions are very much on the generous side. Which is a good thing, of course.
Here's what we had on the night.
Also on the menu at Gloria - but a must if you haven't tried them, this is Flower Power (£7) - deep-fried courgette flower beignets, saffron dip. Order them while you're choosing from the menu.
Circolo's Sardinian Empanadas (£8) - filled with pork, Sicilian fennel and arrabbiata sauce - and surprisingly delicate too.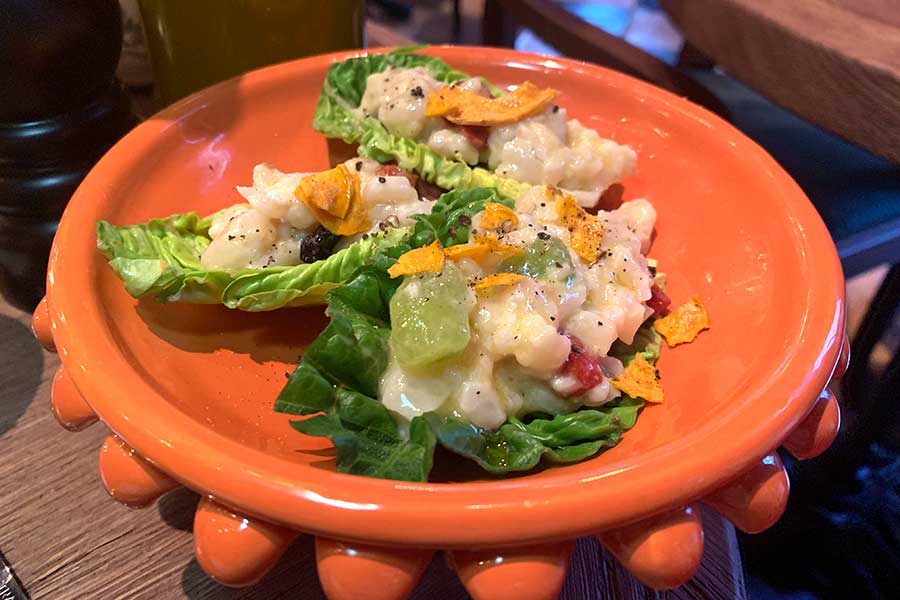 One of the lighter snacks - Crudo Crocante (£9) - lettuce cups with Cornish sea bass, tropical fruit, confit tomatoes, dehydrated olives, oranges, baby herbs. To be fair, this divided us - one really liked it, the other wasn't so keen.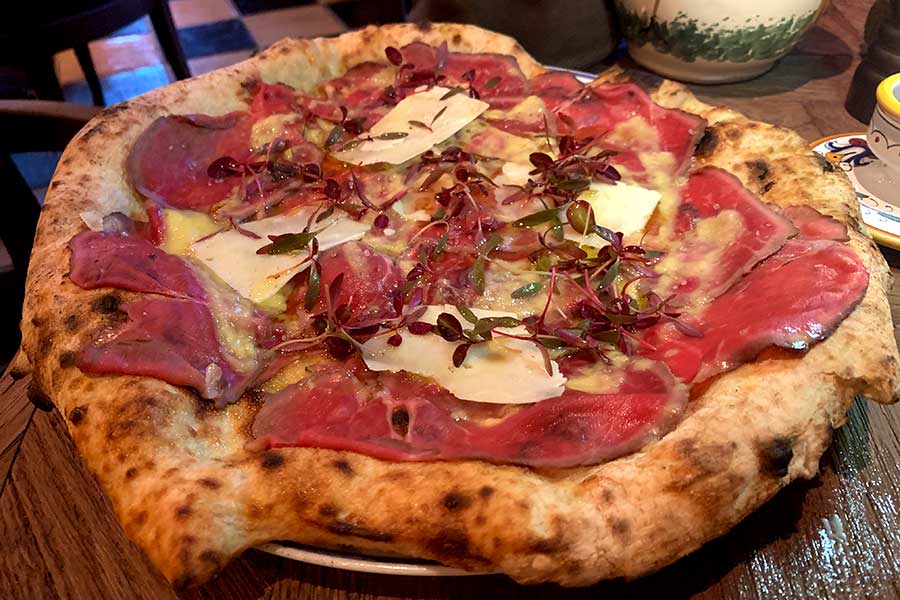 The pizza menu also allows you to order two pizzas and have them delivered as a 1-meter-long monster. However, the special on the list is this (only available in this size) - the Carpaccio Pizza with carpaccio, salad and giant Parmigiano crust (£14). We have no idea how they managed to get the crunchy crust at the bottom too but this was one damned fine pizza.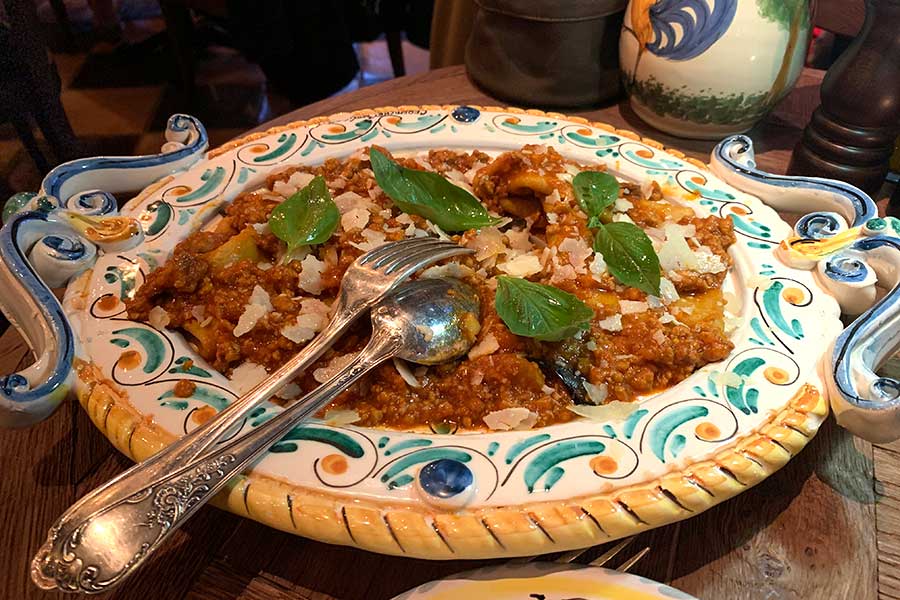 Smaller pasta plates are available - but there are two served up to share. First off is this - the Sfoglia al Ragu (£14pp) - with giant silk handkerchief pasta, Tuscan Cinta senese pork ragu, aubergines and Parmigiano. This is undeniably lovely - but you may also want to consider the other sharing dish, La Gran Carbonara, which is served tableside, stirred up in and then served from a huge round of pecorino.
How is it for vegetarians?
There are many vegetarian dishes throughout the menu, from the sunkissed tomato caprese through to the Emrata Burrata pizza - that's San Marzano Tomato, burrata's creamy heart, almonds, capers taggiasche olives and basil (£13). and a huge carbonara pasta dish to share too.
There are vegan dishes available too, including the "Animal Lover" pizza - tomato, aubergines, mushrooms, red peppers, vegan pesto, taggiasche olives (£12).
And dessert?
If you're a fan of the huge lemon pie that they serve up, you'll be very happy to know that's on the menu again. As for new dishes, we think both of the following should be on your to-do list:
If you take a look at the counter when you come into the restaurant, you'll see an enormous version of this in a huge platter. Served up from that, it's Meraviglioso (£7) - whipped cream, meringue and chocolate flakes. Simple, but works wonders.
The Lady Baba (£8) - rum-soaked baba, with light custard and pink praline - with the crunch really setting this dish off. And all the booze, of course.
Anything else?
There's only so much we can eat on a visit - and we do try, believe us. So there are a few things we didn't get to on the menu - we think the following are well worth a look:
The Carbonara dish mentioned above - you'll see this being served up in huge cheese rounds to lots of people around you.
The burrata that's filled with pesto (£12)
Try something from the skewer section - we liked the sound of the saltimbocca di vitello - veal escalope strips, grilled portobello mushrooms, butter and sage sauce (£18)
The Cinta Senese scotch egg sounded pretty great (£8)
The crab linguine with bottarga that's topped with a whole crab shell (£20)
Overall thoughts?
It's clear almost immediately that Big Mamma are onto another huge hit with Circolo Popolare. There's nothing like it nearby, and it should hoover up the crowds from nearby Oxford Street. The restaurant looks amazing and the staff are as friendly as they could be. And on top of that - most importantly - the food is really good. They may do things to excess but the quality's still there and we'd go back in a heartbeat.
Hot Dinners ate as guests of Circolo Popolare. Prices are correct at the time of writing.
More about Circolo
Where is it? Rathbone Square, London W1T 1JN
Find out more: Visit their website or follow them on Instagram @bigmamma.uk
Subscribe to be the first to get the news from Hot Dinners