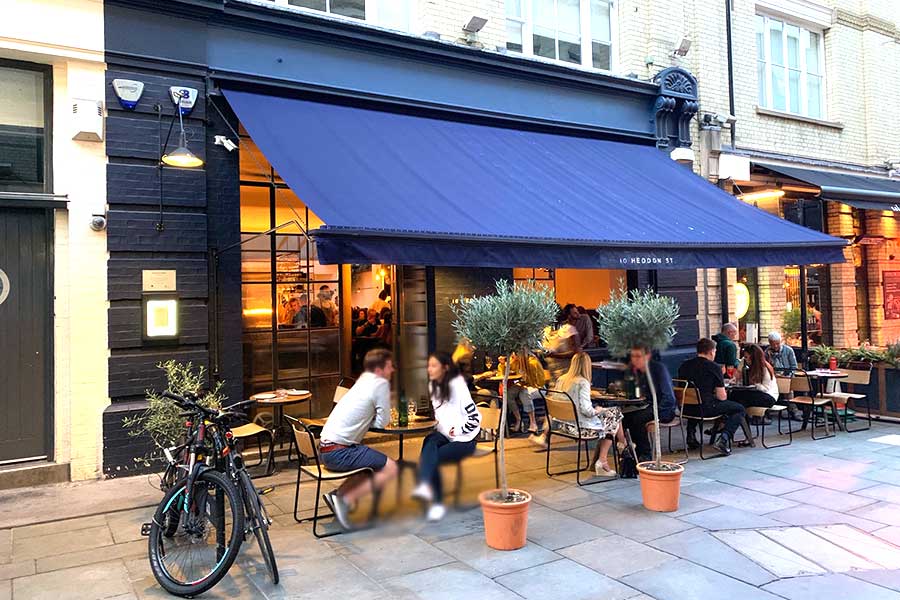 The lovely terrace outside 10 Heddon Street.
So, what do we need to know about 10 Heddon Street?
That depends, do you mean the space, or who's in there right now?
OK, we'll bite. The space first.
Well, it's an ongoing partnership between the owners - the Crown Estate - and restaurant consultants Montana Fogg (the duo who opened NYC's The Monkey Bar for Graydon Carter and The Delaunay in London for Corbin & King). It's a similar concept to Carousel in Marylebone - a space where restaurants can test new ideas and see if they work before taking on a permanent site.
And right now?
The first pair in are Chris Leach (Kitty Fisher's, Pitt Cue and Petersham Nurseries) and David Carter of Smokestak. They'll be in situ for the next couple of months.
Where is it?
Well obviously it's at 10 Heddon Street - that's the space previously occupied by Magpie. You'll find it tucked away off Regent Street - roughly equidistant from Piccadilly Circus and Oxford Street tube stations - sharing street space with Sabor, Momo and Gordon Ramsay's Heddon Street Kitchen.
Where should we meet for a drink first?
The nearest bar - just a few metres away - is the new cocktail bar Kwant by Erik Lorincz (from the Savoy's American Bar) under Momo. But at 10 Heddon Street right now you could pull up a stool at their Amaro bar - they're serving it shaken, stirred, as a spritz and as a soda.
What kind of food are they serving?
They describe it as Italian with a British accent. So think charcuterie like mortadella made on-site with pork from British producers and pasta with brown crab fresh from Cornwall. Menu structure-wise, it's very London 2019 - so there's a snacks/small plates section, five pasta dishes to choose from ranging in price from £7 to £9.50 and two 'mains' plus a single dessert (and that menu is small dark writing on dark paper - you may need to get out the glasses for this one).
Here's what we had:
Their own in-house made mortadella (£5.20) which went down a treat with that superb focaccia in the background.
Was this Leach's former Kitty Fisher's background comng out? Either way - the idea of pairing cod's roe with roasted fir potatoes was a winner for us (£7.70)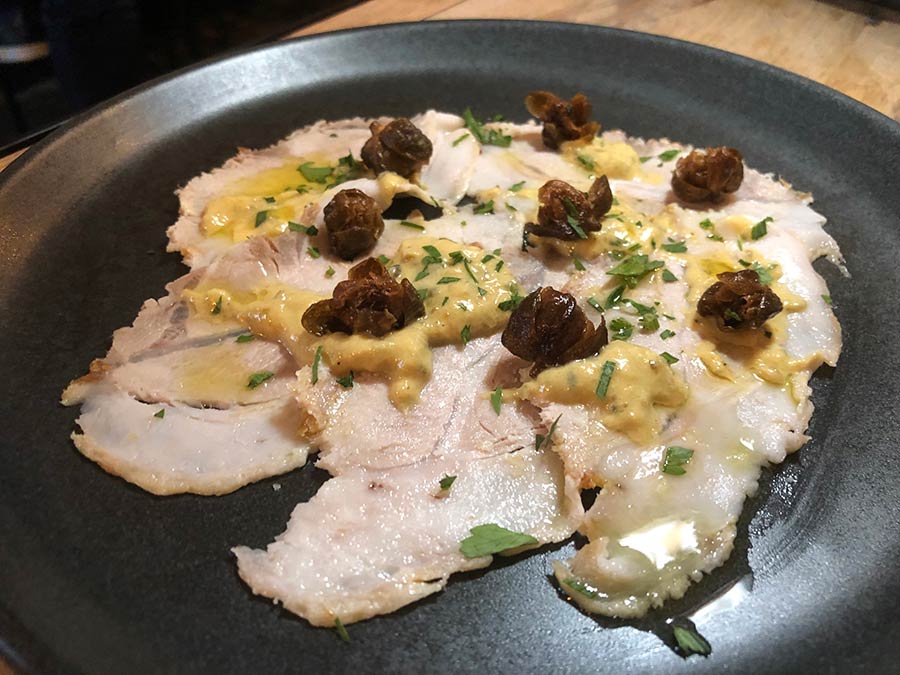 Maiale tonnato - roast pork tonnato (£7.40) - as anyone who knows us will testify, if tonnato is on the menu we have to have it and this was a particularly good example.
Garganelli with a spicy pig tail ragu (£9) - an almost perfect pasta dish. It's one of the signature items and has that spicy - but not too spicy - kick to it.
For dessert, we had this palate cleanser of lemon sorbet with black pepper and rosemary (£3.50).
How is it for vegetarians?
There's plenty to choose from. The other main when we went was a veggie dish of pea and summer vegetable ragu, scamorza, toasted spelt (£10.50). And of the five pastas on offer, four were vegetarian with other options including tagliatelle with seaweed butter and agretti and cavatelli with datterini tomatoes and almonds.
Sweetcorn ravioli with girolles and nasturtium (£9.50) - definitely one of our favourite dishes of the night.
What about wine?
They have a short wine list of around 20 wines roaming all over the world - with eight available by glass and carafe too. We tried a few and our favourite was probably the Hungarian Tokaj Furmint at £8.90 a 125ml glass.
Overall thoughts
Word has clearly already got out about this place - we went in for a very early sitting on a Saturday evening and the place was already busy, including the rather nice alfresco space outside. Looks like Leach and Carter have a hit on their hands - it'll be interesting to see what they do with it once their residency here is over.
Hot Dinners ate as guests of 10 Heddon St. Prices are correct at the time of writing.
More about Chris Leach and David Carter at 10 Heddon Street
Where is it? 10 Heddon St, Mayfair, London W1B 4BX
How to book: Book online.
Find out more: on their website or follow them on Instagram @10heddonst
Subscribe to be the first to get the news from Hot Dinners