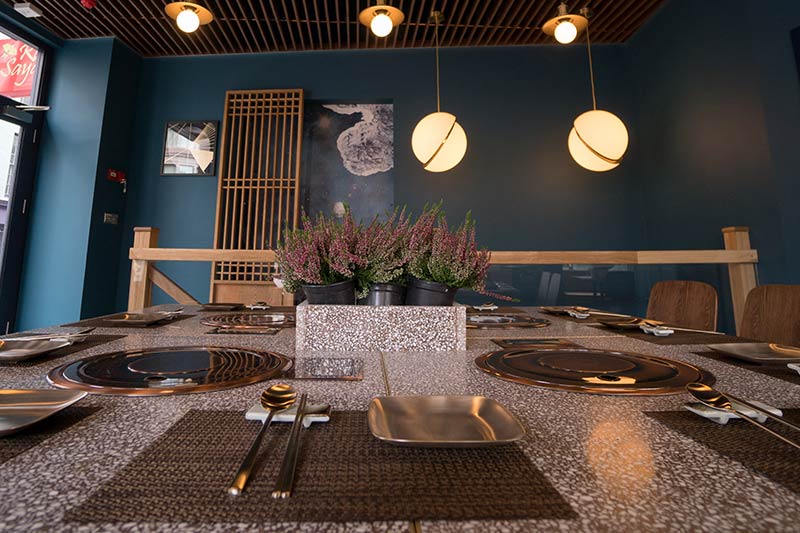 What: Olle
In a nutshell: Traditional tabletop Korean BBQ
Summing it all up: After opening a Japanese restaurant in Soho, South Korean Charles Seo is now turning his hand to cuisine from his native land with a traditional Korean BBQ restaurant where you'll get to cook your meat at your table.
The low-down
Korean food, somewhat underrepresented in a restaurant scene drowning in sushi, dim sum and Thai, is about to get a bit more of its share of the spotlight when Olle opens in Chinatown.
It'll be a traditional Korean BBQ restaurant, meaning you get to enjoy all the fun of grilling plate after plate of marinated meat over your own tabletop stove, before eating it on its own, or as ssam - dredged with sauce then wrapped in a lettuce leaf. You'll be able to order a steaming bowl of Jjigae stew to accompany your BBQ dinner (and several other traditional Korean dishes that we'll let you know about when we've seen the menu).
One detail that is worthy of note is that the meat looks to be very good quality and includes Wagyu beef, Iberico pork and other internationally sourced cuts and seafood.
The restaurant will be spread across two floors, including a big 30-cover table on the ground floor with a private dining room in the basement for groups. It'll be the second restaurant from Charles Seo, a South Korean native who opened Japanese restaurant Kyoto Soho ten years ago.
More about Olle
Where is it? 86-88 Shaftesbury Avenue, Chinatown London W1D 6NH
When does it open? 20 September 2017
Find out more: Visit the Chinatown website.