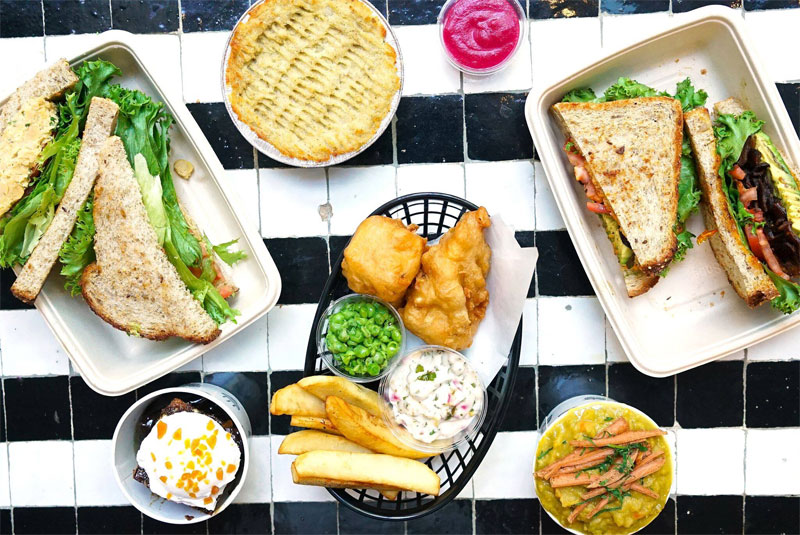 31/1/18 - updated with dishes and opening date.
What: By CHLOE.
In a nutshell: Trendy vegan food from across the pond
Summing it all up: Everything about By Chloe. screams NYC cool, from the full stop in its name to its determination to call itself 'plant-based' instead of just plain vegan. But aside from that, there's more than enough to draw in animal-loving punters - from its super central Covent Garden location to its vegan mac and cheese and quinoa taco salad.
The low-down
First things first. By CHLOE. (yes, with the full stop) is the name of the restaurant, not the owner. The restaurant is "plant-based", not vegetarian.
All NYC-speak aside, ultra-hip vegan joint By CHLOE. does look to be a rather promising new place to grab a swift, animal-free bite to eat in Covent Garden. It'll be the eighth branch of the store, but the first one outside of the USA, where it's earned itself some serious praise, including "the best veggie burgers in NYC" from Time Out New York.
On the entirely vegan menu, there'll be the likes of a quinoa taco salad, a guac burger, matcha kelp noodles, and excitingly, vegan mac and cheese, which is a BIG DEAL if you can't eat dairy, believe us. There'll also be dairy-free ice cream, plus baked goods, sandwiches, salads and soups.
Fans of By CHLOE.'s work in the US (and there are many of them - each branch so far has brought in over 100k vegan food fans a month) will also be to try some of the new dishes they're bringing out just for us Londoners. The London by CHLOE range includes a plant-based, vegan take on the following::
Classic Fish N' Chips - crispy tofu served with the classic accompaniments of chips, mushy peas and tartar sauce
Shepherd's Pie - vegan ground seitan, veggies, mashed potato and served with by CHLOE.'s famous Beet Ketchup
Pea N' Ham Soup
Sticky Toffee Pudding - topped with coconut whipped cream
As for the restaurant itself, it'll seat 70 and will also offer take-out too.
More about By Chloe.
Where is it? 34-43 Russell Street, London WC2B 5HA
When does it open? 6 February 2018
Find out more: Visit their website or follow them on Instagram @eatbychloe or Twitter @eatbychloe.