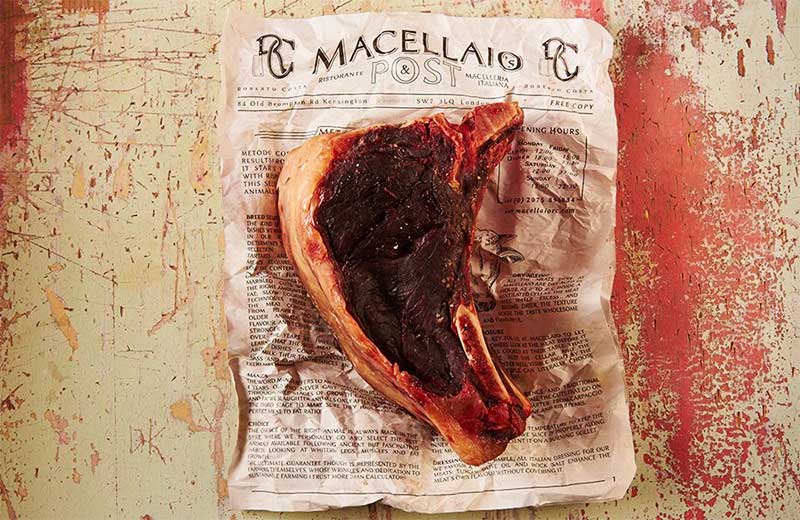 What: Macellaio RC Battersea
In a nutshell: Top quality Italian beef and lots of regional wines
Summing it all up: Fans of Macellaio RC's other branches can now head to their new Battersea base, where beef will be butchered and dry-aged aged on site. The new branch will be of particular interest to wine fans too, given the impressive collection of unique bottles of regional Italian vino on offer.
The low-down
Italian steak dealers Macellaio RC is opening their fourth base in Battersea, bringing with them Fassona beef that's been butchered and dry-aged in house, and new for this branch, a big focus on an *epic* wine list.
There'll be over 100 different wines in stock, with an emphasis on "wines of character" (though we're still trying to work out what this means.) The list will have ample representation of Italy's many regions, plus including several wines made with rare grapes. If you've ever wanted to learn to speak with authority about the contrast between a Pelaverga and Barbaresco wine, now's your chance.
As steak restaurants go, this branch of Macellaio RC is keeping things as close to home as possible, by butchering and dry-aging the special Fassona beef on site. The meat then goes into the bulk of the dishes on offer, like carpaccio with rocket, slow-cooked ragu, or a cut of steak served with rock salt and Tuscan olive oil.
It'll be the fourth Macellaio RC to open in the capital, with other branches in South Kensington, Exmouth Market and Union Street.
More about Macellaio RC Battersea
Where is it? 124 Northcote Road, London, SW11 6QU
When does it open? 21 July 2017
Find out more: Visit their website or follow @macellaiorc on Twitter