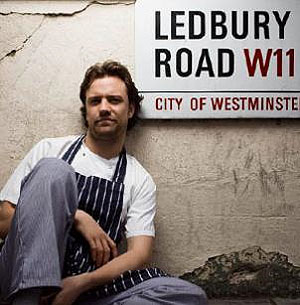 Notting Hill restaurant The Ledbury has ousted The Fat Duck from its spot as National Restaurant of the Year, according to Restaurant Magazine. In their 2010 awards, announced in London tonight, The Ledbury beat The Fat Duck and newcomer Bistro Bruno Loubet to the top spot.
The Ledbury jumped from last year's position at 31 to topple The Fat Duck from its position as No 1. Other newcomers were Bistrot Bruno Loubet at no 3, Bar Boulud at No 7 and Hix London (by which we presume they mean Soho) at no 14.
Brett Graham, head chef at The Ledbury, wasn't the only one uncorking the fizz tonight. Claude Bosi of Hibiscus was also celebrating, as he won the Chef's Chef of the Year award.
Restaurant Magazine's pick of the UK's Top 100 Restaurants for 2010 are:
1 The Ledbury, London
2 The Fat Duck, Berkshire (1)
3 Bistro Bruno Loubet, London
4 Hibiscus, London (2)
5 The Walnut Tree, Monmouthshire
6 Restaurant Sat Bains, Nottingham
7 Bar Boulud, London
8 The Square, London
9 The Waterside Inn, Berkshire
10 Galvin La Chapelle, London
11 Restaurant Nathan Outlaw, Rock
12 Pied a Terre, London
13 The Hardwick, Monmouthshire
14 Hix, London
15 l'Anima, London
16 Le Champignon Sauvage, Gloucestershire
17 Terroirs, London
18 Arbutus, London
19 Le Manoir Aux Quat' Saisons, Oxfordshire
20 Restaurant Andrew Fairlie, Perthshire
21 Wild Honey, London
22 Marcus Wareing at the Berkeley, London
23 Bocca Di Lupo, London
24 The Kitchin, Edinburgh
25 The River Café, London
26 Northcote Manor, Lancashire
27 Hix Oyster and Fish House, Dorset
28 St John, London
29 Galvin Bistro de Luxe, London
30 Polpo, London
31 The Sportsman, Kent
32 Maze, London
33 Hand and Flowers, Berkshire
34 The Star Inn, North Yorkshire
35 Hakkasan, London
36 L'Enclume, Cumbria
37 Trullo, London
38 L'Atelier de Joël Robuchon, London
39 Roka, London
40 Simpsons, Birmingham
41 Elephant Restaurant, Torquay
42 Chez Bruce, London
43 Restaurant Gordon Ramsay, London
44 La Becasse, Shropshire
45 Harwood Arms, London
46 Alain Ducasse at the Dorchester, London
47 Koffmann's, London
48 Midsummer House, Cambridgeshire
49 Petrus, London
50 Mya Lacarte, Berkshire
51 Hereford Road, London
52 Jack in the Green, Devon
53 The Modern Pantry, London
54 Zuma, London
55 Le Café Anglais, London
56 Porthminster Beach Café, Cornwall
57 Galvin at Windows, London
58 The Quilon Restaurant & Bar, London
59 Viajante, London
60 Zucca, London
61 The Three Chimneys, Isle of Skye
62 Le Gavroche, London
63 Hipping Hall, Kirkby Lonsdale
64 The Dogs, Edinburgh
65 Restaurant Martin Wishart, Edinburgh
66 Great Queen Street, London
67 21212, Edinburgh
68 Fraiche, Oxton
69 The Hinds Head, Berkshire
70 Gordon Ramsay at Claridges, London
71 Gidleigh Park, Devon
72 Corrigan's Mayfair, London
73 Racine, London
74 James Street South, Belfast
75 Launceston Place, London
76 Ondine Restaurant, Edinburgh
77 Kitchen W8, London
78 L'Ortolan, Berkshire
79 Lucknam Park, Wiltshire
80 Purnell's, Birmingham
81 Ode, Devon
82 Scotts, London
83 Bell's Diner, Bristol
84 The Cinnamon Club, London
85 JoJo's, Kent
86 Pipe & Glass Inn, East Yorkshire
87 Cafe Spice Namaste, London
88 Indian Zing, London
89 Hawksmoor, London
90 Barrafina, London
91 The Magdalen Arms, Oxford
92 Petersham Nurseries, Surrey
93 Tom Aikens, London
94 Wabi, West Sussex
95 Tyddyn Llan Restaurant with Rooms, North Wales
96 Koya, London
97 Browns Hotel, Tavistock
98 Murano, London
99 Braidwoods, Dalry
100 Yauatcha, London