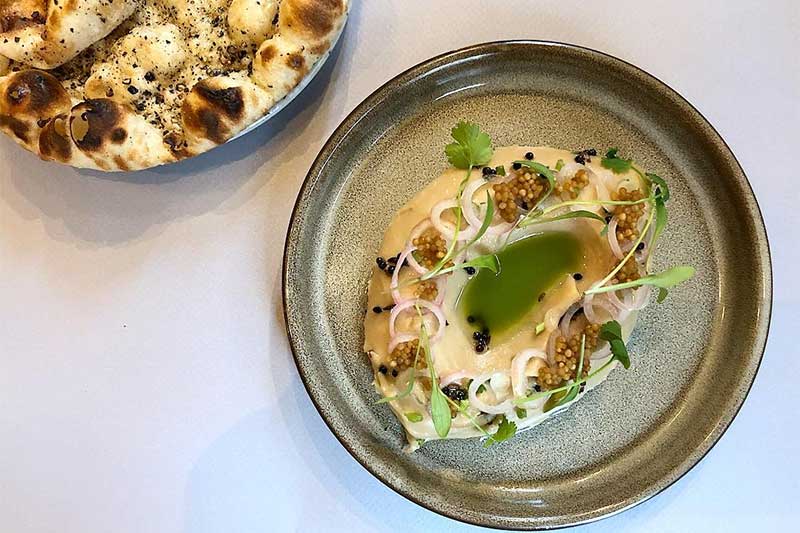 Updated 11/4/18 with opening date and more details
What: Kricket
In a nutshell: Popular Indian returns to where it all began
Summing it all up: Having begun life in a container at Pop Brixton, the return of the restaurant to a more permanent spot under the arches on Atlantic Road is good news.
The low-down
South London fans of Kricket who were left bereft when they moved out of their first home at Pop Brixton to open in Soho, will be pleased to hear that Rik Campbell and Chef Will Bowlby are returning to where it all began. And this time they're opening a permanent restaurant.
The new space on Atlantic Road will be a far cry from the original 20-seat shipping container which first opened up in 2015 with space for more diners and - crucially - it'll take bookings.
"It has always been our intention to return to the neighbourhood where our journey first began," said Rik and Will, "and we couldn't be more excited. Brixton has remained such a huge part of Kricket's identity and we've been searching for a permanent site ever since we moved out of POP Brixton."
Hot Dinners caught up with Rik for a quick chat about what their plans were for Brixton. Hot Dinners caught up with co-owner Rik this week for a quick chat about what their plans were for Brixton.
Of the space itself, they're taking over the old Brindisa site which extends into two arches under the railway at Atlantic Road. In one there'll be a 40 cover restaurant which will be bookable. The other will feature a bar and kitchen where you'll be able to drink and eat snacks - with room for a further 30 there.
In terms of the food and drink they're very much treating Brixton like a Test Kitchen and Bar - great news if you like to be the first to try new things. The food will be more Indian inspired than classically Indian, giving them more creative freedom.
New dishes they're planning include:
Lotus root yakni, morels & lotus root crisps
Spiced smoked cods roe, telicherry kulcha
Pig head vindaloo with artichoke tarka & pickled shallot
Rock oyster pakora, rhubarb chutney & thecha
But don't worry - Kricket's much-loved Samphire Pakoras and Keralan Fried Chicken will remain on the menu.
On the drinks side of things, things will be equally fluid (sorry) with the intention to focusing on different spirits for distinct periods. Once the whole thing is up and running there'll be special lists on rotation so maybe you'll have a few months with a whisky-based list of drinks, switching to a gin-based list after that.
More about Kricket
Where is it? 41-43 Atlantic Road, London SW9 8JL
When does it open? 22 May 2018.
How to book: On the website
Find out more: Visit their website or follow them on Twitter @kricketlondon
Subscribe to be the first to get the news from Hot Dinners