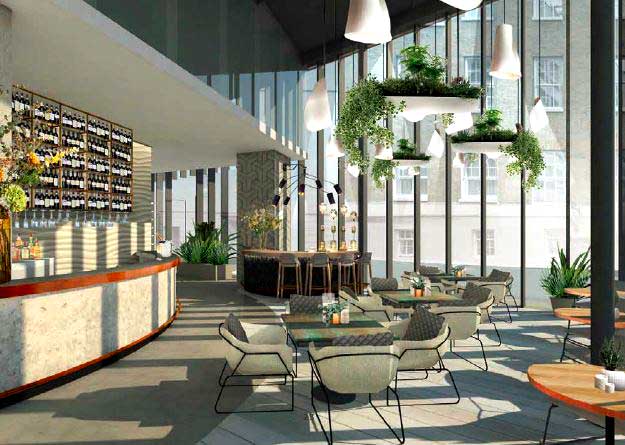 24/10/17 - updated with soft launch details
What: The Listing
In a nutshell: Swanky cocktails and all day dining
Summing it all up: The Listing is the latest offering (the 22nd, in fact) from the Drake & Morgan group, which is also behind City favourite The Anthologist. It looks to continue things in a similar vein, with a luxuriously decked out interior, all day dining, and a cocktails list that include hot toddies...
The low-down
The City's latest, gleaming new build Cannon Green is set to be home to a new bar and restaurant by the name of The Listing from the folk behind places like The Anthologist and The Refinery.
From inside their sleek new bar space, complete with marble-topped tables and aged mirrors, they'll be slinging out whatever you might need to whet your whistle, from bespoke cocktails to wines, Champagnes, spirits and craft beers. They'll also be serving hot toddies - just the job now the temperature is firmly on the downward trajectory.
There'll be an extensive menu for you to browse as well, with breakfasts, mains, flatbreads, superfood salads and sharing boards, and will be open from 7.30am until midnight Mondays to Fridays.
Grab a seat in one of their curved booths, or if the weather's cooperating, take a spot on their plant-laden al fresco terrace with views over Suffolk Lane.
More about The Listing
Where is it? Cannon Green, 27 Bush Lane, London EC4R 0AA
When does it open? 13 November 2017
Soft launch details: 50% off food and drink, 13-17 November. Book at info@thelistingbar.co.uk or call 0203 948 9820.
Find out more: Visit Drake and Morgan's website or follow them on Twitter @drakeandmorgan