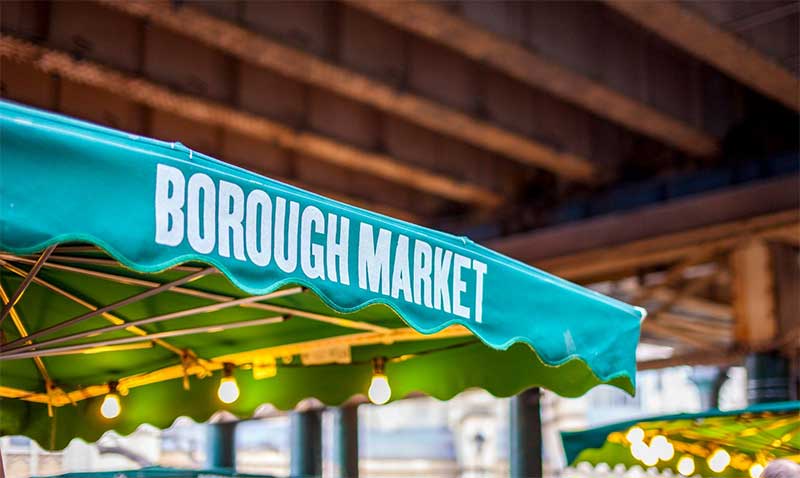 Today, 11 days after the terrorist attack that left eight people dead and scores more injured, Borough Market, and many of the restaurants and bars in the streets around it, reopens. With so much love and goodwill radiating from all across this city and the world for our lovely market, we've trawled Instagram for examples of that affection for some of the folk affected, from their many, many loyal customers. We thought we'd let those customers tell the story of the market in their own words and pictures.
Elliots
Elliot's are promising "some wine, some cheese puffs and a whole lotta market community love" when they reopen. And those cheese puffs are legendary.
El Pastor
I mean, come on - just LOOK at these sesame tuna tostadas at El Pastor. And if Cosme chef Enrique Olvera thinks they're the dogs bollocks, then they assuredly are.
Brindisa Tapas
Look for Brindisa Tapas on Instagram and one dish comes back time and time again - the gambas al ajillo. There's a whole lot of love for those garlicky prawns.
Padella
Hangover food, is what this picture of Padella's nettle tagliorini is captioned. We'd have it with or without a throbbing headache any day of the week.
Arabica
This is the restaurant made famous when a diner on the night returned the next day to pay his bill and tip the staff. You're going to want to follow in his footsteps and order this hummus with lamb fillet while you're at it.
Fish!
If you're at Borough looking for a classic British dish of fish and chips, then Fish! will see you right.
Black and Blue
It's ALL about the meat at Black & Blue although Insta has a love too for the desserts of this Borough steak restaurant.
The Globe
Is The Globe London's best-kept secret, as its chef Luke Hawkins claims? Well, if the look of this dessert by their pastry chef Chloe Webber is anything to go by, then yes, we need to get down here pronto.
The Wheatsheaf
Obviously, The Wheatsheaf is first and foremost one of Borough's most popular pubs, but it also appears to do a stupidly popular Sunday lunch as well.
Feng Sushi
Most instagrammed dish at the Feng Sushi in Borough Market? Hands down the salmon dragon rolls which have loads of fans.
Hawksmoor Borough
Hawksmoor on Winchester Street is a relative newcomer to Borough, but it's already made a mark. You know what you're coming here for - that amazing, life-affirming steak.
Roast
There are plenty of reasons to try Roast, but we can't think of a better one than this beef wellington...
Bread Ahead
A place you can pick up AND pick up the knack of actually making, these amazing doughnuts - Bread Ahead's Insta fan feed would make anyone hungry.
Arthur Hooper's
This new Borough restaurant on Stoney Street was only open a month before the attacks. But we hear their burrata dish is popular with vegetarians and meat-eaters alike.
Cannon and Cannon
"Everything is incredible," - well you can't say fairer than that about popular Borough trader Cannon and Cannon
Boro Bistro
One restaurant remains closed for now. Boro Bistro is where two of the victims of the attack lost their lives. It's currently shut, with plans to open in a few weeks. And when it does, these sharing platters are what everyone loves about this lively place.
Obviously, we couldn't feature everyone at Borough, much as we'd love to, because we'd still be putting this page together at Christmas. There are SO many more places to frequent and give your custom to, from the amazing stalls to the wonderful bars and restaurants on streets all around it. 
More about Borough Market
Where is it? Borough Market, 8 Southwark St, London SE1 1TL
When does it open? It's open right now
How do I book? Only some restaurants accept reservations - a lot are walk-ins only. Look at each website for details.
Find out more: Visit Borough Market's website or follow them on Twitter or Instagram