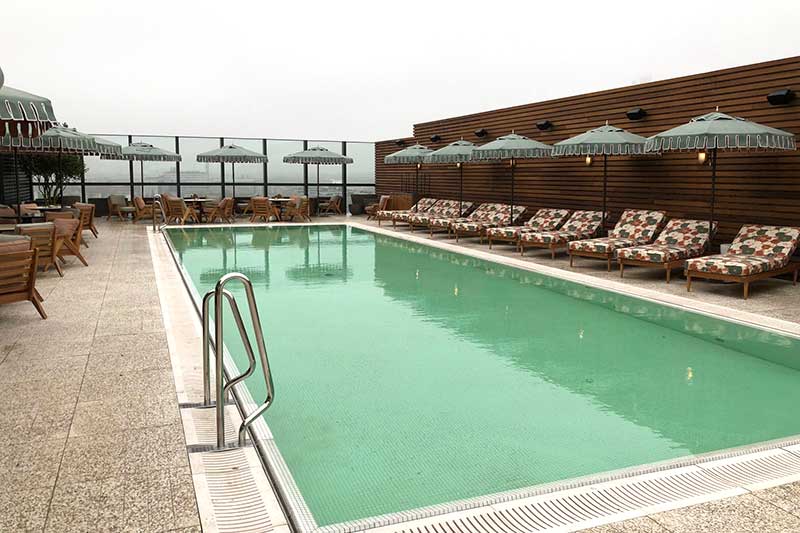 Updated 10/4/18 with images
What: White City House
In a nutshell: Soho House group take on Television Centre
Summing it all up: With a rooftop pool overlooking London for members and a cinema and all day restaurant for locals, Soho House's new West London opening is pulling all the stops out.
The low-down
Having written about it for months, we jumped at the chance this week to take a proper look inside the new Television Centre complex at Wood Lane which is a mixed-use space of apartments, office, restaurants and - of course - the next Soho House club to open. It's an impressive space (if only we had the dosh to blow on an apartment there). And you've got to love the development of the place's cultural narrative that sees the late great Terry Wogan's son, Mark, opening a restaurant right where his Dad worked for so many years.
But what'll really make this whole site pop is the upcoming unveiling of the upcoming White City House. This new members' club features 45 bedrooms within the building's original Grade-II listed central ring. It also takes over two floors of the new building with a screening room, event space, cinema, restaurants and bars AND a rooftop swimming pool complete with bar, enjoying views from Wembley to the Shard and beyond to the countryside.
The 8th floor will host members' events - with a green room backstage, an open kitchen and bar and an outdoor terrace. The ninth floor houses the main members' space - a Games Room with billiards table, several bars, a large open kitchen with Asian inspired food as well as healthy plant-based dishes and Soho House favourites. We loved the eye-popping terrace too (with plans underway to name it after an iconic outside space at the TV centre.)
But what, does this mean for me, you might be wondering if you're not a Soho House member. Well, there's also plenty of public space here too with every bit of the ground floor of White City House open to the public. The Allis is going to be an all-day space, serving everything from morning coffee and quick bites to late night cocktails. We're hoping it has a Martini and bar snacks menu like the Chicago original.
And in the basement, Electric Cinema White City will feature two screens and a kiosk bar serving food and drinks, with signage inspired by the BBC studios on the walls.
More about White City House
Where is it? 101 Wood Ln, Shepherd's Bush, London W12 7FA
When does it open? 23 April 2018
Find out more: Visit their website or follow Soho House on Twitter @sohohouse
Subscribe to be the first to get the news from Hot Dinners