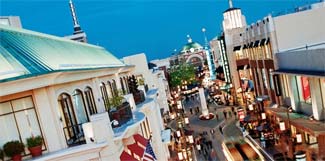 Gordon Ramsay's certainly got a lot of projects on the go in the US at the moment with confirmation this morning that his latest project will be a British gastropub in Los Angeles. The Fat Cow (no relation to The Fat Duck) will see Ramsay teaming up with his company's Corporate Executive U.S. chef Andi Van Willigan to open at LA uber-mall The Grove this summer alongside other newcomers like Umami Burger.
According to a release, The Fat Cow will be a 200 seater family diner focusing on local ingredients including a food cooked on a rotisserie grill, house cured meats, local cheeses and daily inspired dishes from the farmers market, The in-house pastry team will busy themselves making classic American home desserts "with a British pub flare" - we presume they mean flair.
"We're really excited to bring this concept to life, a place where people can just relax and enjoy a delicious European inspired meal," said Ramsay.
All eyes will be on the new restaurant, which if successful, could cross the Atlantic and open in Britain.
It's the third American project Ramsay's been linked to recently with potentially two places to open in Las Vegas this year - Gordon Ramsay Steak at the Paris Las Vegas Hotel and a rumoured spot at Caesar's Palace.