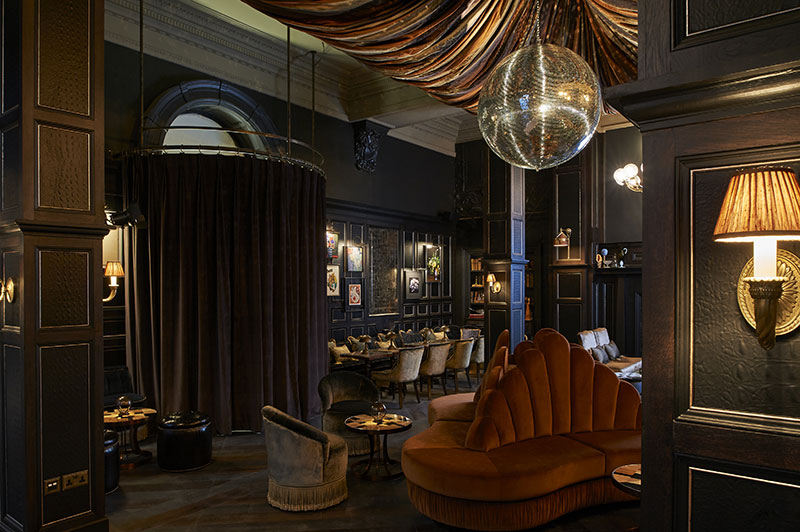 What: Fitz's at The Principal
In a nutshell: Cocktails and snacks in Russell Square
Summing it all up: The Principal Hotel that's opened in Russell Square has also brought brand new cocktail bar Fitz's to the area. And that means new bar snacks...
The low-down
The huge new Principal Hotel in Russell Square has now been unveiled to the public and alongside the much-anticipated Neptune restaurant, there's a brand new bar coming to the hotel too.
It's been created by two people with plenty of background in cocktails - Robbie Bargh of Gorgeous Group and Sean Fennelly, formerly at Milk & Honey and with a new design courtesy of Russell Sage Studios (Social Eating House, Quaglinos).
And it seems like a fair bit of work has been put into the look of the place - here's what we're told to expect - "a radiant glitter ball hangs from a tented ceiling of ombre silk; in the adjacent room, an original stained-glass window and huge fireplace sit alongside a brooding palette of leather and velvet upholstery, antique rugs, and a specially commissioned mural by Italian street artist 2501."
But, of course, it's REALLY all about the cocktails - so here's what's on the menu:
Vesca Negroni - Ford's Gin, Luxardo Bitter Bianco, Dolin Blanc, Woodland Strawberry, Rosehip, Aloe, Coconut
Golden Echo - St George Pear Brandy, Noix de la St Jean, Smith & Cross Rum, Lime, Toasted Sesame, Pimento Bitters, Ginger Beer
Four Queens - Redbreast 12yr Pot Still Irish Whiskey, Wildflower & Heather Honey, Mint, Chervil, Fennel Flower, Lemon Balm
And if you want something non-alcoholic, there's the Seedlip Switchel - Seedlip Spice 94 or Seedlip Garden 108, Wildflower & Heather Honey, Cider Vinegar, Apple.
There are snacks too - including bone marrow croquettes with parsley salad and French toast, bresaola, parmesan, mushroom. Cocktails and bone marrow croquettes sounds like a good night to us...
More about Fitz's
Where is it? 8 Russell Square, Bloomsbury, London WC1B 5BE
When does it open? Open now
Find out more: Visit their website or follow them on Instagram @fitzsbar.
Subscribe to be the first to get the news from Hot Dinners