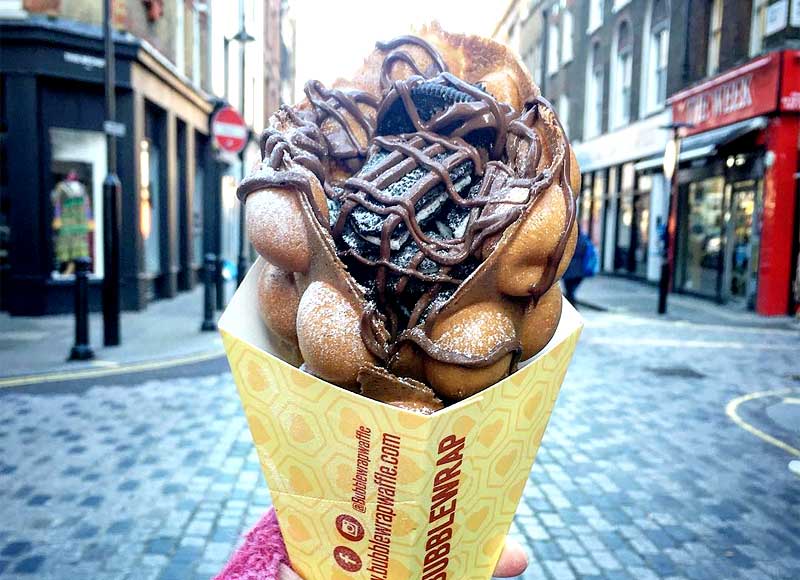 6/3/17 - Updated with opening date.
What: Bubblewrap
In a nutshell: Hong Kong egg waffle stall puts down roots in London
Summing it all up: After cutting their teeth as a festival food truck, this mix-and-match street food from east Asia is making its way to Soho for good.
The low-down
Bubblewrap, who can normally be found hawking their sweet egg waffle cones at festivals, will be opening up a permanent shop so Londoners can get their hands on the goods all year round.
If you're wondering what an 'egg waffle' is, it's more or less a pancake by way of Hong Kong - that is, cooked in a waffle iron, rolled up like an ice cream cone, topped with a generous scoop of gelato and covered in sauce. Egg waffles have apparently been around since the 1950s when they appeared in Hong Kong as a way of using up eggs that were accidentally broken, so the legend goes, before going on to become a popular street snack. It doesn't hurt, too, that they are insanely Instagrammable.
Bubblewrap will be offering plenty of flavour combos for you to mix and match, so you could try a cocoa waffle with berries, sea salt and dark chocolate, or a more traditional matcha waffle with mochi and red bean. Overall there'll be 14 different toppings to choose from, and 9 sauces including Nutella and condensed milk, so there should be something for everyone. One egg waffle should run you between £6-7, depending on which toppings you go for.
You'll also be able to get your hands on Hong Kong inspired soft drinks, like Lemon Chill and Silky Milk Tea.
Soft launch: For the first two weeks of opening, Bubblewrap will be offering two-for-one on all their wraps.
More about Bubblewrap
Where is it? 24 Wardour Street, WID 6QJ
When does it open? 8 March 2017
Find out more: Visit their website or follow them on Twitter @bubblewrap_LDN