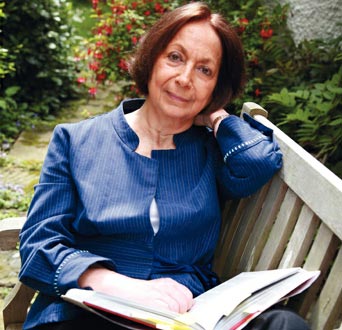 Claudia Roden, worthy recipient of this year's Lifetime Achievement Award from the Guild of Food Writers, has spent the past five years researching her most recent book - The Food of Spain. "I went in search of those memories and emotions that dishes evoke in Spaniards, and on the way I discovered what they meant to me." We persuaded her to tell us what are her favourite restaurants in London right now.
St John
26 St John Street, London EC1
"I just love the way they cook and because they also do some of the meats and some of the cuts that aren't popular and that I love. But I did have the most amazing suckling pig there too."
Moro
34-36 Exmouth Market, London EC1
"I love Moro. I think the two Sam Clarks do fantastic Middle Eastern and Spanish food. They have a tremendous sense of flavour and they do manage to do their own way and make things taste even better than they do sometimes in the countries themselves."
Ottolenghi
Belgravia, Islington, Kensington & Notting Hill
"Yotam also has the kind of food that I write about and I like which is Mediterranean and he has a special way of choosing dishes and make them taste even more wonderful."
Find out more about Ottolenghi
Bocca di Lupo
12 Archer St, London W1
"He [Jacob Kenedy] does Italian and he is wonderful I think. I'm totally in admiration of him, because I have done a book of Italian book so I'm familiar with how it should be."
Find out more about Bocca di Lupo
Claudia Roden's latest book The Food of Spain is available to buy now.
More Hot Dinners picks:
Observer food critic Jay Rayner: "I sneak off to this small, unassuming place."
Paparazzi Richard Young: "The food is impeccable and you are always guaranteed a good crowd."
Bloomberg's food critic Richard Vines: "I went to lunch last week and it was one of the best meals I've had for a long, long time."