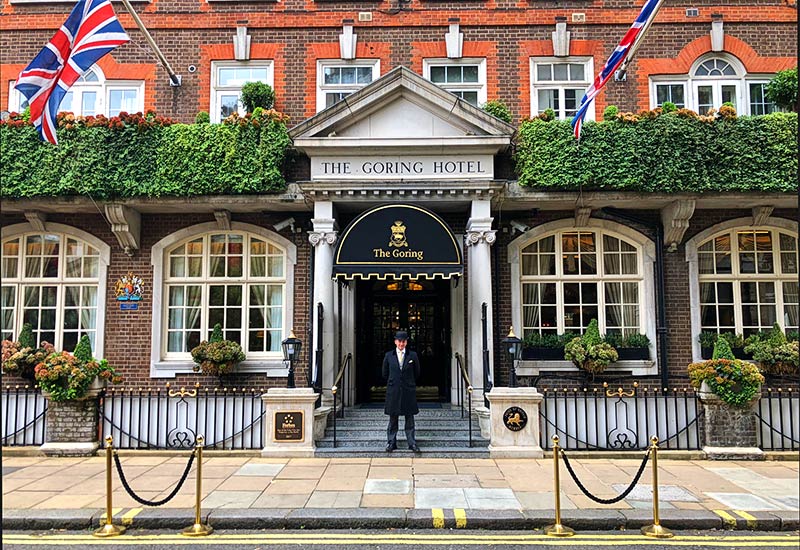 The bowler-hatted doorman at The Goring
Checking in
For many years, The Goring quietly went about its business, being one of London's iconic privately-run hotels and one of the few places HRH would go to dinner, outside of Buckingham Palace. Then the Duke and Duchess of Cambridge got married and a huge spotlight was shone on the hotel as it put up the bride to be and her family the night before the royal wedding.
Fast forward seven years and the hotel is still the only hotel in the city to be owned by the family that opened it. The Queen still goes to eat there (she's had her staff Christmas lunch there for the past two years) making the hotel a magnet for anyone looking for a little of the royal glitter to rub off on them.
Inside the lobby.
Where is it?
Very near Buckingham Palace - of course - and just around the corner from Victoria station too.
The rooms
When it opened, back in 1910, one of The Goring's big selling points was that it was the first hotel in the world in which every room had a private bathroom and central heating. In 2018 thankfully those two things are a given.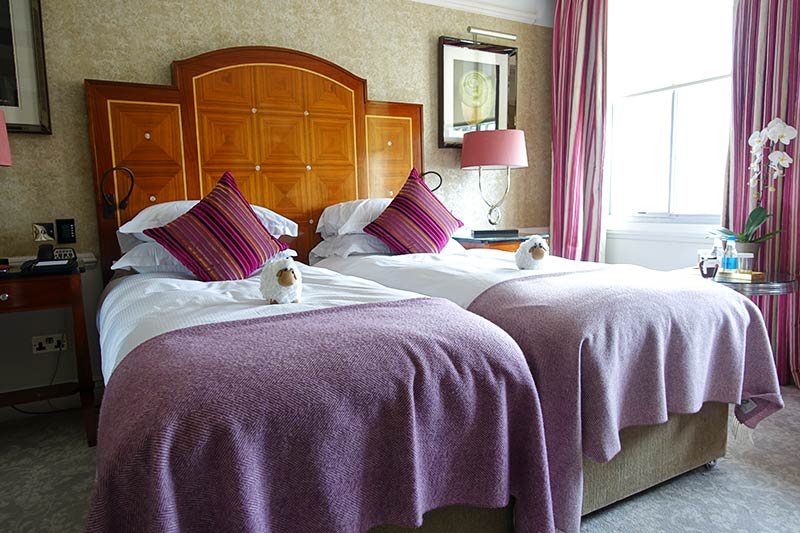 A King twin room complete with a pair of Goring sheep
Our king room on the top floor may not have had much of a view (there are some lovely rooms with a view over the hotel's garden) but it was a decent size and rather beautifully decorated. There's no mini bar, which may come as a surprise, but instead the hotel offers 24-hour room service (which we took advantage of that evening).
Pre-dinner drinks
One of this hotel's unique features is its private garden, a huge size given it's just a hop over the wall from the palace. So there's no better place to pop for pre-dinner cocktails in the summer months than the terrace here. If you're here during colder times, then the gorgeous bar is also definitely worth taking up residence in.
Cocktails on the terrace overlooking The Goring's private garden
We tried a classic and a twist on a classic - so that's an old-school, impeccably made and improbably strong Cosmopolitan and then a smoky Negroni. We also rather liked the cheesy biscuits you got as free bar snacks.
Sometimes there's really nothing better than a good hotel bar, is there?
What's for dinner?
Executive Chef Richard Galli is in charge of the dining room here, which must be one of the most pleasing spaces to eat in London. If you're weary of thin, cramped East London dining rooms then head here where the restaurant is the kind of room Jane Austen would describe as "well-proportioned". We're not mad keen on Viscount Linley's modern light fittings, but then you can't have everything.
The menu here is a mixture of classic dishes and those with a lighter touch. Here's what we ate on the night...
We obviously had to go for the Queen Mum's favourite dish, Eggs Drumkilbo which is what we're going to have delivered to us the next time we feel ill (or just a bit low). The combination of crab, lobster, prawns and cubes of tomato jelly topped with a quails egg and Oscietra caviar was the ultimate people pleaser.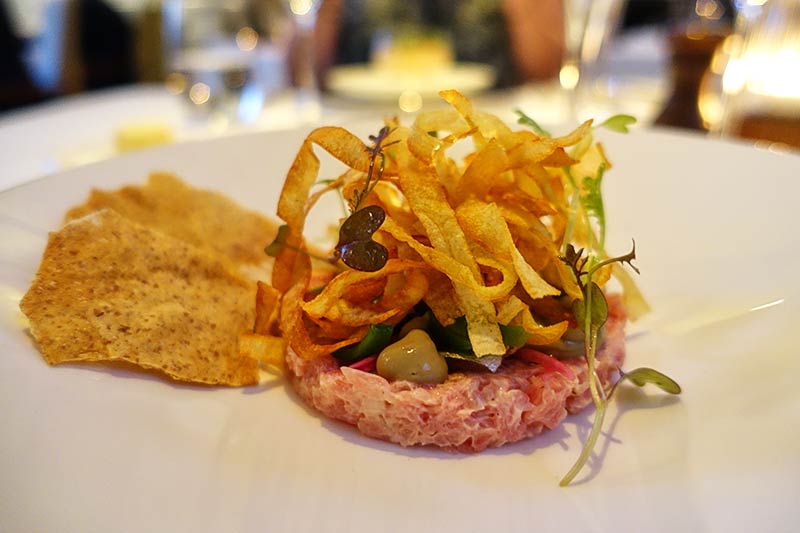 Rose veal tartare with smoked anchovy, crispy potatoes, seaweed salt. An excellent tartare.
A glazed lobster version of Omelette Arnold Bennett served with lobster caesar salad was a rich, rib-sticking dish, the one to beat until...
The top dish of the night was this main of Salt Marsh lamb which came with a lovely braised lamb and haggis bun, shallot purée and seaweed tapenade.
Cornish clotted cream mousse, apple sorbet, caramelised hazelnuts and crumble rounded things off before...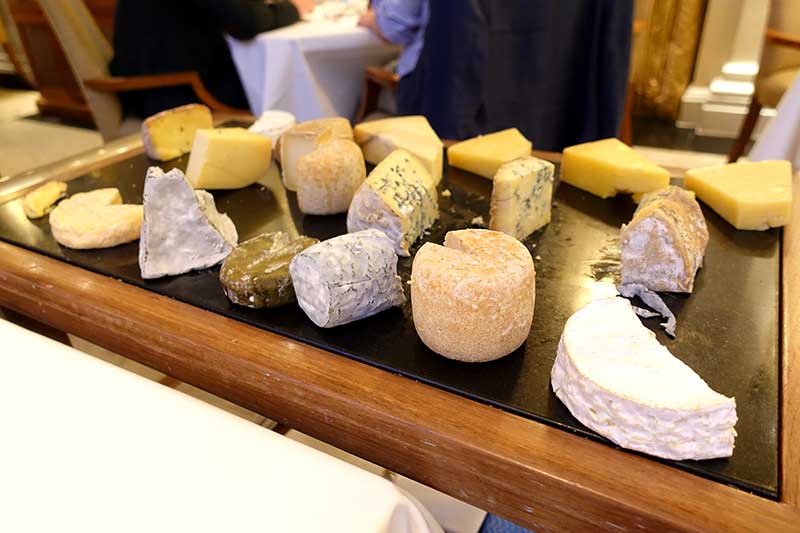 Finally, we had a super go at their all-British cheese trolley, served with genuine enthusiasm and knowledge.
The morning after the night before
Breakfast at The Goring can be taken in two rooms. You can opt for the bar and have a continental breakfast but, as you might have guessed, we spurned that choice in favour of returning to the dining room for the full cooked spread.
Everything is pretty much what you would expect from a hotel breakfast - except the full English also contains both black and white pudding and lambs' kidneys as standard. It's the kind of spread that an Edwardian gent eating here when the hotel first opened would have been proud of.
The full English (kidneys on the side - untouched by us).
The bottom line
An overnight stay with a three-course dinner for two in the restaurant and breakfast the next morning starts at £520 per night, per room. A three-course dinner in the restaurant is £64.
More about The Goring
Where is it? 15 Beeston Pl, Westminster, London SW1W 0JW
Find out more: Visit their website or follow them on Twitter @thegoring
Hot Dinners stayed as guests of The Goring
Subscribe to be the first to get the news from Hot Dinners