f you're heading for an picnic in London's parks, make it a real feast. Here are the best London picnics for you to order and enjoy at your leisure whether you're out in the park or at home in the garden.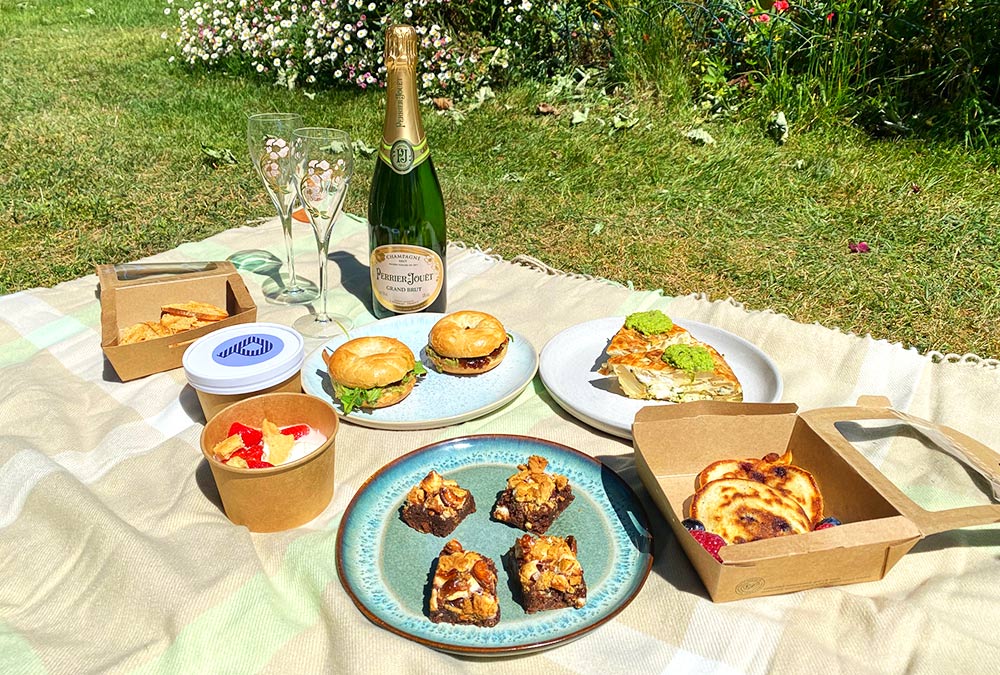 How much? £95 or £115
If you had a whole load of fun planned for the summer season - Wimbledon, Chelsea Flower Show, Ascot - that's all been cancelled, you could make up for it a little by ordering yourself this high-end picnic hamper. The menu's gorgeous - think Courgette & feta frittata with broad bean, basil & mint salsa or Crispy pancetta mini bagels with avocado, rocket, shaved parmesan & caramelised leek chutney (an alternative veggie menu is equally enticing) - and then there's the soft Perrier-Jouët picnic blanket, full or half bottle of Perrier-Jouët Grand Brut Champagne and two flutes to drink it out of. We've tried this one (we were sent a sample and that's our own pic above) and can definitely recommend.
Delivery area: Most of West and South West London - as far North as Maida Vale, West to East Sheen and South to Wimbledon and Streatham.
How to order: Order online
More info: Follow them on Instagram @piquefood
How much? £46.50
Grab this picnic tote bag from the Camberwell Arms and you'll have everything you need to be the envy of folk in local parks. There's a bottle of Chin Chin Vinho Verde, a sausage roll, Langherino cheese, a cucumber salad and a Sfincione (Sicilian Pizza). Snacks include Gordal olivers and potato sticks along with two lemon and stem ginger possets.
Delivery area: Free to SE5 and SE15
How to order: Order online
More info: Follow them on Instagram @thecamberwellarms
Where: 96 Rodney Rd, London SE17 1BG
How much? £15
Having been pretty innovative in their move to delivery during lockdown (home delivery sommelier service for one) this neighbourhood wine bar has come up with another clever idea for picnics. To ensure you have something rather delicious to line your stomach, they're selling a special picnic pack which is available when you buy any bottle of wine with them. There's a boozy cheese selection alongside white wine & jumpier salami, cured and peppered pork belly, homemade kimchi, dolmades and sun-dried tomatoes. It comes with compostable eco-friendly cutlery and cups as well.
Delivery area: Collection only - call 0207 703 5570.
How to order: See their wine list online
More info: Follow them on Instagram @diogenes_thedog
Where: Sheldon Square, London W2 6DL
How much? £45
Right now you can't go messing about on the water but, thanks to London Shell Company, you can at least picnic beside it. We tried this gorgeous seafood box and thought it was very good value. It includes a bottle of their own label The Grand Duchess, English sparkling wine from Hampshire's Hattingley Valley Wines along with a range of seafood. The choice changes regularly but right now it's smoked mackerel, cured Dorset char with house pickles, freshly cooked crevettes with the creamiest mayo and some very good soda bread and butter.
Delivery area: Inside the M25. Deliveries are made on a Friday.
How to order: Order online
More info: Follow them on Instagram @londonshellco
Where: 5 Clipstone St, Fitzrovia, London W1W 6BB
How much? £65
If you find yourself in central London over the summer then pop along to Clipstone where their picnic boxes are perfect for picking up and taking to nearby Regents Park. There's a nice bottle of Riesling, Torres truffle crisps and pickles along with a sliced half-loaf of their house bread, baked that day to top with their aubergine, garlic and miso hummus or pork and rabbit rillettes. Finish up with some freshly baked financiers. They also deliver if you prefer to picnic closer to home
Delivery area: Deliveries are made within a 10k radius on Wednesday, Thursday and Saturday afternoons only (£25 minimum order).
How to order: Order online
More info: Follow them on Instagram @clipstonerestaurant
How much? £26.50
Although this isn't marketed as a picnic as such, we reckon The Cheese Bar's beer & cheese combo has pretty much everything you need for an off-the-cuff park picnic. It features three 150g pieces of cheese, a packet of Miller's Damsel Crackers to with them and a selection of three beers. It all changes, depending on what's available so it's a bit of a potluck affair. They also do a fondue pack which works with a candle, so you could also take that to the park if you fancied.
Delivery area: By post - nationwide
How to order: Order online
More info: Follow them on Instagram @thecheesebarldn
Subscribe to hear the latest from Hot Dinners