Right now, you can have a picnic in the park with one other person - and with six of you by the end of the month. So if you're heading for a picnic in London's parks, make it a real feast. Here are the best London picnics for you to order and enjoy at your leisure whether you'll be out in the park or at home in the garden.
Normally this catering company is busy making sure the well-heeled folk at Ascot and Henley are well fed. When those events were put on hold, they switched to delivering luxury picnics. Right now there are two to choose from. First is the Picnic In The Park Two Metres Apart which includes such treats as apple, leek and chilli sausage roll and shredded sesame chicken on a spring vegetable slaw. There's also a seafood version and the "Greengrocer's" picnic if you're after something veggie.
Delivery area: Throughout London from £10
Follow them on Instagram @ansonandcurtis
How to order: Order online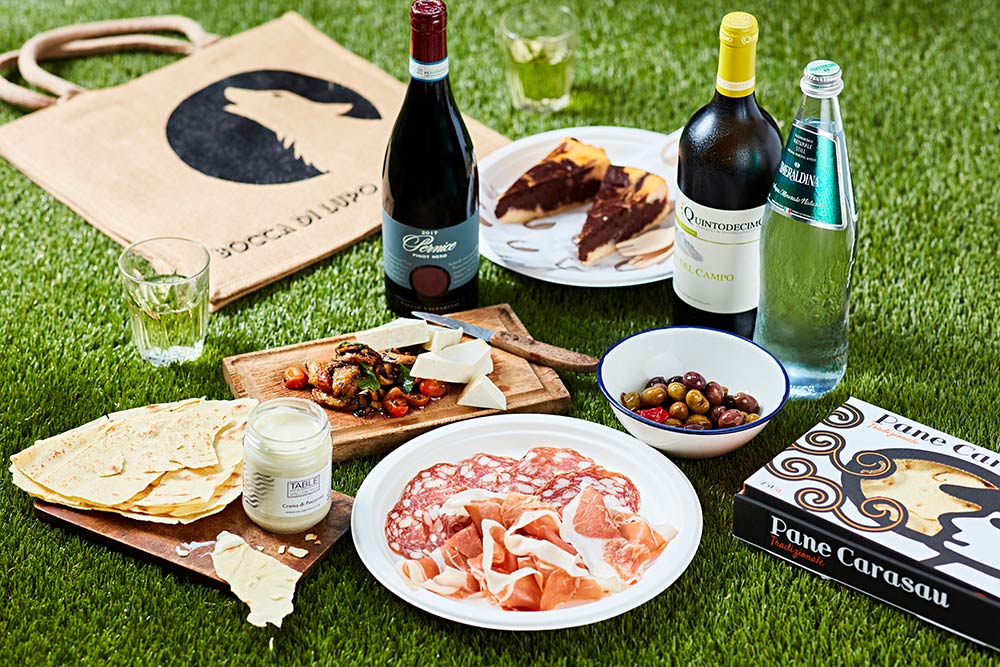 Jacob Kenedy's Bocca di Lupo has added picnics to the menu which will let you take an Italian feast to the park. There are a few options and they include such delights as wafer-thin Pane Carasau (Sardinian flatbreads) with Pecorino cream for dipping, Prosciutto di San Daniele, Tuscan salami, smoked ricotta with grilled aubergines marinated with roast tomatoes, chilli and mint and more besides. There's also an option for Gelupo Prosecco as well as eco-friendly cutlery, glasses and napkins.
Delivery area: Across London
Follow them on Instagram @bocca_di_lupo
How to order: Order online
Although this isn't marketed as a picnic as such, we reckon The Cheese Bar's beer & cheese combo has pretty much everything you need for an off-the-cuff park picnic. It features three 150g pieces of cheese, a packet of Miller's Damsel Crackers to with them and a selection of three beers. It all changes, depending on what's available so it's a bit of a potluck affair. They also do a fondue pack which works with a candle, so you could also take that to the park if you fancied.
Delivery area: By post - nationwide
Follow them on Instagram @thecheesebarldn
How to order: Order online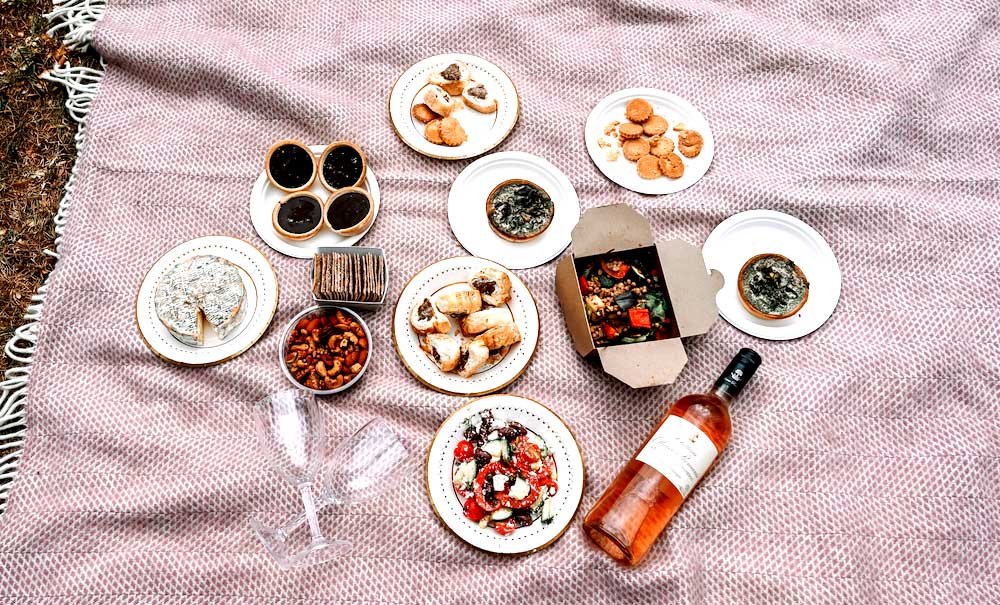 Ballymaloe Cookery School alumnus Chrissy of Chrissy's Kitchen is branching out from her usual events service to send out lovely hampers across London. Each one contains spiced mixed nuts, sausage rolls, Parmesan shortbreads, savoury tarts, two types of salads, salted caramel tartlets or brownies and a choice of a bottle of French rosé or four beers.
Delivery area: Across London
Follow them on Instagram @chrissyskitchenltd
How to order: Order online.
Photo: Angie Silver
Where: 315 Fulham Rd, Chelsea, London SW10 9QH
Order a picnic from the Chelsea traiteur and you'll find a treasure trove of treats. The carnivores option Includes consomme, ham hock terrine, sausage roll, baguette, wagyu beef and honey crisps and more. There's also a Pescatarian and vegetarian hamper as well as an afternoon tea hamper and plenty of booze to add on too.
Delivery area: Collection or a 4-mile radius from Fulham Road.
Follow them on more Instagram @colettecuisine
How to order: Order online.
Where: The Grand Duchess, Sheldon Square, London W2 6DL
Right now you can't go messing about on the water but, thanks to London Shell Company, you can at least picnic beside it. We tried a seafood box from them and thought it was very good value. It includes a bottle of their own label The Grand Duchess, English sparkling wine from Hampshire's Hattingley Valley Wines along with a range of seafood. The choice changes regularly but right now it's Whole Smoked Trout, Cold Smoked Salmon, Pepper Cured Char, freshly cooked crevettes with the creamiest mayo and some very good soda bread and butter.
Delivery area: Collection from Paddington
Follow them on Instagram @londonshellco
How to order: Order online (Available from 2 April)
Jose Pizarro has turned his attention to picnics, curating probably the best Spanish-themed picnic you're likely to have. On the menu is Jamón Ibérico & picos, Tortilla de patatas;Manchego & la Peral, Boquerones, Ensaladilla Rusa, Empanadilla de atún, and Choco pots. There's gin too, for a G&T picnic.
Delivery area: Nationwide
Follow on Instagram @josepizarrorestaurants
How to order: Order online (available from 25 March)

Pique specialise in luxury hampers and picnics, either for special occasions like birthdays or for just taking along to the park. Options include The Ultimate Brunch (inc blueberry pancakes, ham & gruyere filled mini croissants, courgette & feta frittata and more) or the Freedom Picnic with coronation chicken and caramelised apple & thyme sausage rolls. Everything you need is in the picnic, including plates, cutlery & napkins (all compostable) and you can add on beer, Prosecco, Champagne and more.
Delivery area: 7 miles from SW11
Follow them on Instagram @piquefood
How to order: Order online
Also try...
Central London restaurant delivery company Supper will be delivering food to special pick-up points in London parks from 29 March. So if you fancy a very fancy picnic - check them out.
From 2 April, The Terrace by Megan's will be selling picnics to eat on Clapham Common.
We hear Top Cuvee is planning on delivering BBQ to Clissold Park from April...
Subscribe to hear the latest from Hot Dinners