f you're heading for a picnic in London's parks, make it a real feast. Here are the best London picnics for you to order and enjoy at your leisure whether you're out in the park or at home in the garden.
How much? £35 for two
Perfect for taking out into Richmond Park and setting up with a view over London, there's a range of picnics and every one has a vegan options. The Vegan Hill Top Magic picnic for two includes roasted veg bagels, soya and herb 'sausage' rolls, quiche, vegan skewers, superfood salad, fruit tarts and two smoothies. You can add in wine, a wicker hamper or blanket as an extra.
Delivery area: Collection only
How to order: Order online and collect from 149-150 Richmond Hill, Richmond TW10 6RW.
More info: Follow them on Instagram @144onthehill
How much? Park picnic from £20 per person for five items. Patio picnic £100 for two.
Normally this catering company is busy making sure the well-heeled folk at Ascot and Henley are well fed. While those events remain on hold, they've switched to delivering luxury picnics. Right now there are two to choose from. First is the Picnic In The Park Two Metres Apart which includes such treats as apple, leek and chilli sausage roll, caprese salad pots with pesto drizzle and summer berry rose jelly. Or you could up the ante with a Picnic on the Patio which is more of an at-home job which includes coronation chicken salad, raisin scones with clotted cream and a bottle of Champagne on the menu.
Delivery area: Throughout London for £10
How to order: Email caroline@ansonandcurtis.com
More info: Follow them on Instagram @ansonandcurtis
How much? £42 but you can get 20% off with our reader offer
Perfectly situated for grabbing and heading onto the heath, this seafood picnic features a split Lobster, kiln roast salmon, Dusty Knuckle focaccia, shop made tarama and pâté, Perrello olives and summer berries to finish. And you can add in a bottle of crisp natural wine, half bottle of Champagne, or set of craft beers.
Delivery area: Check Slerp for radius - also free to collect
How to order: Order online
More info: Follow them on Instagram @bournesfish
How much? £46.50
Grab this picnic tote bag from the Camberwell Arms and you'll have everything you need to be the envy of folk in local parks. There's a bottle of Chin Chin Vinho Verde, a sausage roll, Langherino cheese, a cucumber salad and a Sfincione (Sicilian Pizza). Snacks include Gordal olives and potato sticks along with two lemon and stem ginger possets.
Delivery area: Free to SE5 and SE15
How to order: Order online
More info: Follow them on Instagram @thecamberwellarms
How much? £26.50
Although this isn't marketed as a picnic as such, we reckon The Cheese Bar's beer & cheese combo has pretty much everything you need for an off-the-cuff park picnic. It features three 150g pieces of cheese, a packet of Miller's Damsel Crackers to with them and a selection of three beers. It all changes, depending on what's available so it's a bit of a potluck affair. They also do a fondue pack which works with a candle, so you could also take that to the park if you fancied.
Delivery area: By post - nationwide
How to order: Order online
More info: Follow them on Instagram @thecheesebarldn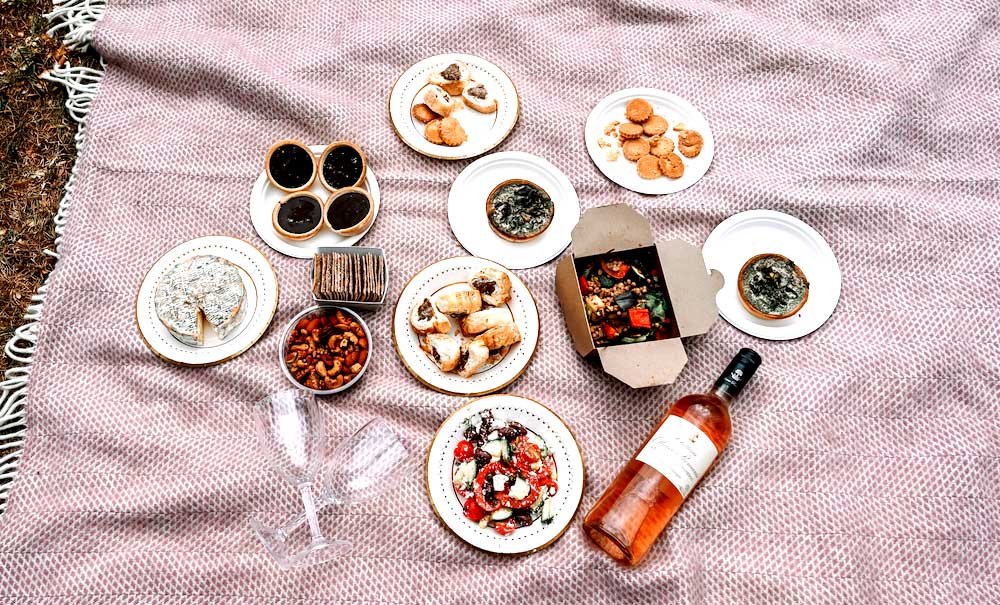 How much? £40
Ballymaloe Cookery School alumnus Chrissy of Chrissy's Kitchen is branching out from her usual events service to send out lovely hampers across London. Each one contains spiced mixed nuts, sausage rolls, Parmesan shortbreads, savoury tarts, two types of salads , salted caramel tartlets or brownies and a choice of a bottle of French rosé or four beers.
Delivery area:Delivery is free across London
How to order: Order via her website.
More info: Follow them on Instagram @chrissyskitchenltd
Photo: Angie Silver
Where: 5 Clipstone St, Fitzrovia, London W1W 6BB
How much? £65
If you find yourself in central London over the summer then pop along to Clipstone where their picnic boxes are perfect for picking up and taking to nearby Regents Park. There's a nice bottle of Riesling, Torres truffle crisps and pickles along with a sliced half-loaf of their house bread, baked that day to top with their aubergine, garlic and miso hummus or pork and rabbit rillettes. Finish up with some freshly baked financiers. They also deliver if you prefer to picnic closer to home
Delivery area: Deliveries are made within a 10k radius on Wednesday, Thursday and Saturday afternoons only (£25 minimum order).
How to order: Order online
More info: Follow them on Instagram @clipstonerestaurant
Order a picnic from the Chelsea traiteur this summer and you'll find a treasure trove of treats. The carnivores option Includes consomme, ham hock terrine, sausage roll, baguette, wagyu beef and honey crisps and more.
How much: £55 for two for the carnivores one, £65 each for the pesctarian and vegetarian picnic hampers
Delivery area: : Four mile radius of their store on the Fulham Road.
How to order: Order online
More info Follow them on more Instagram @colettecuisine
Where: 96 Rodney Rd, London SE17 1BG
How much? £15
Having been pretty innovative in their move to delivery during lockdown (their home delivery sommelier service for one) this neighbourhood wine bar has come up with another clever idea for picnics. To ensure you have something rather delicious to line your stomach, they're selling a special picnic pack which is available when you buy any bottle of wine with them. There's a boozy cheese selection alongside white wine & jumpier salami, cured and peppered pork belly, homemade kimchi, dolmades and sun-dried tomatoes. It comes with compostable eco-friendly cutlery and cups as well.
Delivery area: Collection only - call 0207 703 5570.
How to order: See their wine list online
More info: Follow them on Instagram @diogenes_thedog
How much? £500 for six
Ideally, you'd be having this off the back of your landrover somewhere deep into your Scottish estate. But, failing that, a particularly pretty London garden square would do the trick. Obviously there are Scotch eggs in here, along with plates of coronation chicken and lobster and crawfish buns. Other treats include waxed cheddar, crispbreads and crudites and then there's dessert along with a bottle each of Champagne and rose plus water. The wicker hamper also includes bamboo cutlery sets, a corkscrew, GoVino wine glasses and picnic plates.
Delivery area: Available for delivery, on a date of your choice, within the M25
How to order: Order online
More info: Follow them on Instagram @fortnums
How much? Get a small box for one for £12.50 or go for the extended menu for two for £40. The tea is £35 for two.
Indian street food folk Hankies have three special picnic hamper options for the summer. The Regency includes chicken tikka finger sandwiches and bhindi bhel. The Regal is more of a classic British picnic with roast beef and caramelised onion sandwiches, salad and Eton mess. Then there's The Royal Tea for two - so you can take afternoon tea in the park. All hampers include Lipton's peach ice tea and mineral water.
Delivery area: Available for home delivery or collection from Hankies Westbourne Terrace with 24 hours notice.
How to order: Call 07405 885673 to book or email orders@hankies.london
More info: Follow them on Instagram @hankiesmarblearch
Where: Sheldon Square, London W2 6DL
How much? £45
Right now you can't go messing about on the water but, thanks to London Shell Company, you can at least picnic beside it. We tried this gorgeous seafood box and thought it was very good value. It includes a bottle of their own label The Grand Duchess, English sparkling wine from Hampshire's Hattingley Valley Wines along with a range of seafood. The choice changes regularly but right now it's smoked mackerel, cured Dorset char with house pickles, freshly cooked crevettes with the creamiest mayo and some very good soda bread and butter.
Delivery area: Inside the M25. Deliveries are made on a Friday.
How to order: Order online
More info: Follow them on Instagram @londonshellco
How much? £29 for lemonade picnic box, £39 for the Prosecco version and £79 for the Champagne one.
Megan's have gone for a Med theme to their picnic boxes. Each box has two mains, two side salads and two brownies or cookies. They also include plastic flutes for your drinks (pick from Champagne, Prosecco or homemade lemonade). Cleverly, the boxes fold out into a table for you to have your picnic on.
Delivery area: Via Deliveroo or pick up at their branches at High Street Kensington, Clapham, Battersea, Balham, Parsons Green and Wimbledon.
How to order: Order on Deliveroo
More info: Follow them on Instagram @megansrestaurants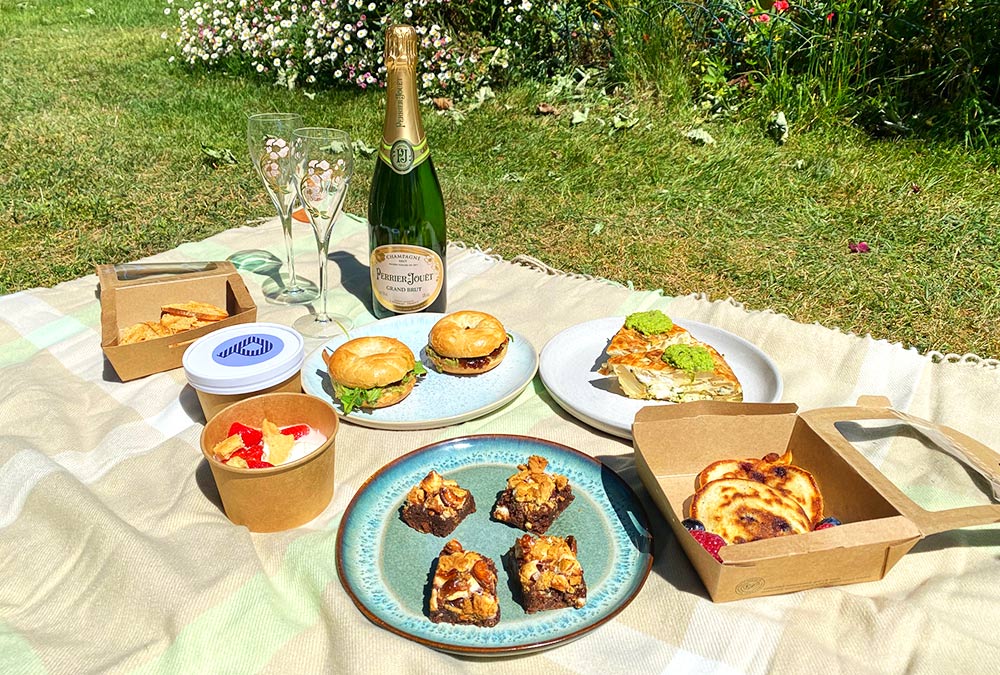 How much? £95 or £115
If you had a whole load of fun planned for the summer season - Wimbledon, Chelsea Flower Show, Ascot - that's all been cancelled, you could make up for it a little by ordering yourself this high-end picnic hamper. The menu's gorgeous - think Courgette & feta frittata with broad bean, basil & mint salsa or Crispy pancetta mini bagels with avocado, rocket, shaved parmesan & caramelised leek chutney (an alternative veggie menu is equally enticing) - and then there's the soft Perrier-Jouët picnic blanket, full or half bottle of Perrier-Jouët Grand Brut Champagne and two flutes to drink it out of. We've tried this one (we were sent a sample and that's our own pic above) and can definitely recommend.
Delivery area: Most of West and South West London - as far North as Maida Vale, West to East Sheen and South to Wimbledon and Streatham.
How to order: Order online
More info: Follow them on Instagram @piquefood
How much? £40 (for two)
Picnics from Petersham adhere to this Richmond spot's code of sustainability so you'll get it in eco-friendly packaging with bamboo cutlery and plates. As for the food, there's a choice of three hampers one of which is vegetarian and another which is vegan. All include focaccia with Zisola olive oil and new season pea hummus with summer vegetables along with English strawberries and a large bottle of water - still or sparkling. There's also a selection of Italian wines and organic beer you can add as extras.
Delivery area: Collection-only
How to order: Collect from Petersham Nurseries Thursday – Sunday. Order by 4pm for next day collection.
More info: Follow them on Instagram @petershamnurseries
How much? £22 or £33 per person.
Popham's has two picnic varieties on offer, depending on how large you want to go. Both serve two and the part menu kicks off with a Build your own Porchetta Focaccia sandwich, potted duck, Isle of Wight tomato salad, Jersey royals potato salad and Eccles cake with cheese. The full menu adds Root Vegetable Pithivier, a P B & J Bread Pudding Sando and Nocerella olives to the mix. It's easy to add in drinks to your order.
Delivery area: Collection-only
How to order: Order online for collection-only from their Hackney store.
More info: Follow them on Instagram @pophamsbakery
Photo: Sam Harris
How much? From £17.99
Just in time for picnic season and the launch of their delivery service, Pret has three picnic platters on offer. There's a Smoked Salmon & Avo Platter, a Ploughman's Platter, and a Humous & Crudités Platter. You pick a platter and then upgrade to the 'Picnic Bundle' which includes crisps, baguettes, Pure Pret Still drinks and brownies.
Delivery area: Across London through Deliveroo, Just Eat and UberEats
How to order: Find ordering details on their website.
More info: Follow them on Instagram @pret
How much? £50 for two.
Not ostensibly a picnic, but with all the lovely things you'd actually love to find in one - Sorella's Aperitivo Hour selection is a lovely combo of their own truffle arancini, beef ragu arancini, marinated grilled vegetables, gildas, fennel salami, taralli, foccacia and a 200ml bottle of Vault Negroni cocktail each which is two negronis per person. Perfect for getting gently sozzled on Clapham Common.
Delivery area: Delivery Fri & Sat to various SE and SW postcodes. Otherwise pick up from the hatch at Darby's in Vauxhall.
How to order: Order online.
More info: Follow them on Instagram @sorellaclapham
In addition to their on-train picnics (handy while there's no food being served on the Eurostar), Sourced Market is also doing a couple of pick up picnic boxes. The Picnic Box for two includes two freshly-made deli sandwiches, a handpicked bottle of wine and two packets of Fairfields Farm crisps. The beer option for one is one sarnie, one packet of crisps and a bottle of beer.
How much: Picnic box for two is £20, the beer box is £10.
Delivery area: : King's Cross
How to order: Order it online and pick it up from the Sourced Market at St Pancras
More info Follow them on more Instagram @sourcedmarket
It's all about retro British classics for the summer picnic hamper from Treehouse London. Pick from a variety of dishes including cheese & pineapple sticks, coronation chicken sandwich, Cornish pasties, swiss rolls and even prawn cocktail mini brioche rolls.
How much: £30 per person for one salad, one sandwich and one dessert
Delivery area: : Collect from the hotel on Langham Place and take your picnic to Regent's Park.
How to order: Email them at thlo-sales@treehousehotels.com - find the menu here.
More info Follow them on more Instagram @staytreehouse
Subscribe to hear the latest from Hot Dinners