Deciding where to eat in Chinatown can be daunting. There are restaurants you may have heard of - such as the legendary Wong Kei or Four Seasons - but which are really the best of the bunch?
We asked Lizzie Mabbott, whose book Chinatown Kitchen is available on Amazon, to guide us through the streets of Soho, picking out her favourite restaurants.
Best for hand-made noodles
Joy Luck Restaurant 
47 Gerrard Street, Chinatown, London W1D 5QJ
Joy Luck Restaurant has a variety of Cantonese and Sichuan dishes on the menu, but the main pull are the hand-made noodles, advertised at the window. Shanxi sliced and Lanzhou stretched noodles are vast behemoth bowls and the spicy 'oil-splash' dish is delicious, though as described. 
Gourmet Kitchen
Lisle Street
Gourmet Kitchen, a new member of Chinatown tucked away on Lisle Street, also advertise hand-made noodles. The selection isn't massive, but the portion of beef brisket hand sliced noodles is and had a great depth of flavour.
Best for Malaysian
Rasa Sayang  
45 Macclesfield Street, London W1D 6AY
Rasa Sayang deals with the rice and curry dishes best - nasi lemak, often considered Malaysia's national dish, is made well here. The laksa is often touted as London's best.
Find out more about Rasa Sayang
C&R Cafe 
4 Rupert Court, London W1D 6DY
C&R Cafe, recently refurbished, knocks out the Malaysian staples well, and is always busy. An extensive menu can sometimes be intimidating, but go with a bigger group to try more. 
Hung's
27 Wardour St London Chinatown, London W1D 6PR.
Across the road from HK Diner and also open until 4am, Hung's isn't a place to linger; brusque staff, strip lighting and a shabby interior see to that. But their noodle soups are great value and delicious, as are their roasted meats on rice. Stick to the back section of the menu to avoid sweet and sour, crispy chilli beef Anglo-Chinese dishes.
To book, call 020 7287 6580

Best for spice
Ba Shan
24 Romilly St London W1D 5AH
The menu at Ba Shan is largely Hunanese, characterised by smoky, spicy flavours. Don't miss the steamed fish with salted chillis, augmented with noodles to soak up the sauce. It's a little pricier than your usual Chinatown restaurants but the interior is sleeker, the service a little more polished than the norm.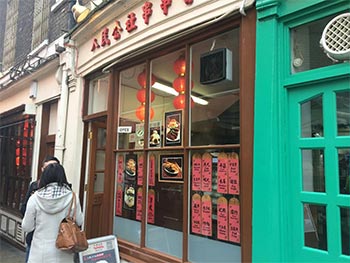 Baozi Inn's skewer stall
27 Newport Court, WC2H 7JS
Next door to Baozi Inn, which has sadly gone downhill of late, is Baozi Inn's skewer stall, which very much hasn't. It's marvellous in its simplicity - a selection of vegetables, meat and seafood on skewers for £1.10 each are plunged into a vat of spicy, bubbling broth before being sprinkled with coriander in a container for you to take away.  
Best for dumplings
Dumplings Legend
16 Gerrard Street, London W1D 6JE
You'd hope that with a name like Dumplings Legend it would, in fact, be legendary and indeed, the dumplings are good. Soup dumplings in particular are a speciality and here, they come generously stuffed with broth, and with appropriately thin skins. The beef curry on the dim sum menu is brilliant too.
Find out more about Dumplings Legend
Joy King Lau
3 Leicester St, London, Greater London WC2H 7B
Although Joy King Lau won't win any awards for its dim sum, it is reliable and good value, with a good range on the menu. More adventurous diners can go for the cold drunken chicken's feet or stuffed fish maw (look that one up…) while all the classics are there, and a larger-than-most selection of sweet items.
Find out more about Joy King Lau
Jen Café
4-8 Newport Place, London, WC2H 7JP
They don't serve a huge range of dumplings but the boiled or dried Beijing-style dumplings are some of the best to be found in Chinatown. Made by hand by ladies at the front of the shop, it's mesmerising to watch. Inexpensive noodle and rice dishes are also on offer, as well as bubble teas.
No booking required
Best for noodle soups
Wong Kei
41-43 Wardour St London, Greater London W1D 6PY
A bit of a Chinatown institution, they're infamous for their rude service though I've never experienced it – blunt, yes but never rude. They have a vast menu, with noodle soups and rice dishes towards the end of the menu. With free tea, for under a fiver you can slurp to your heart's content on classic Cantonese dishes, like roast duck hor fun soup, or beef brisket noodles with thinner egg noodles in soup. Great for quick, informal solo dining too.
Best for classic Cantonese
Four Seasons
12 Gerrard St, London W1D 5PR
Famed for their BBQ, their roast duck is especially delicious and their crispy pork belly is also worth a try. Steamed egg custard is also a must-order. Classic Cantonese dishes are done well here, though the basement seating doesn't make the best atmosphere. The roast duck makes up for that, though.
Find out more about Four Seasons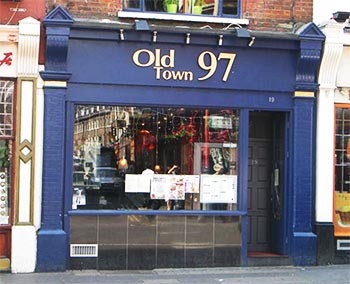 Old Town 97
19 Wardour Street, Soho, London, W1D 6PF
Old Town 97 do the best stewed beef brisket that I've found in Chinatown so far. You can order it with rice or noodles; with ho fun noodles, you get the smokiness of the wok imparted into it. Ask for it with tendon (ngau gun) for little gelatinous contrast. They also do a cheap lunch deal of rice or noodles for less than a fiver, with a bowl of their daily soup. 
To book, call 020 7734 2868
For more from Lizzie Mabbott, follow her Twitter @hollowlegs or read more from her blog.
If you're into Asian cooking at all, seek out Lizzie's book, Chinatown Kitchen - from Noodles to Nuoc Cham
It's now available on Amazon and many other book shops.