As temperatures plummet and with more snow forecast for London, forget blowing your budget on keeping the central heating on 24/7 - we've got a FAR more attractive way of warding off the cold. Build your own insulating layer of fat by stocking up on any of these lard-containing dishes at London's restaurants.
Beef fat tacos at Temper Soho
How much? £5
Studded with glistening cubes of beef fat and jalapenos, Neil Rankin's fatty tacos only just pushed his potatoes with beef fat and Ogleshield cheese out of the way for this slot here. Actually, sod that - go and have both, why don't you?
Where to find it: 25 Broadwick St, Soho, London W1F 0DF
Lardo fried rice at Smoking Goat Shoreditch
How much? £3.50
If you're heading here for breakfast, than the dish you want is the saffron eggs with lardo. But if you're eating lunch or dinner, then the lardo fried rice is a side dish blessed by the gods of saturated fats.
Where to find it: 64 Shoreditch High St, London E1 6JJ
Lardo with anchovies and picos at Sabor
How much? £7.50
We're presuming your Instagram feed has been wall-to-wall shots of the lardo at Sabor since it opened? Us too. Good thing is that this is on the bar menu only, so no need to worry about not being able to find a seat.
Where to find it: 35-37 Heddon St, Mayfair, London W1B 4BR
Lardo with candied walnuts at Clipstone
How much: £6
Clipstone's current snack of lardo with candied walnuts is just the kind of dish to savour while you work out what else to order. (Clue - everything).
Where to find it: 5 Clipstone St, Fitzrovia, London W1W 6BB
Agnoletti stuffed with carbonara and covered with Lardo di Colonata at Luca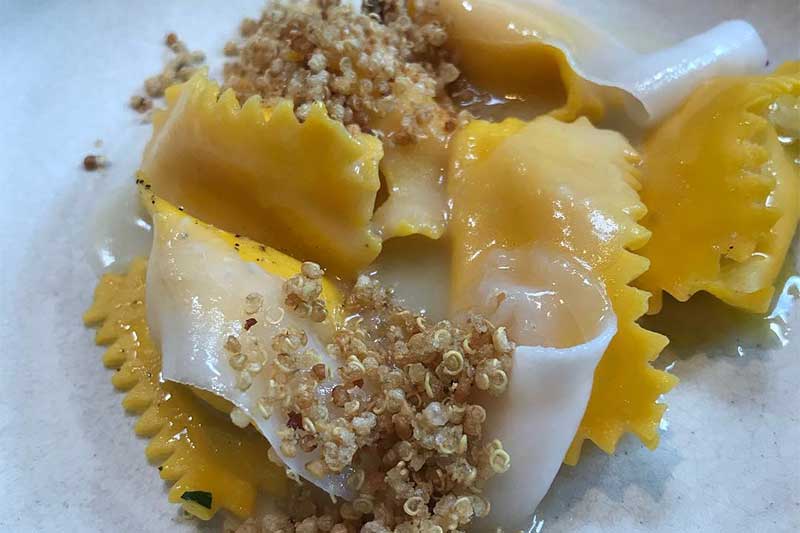 How much? £15
This wintry dish at Luca has a double helping of lard as it also features quinoa fried with more lardo which is the only way we want to eat quinoa from now on.
Where to find it: 88 St John St, Clerkenwell, London EC1M 4EH
Pic by Gastro1 on Instagram
Lardo bruschetta with honey and walnuts at Macellaio RC in South Kensington
How much? £4
Lardo snacks aren't just the preserve of East Londoners - Macellaio RC's Brompton Road branch features these slices of fatty loveliness on the menu every day.
Where to find it: 84 Old Brompton Rd, Kensington, London SW7 3LQ
Peckham Fat Boy at Coal Rooms
How much? £5
The aptly named Peckham Fat Boy dish at Peckham's Coal Rooms sees roast potatoes served up with raclette and beef fat mayo at the Coal Rooms. "The hordes should flock for these alone," declared Time Out.
Where to find it: Coal Rooms, 11a Station Way, London SE15 4RX