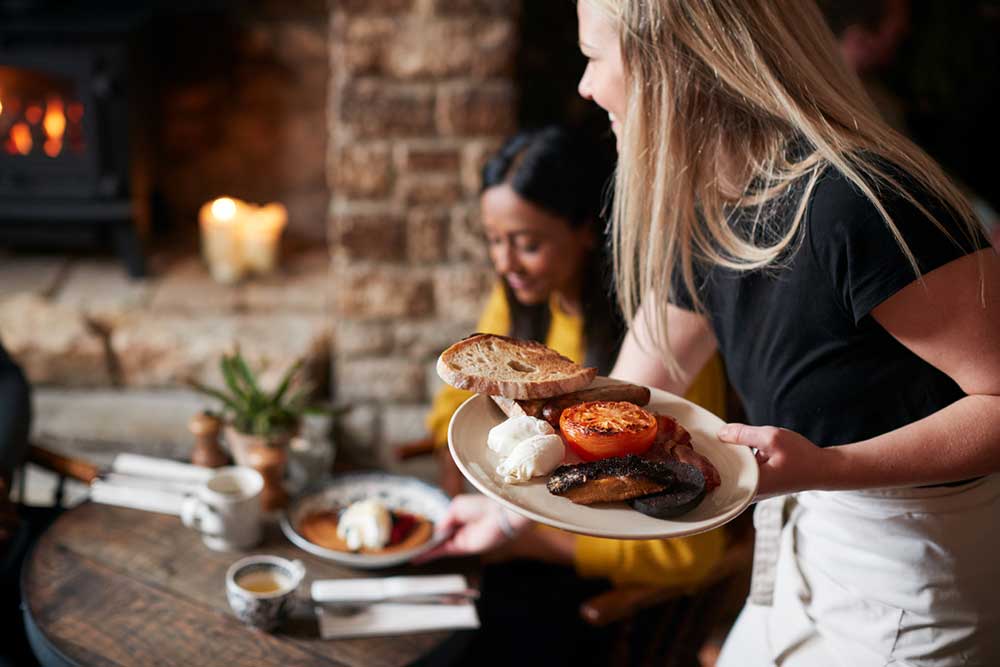 Yesterday, the government stepped up its plans for dealing with coronavirus. In his first daily briefing, the Prime Minister said it was now time to avoid non-essential contact and travel and that the British (Londoners, in particular, are weeks ahead of the rest of the country in the pandemic curve) "should avoid pubs, clubs, theatres and other such social venues".
This was a far cry from the clarification the hospitality industry needed and here's why:
Boris neglected to actually mention restaurants by name. Sure they could be lumped in under 'social venues' but often you're much further away from other people in a restaurant than you would be down the pub, watching a band or catching a show.
While other cities like Berlin, New York and Paris have seen their restaurants officially closed down, London is still in the vague state of just having people warned off using them.
Recommending people avoid pubs and restaurants rather than officially closing them means that businesses which close voluntarily will have no recourse to claiming on their business insurance.
The criticial question is how will restaurants, cafes, pubs and bars survive being without trade for the coming months.
The hospitality industry is massive - it's the UK's 3rd largest private employer making £130bn a year (which makes it bigger than the car, aeronautic and pharmacy industries combined). Critically it provides tax receipts of £39bn all of which will be at risk if the government doesn't step in with immediate plans to protect the people and businesses within it.
Twitter did not respond well, as you might imagine:
Well that sure made things a lot clearer... not.

— Monica GALETTI (@MGaletti01) March 16, 2020
Pubs, clubs and restaurants will only get insurance payouts if they are formally closed. This must happen. Otherwise the government is setting them up to shut their doors forever.

— David Lammy (@DavidLammy) March 17, 2020
I've spent the day working with producers and theatres postponing and cancelling shows because it's the right thing to do. Their reward? A shattered business, because Johnson et al are thinking more about big finance than peoples' livelihoods.

— Jay Rayner (@jayrayner1) March 16, 2020
But what an absolute limp dick of a prime minister and government we've got leading us through this crisis. @BorisJohnson you need to grow a backbone for what you'be done to the hospitality industry the past few months let alone one day.

— Elizabeth Haigh (@the_modernchef) March 16, 2020
I haven't opened six restaurants to watch six restaurants close down & never open again. The future holds no certainty that is one of very few facts. Another fact is you will have to drag my stubborn corpse out of sticky Walnut before someone tries to take Elite bistros from me.

— GARY USHER (@GaryUsher_Chef) March 16, 2020
The idea that a mandated closure would be a help is NOT the thing to focus on right now. Most wont be covered, some MIGHT get a business interruption claim eventually. We need help paying our staff teams and overheads as we have basically no revenue. We need that help NOW.

— Stevie Parle (@StevieParle) March 17, 2020
Our final word on the subject? When you find yourself agreeing with Piers Morgan, you know things are bad.
Do pubs, bars, restaurants, cafes, theatres, cinemas close or not?
Ridiculous of @BorisJohnson to just 'suggest' it & not ban it.
Not least because these businesses will be forced to close but can't claim on insurance if they're not ordered to.
This must be clarified - urgently.

— Piers Morgan (@piersmorgan) March 16, 2020
Further updates on financing are expected today - we'll update on the impacts on the hospitality industry as soon as we know.
Subscribe to hear the latest from Hot Dinners