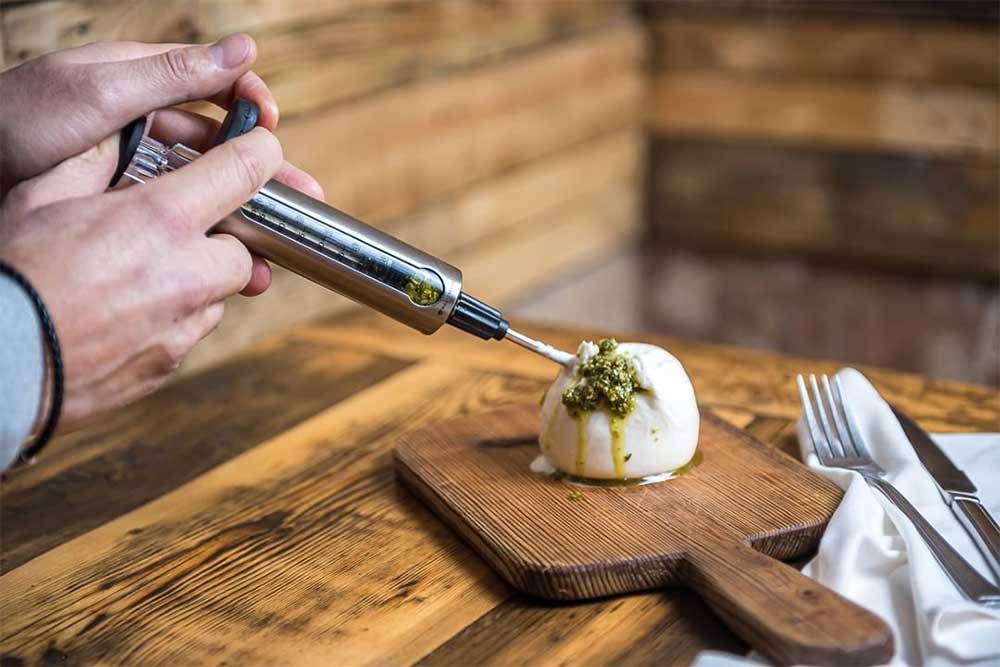 Over in Fulham, popular pizzeria Napulé has been undergoing something of a transformation. It's about to reopen in a new guise as both a wineria and osteria.
The front part of the restaurant has been made over as a wine bar, where you can enjoy a glass of wine with sharing taglieri, homemade burrata and aperitivo. They've been working on building relationships with, as they describe it "little Italian producers whose quality can stand the big brothers in the market" - which they're importing direct, bringing the price down for Fulham wine lovers.
That list will include various Southern Italian wines along with a range of Falanghina, Greco di Tufo and Nero D'Avola and natural wines. There'll also be negronis and Aperol Spritz on tap.
We particularly like the sound of the Burrata Bar, which will use British milk to make fresh burrata in Battersea by their own Casaro - a traditional cheesemaker from Campania. These will also come with a range of fillings and a syringe for you to inject them direct into your own burrata.
At the back, the osteria's menu will have a Southern Italian focus with dishes including:
Paccheri alla Genovese - Neapolitan pasta with 8 hours slow cooked onion, beef and parmesan sauce
Roman Bigoli Cacio e Pepe - Roman pasta with mix of pecorino cheese and crushed black pepper
Porchetta
More about Napulé
Where is it? 585 Fulham Rd, Fulham, London SW6 5UA
When? March 2020
Find out more: Follow them on Instagram @napulefulham
Subscribe to be the first to get the news from Hot Dinners