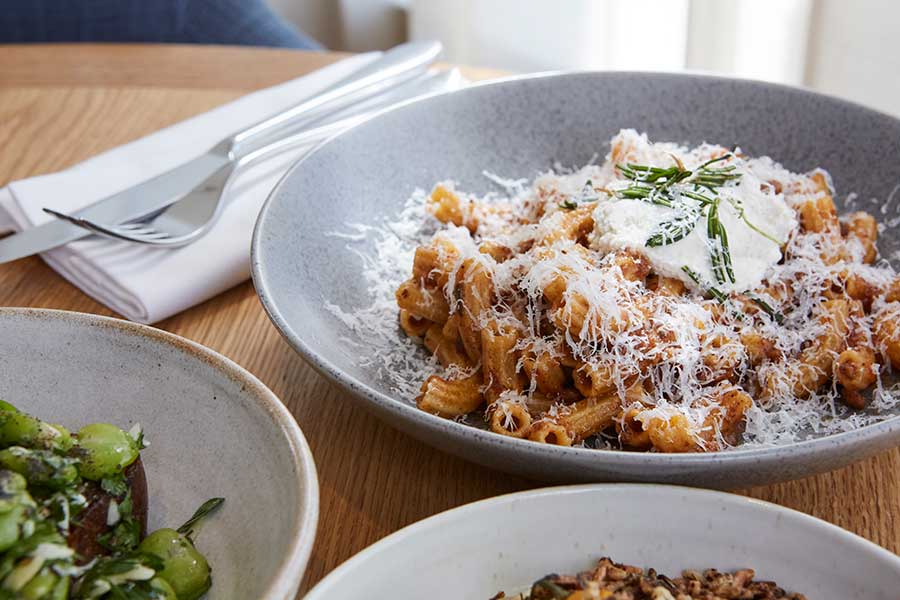 It's all change at Selfridges where their second floor spot, The Corner Restaurant, now has a new NYC chef running the show. Grant Clark, who comes here via The Breslin where he worked with April Bloomfield and the East Village classic, Hearth, has taken over as Head Chef.
Tucked into one corner of the store's Oxford Street building (you enter via the Women's Designer Galleries) the restaurant's new menu covers all the key elements of a modern London restaurant - it's seasonal, sustainable, features small plates and more as well as roaming the British Isles in search of super produce.
In practice that means chef Grant is using bread from Coombeshead Bakery, meat from Henson and Son, the fruit and veg comes from Natoora and the cheese is from Neals Yard.
If you just want to pop in and have a snack or small plate, you could order crispy arancini with tomato sauce; roasted Aubergine Puree, topped with Crispy Puffed Wild Rice and Roasted Tomatoes or maybe Fava Bruschetta (made using Coombeshead sourdough, topped with fresh broad beans and grated young pecorino).
Larger dishes include
Bucatini in Pomodoro Sauce made with pasta which has been milled and rolled-in house
Macaroni Pork Ragu with a 16 hour ragu
Vinegar Creedy Chicken, topped with Tropea Onions and Romesco Sauce
While desserts are also rather enticing
Neal's Yard cheese with prunes stewed in Madeira, walnut butter and crostini
Chocolate Pudding topped with toasted hazelnuts and cocoa nibs
Chef's 'Cookie Board' featuring freshly baked Biscotti, Shortbread, Jam 'thumbprints' and Oatmeal and Molasses cookies
More about The Corner Restaurant
Where is it? 2nd Floor, Selfridges 400 Oxford Street, W1A 1AB
When? Open now, but officially open from 5 August 2019
How to book: call 020 7318 3898.
Find out more: Visit their website or follow them on Twitter @Selfridges
Subscribe to be the first to get the news from Hot Dinners