Updated 16/11/18
With the reveal of the opening date of Asma Khan's Calcutta Canteen (28 November) we've got our first look at the buns and sandwiches that will be on offer - and they do look pretty great. There's a story behind each one of them, so we'll let Asma take it from here and tell the stories below:
RAZIA - "A robust spicy pau stuffed with beef keema, sliced tomatoes, coriander chutney and pickled onions. (This is named after the only female sultan of Delhi who I have written about in my cookbook)"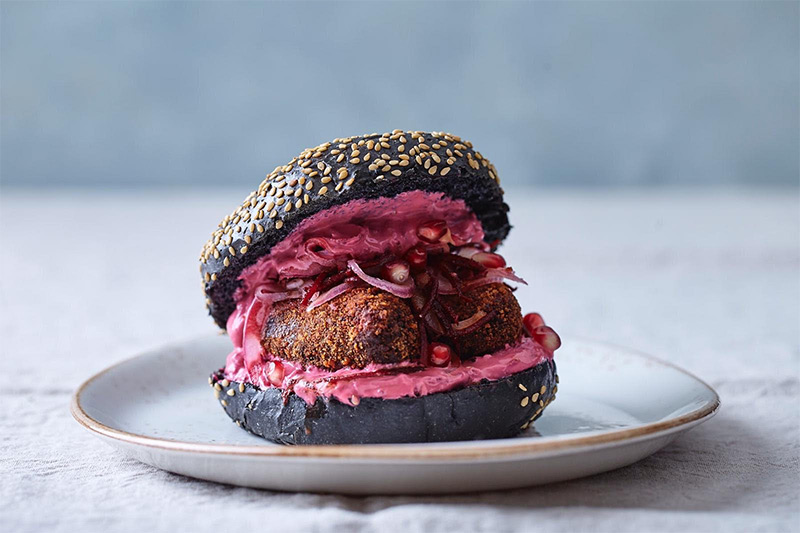 "The beetroot vegetarian pau is called ASHA - the asha pau is our tribute to 2nd daughters. A charcoal bun with beetroot raita and spicy beetroot chop and pickled onions and pomegranate seeds. Asha means hope & light - the profit from this sandwich will go to support second girls in India - we picked a dark bun to symbolise the darkness with which the birth of a girl is seen by many families in the subcontinent - we want to celebrate the girl child by filling the pau with vivid pinks."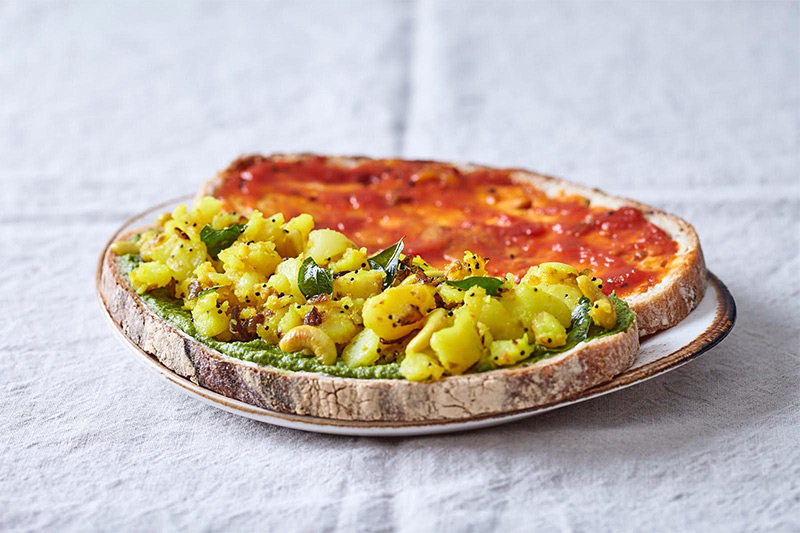 "The third sandwich is a toasted vegan sandwich - POONAM - celebrating light- the potato, cashew nut and curry leaves on toasted bread. Tempered with mustard seed and spices with turmeric with coriander chutney and tomato relish."
"FAIZU (named after my mom) - the generously filled sesame bun with grilled chicken Kati Kabab, coriander and green chilli chutney and pickled cucumber. Happiness in a bun!"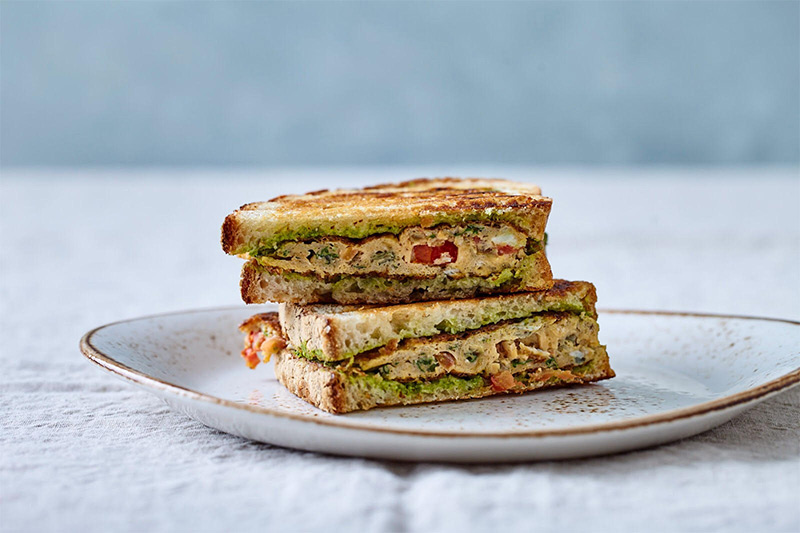 "AMNA (named after my sister) - a warming and healing all day breakfast- perfect with a cup of chai - masala omelette toastie made with Burford brown eggs, chopped red onions and tomatoes."
Original story follows
What: Calcutta Canteen by Darjeeling Express
In a nutshell: Asma Khan sets up a Bengali-inspired cafe
Summing it all up: As Darjeeling Express goes from strength to strength, Asma Khan has a new venture ready. Calcutta Canteen is an all-day North Indian/Bengali-inspired cafe in Carnaby and the big focus will be on filled bread buns called Pau buns.
The low-down
Just before she appears on Netflix's Chef's Table, Darjeeling Express' Asma Khan has a new venture on the way. This time it's a North Indian and Bengali-inspired all-day café, appearing in Carnaby until mid-February. It first made an appearance in Fulham Market Halls' original line-up.
On the cafe menu will be Pau buns, a bread roll similar to a brioche bun, stuffed with four kinds of fillings. They will be: vegan potato, cashew nut and curry leaves, vegetarian beetroot chop, masala omelette and beef mince, all served with green chilli, coriander chutney and tomato relish. We're told those buns date back to the 16th century when the Portuguese settled in Bengal and Goa and began baking bread.
Asma says:
I grew up calling bread Pau-Roti in Calcutta and was convinced as a child that bread was called Pau as people kneaded the flour with their feet (feet is "Pa" in Bengali) like I had seen grapes being crushed by feet for wine!

The real story is a bit different - In the 16th century the Portuguese settled in Bengal and Goa and began baking bread (Pau of course is Portuguese for bread). Eventually the local population got a chance to taste bread when bakeries opened on the city away from the European settlements. This will be a different kind of sandwich from anything being offered in Carnaby.
Being a cafe, the cakes are equally important, so Asma has partnered with self-taught baker Tarunima Sinha of My Little Cake Tin for her cakes. They'll celebrate her Indian heritage with masala chai flavoured bundt cake, Indian spiced shortbread cookies and pistachio biscuits.
As for drinks, the famed masala chai will be making an appearance, as will non-alcohol apple cider and tea from her ancestral tea garden in India, run by her aunt ("started by my great-great-grandfather in 1884 - one of 32 tea gardens he established"). On top of that, there will be a community wall where women can feature seasonal food and more.
More about Calcutta Canteen by Darjeeling Express
Where is it? 74 Broadwick Street, London W1B 5PW
When? 28 November 2018 at 11am, running to February 2019
Find out more: Visit the Darjeeling Express website and follow Asma on Twitter @Asma_KhanLDN.
Subscribe to be the first to get the news from Hot Dinners