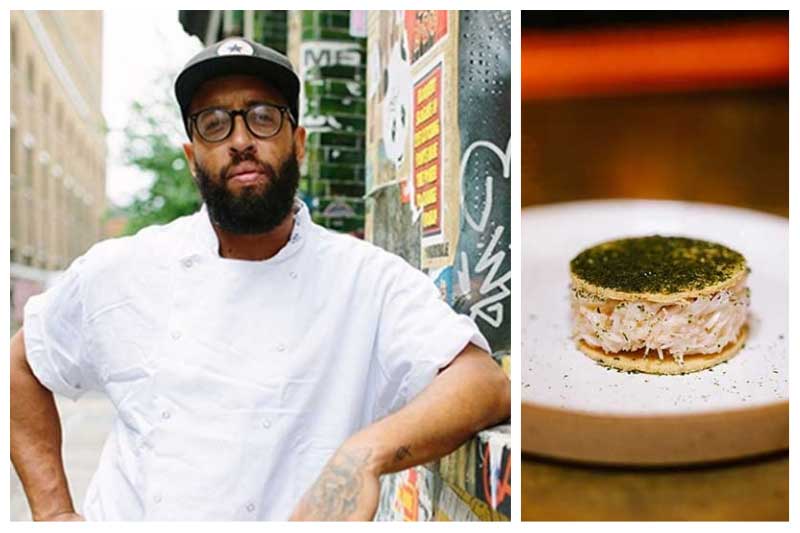 What: 1251
In a nutshell: Modern British from an ex-Ledbury chef
Summing it all up: Michelin-starred James Cochran is going back to his roots with 1251, his new Islington spot where he'll be serving sharing menus, tasting menus and snacks, featuring modern British food, made with Kentish produce (and several nods to his West Indian heritage).
The low-down
After the announcement that despite having his name on it, James Cochran would be stepping down from his position at James Cochran EC3, we've been wondering what the chef's next move would be. Now, we've found out that he'll be focusing his efforts on a new, modern British restaurant on Islington's Upper Street called 1251.
The new two-storey restaurant will see James showing off his Michelin-starred culinary talents built off creative 'sharing-style dishes' and a separate snacks menu, largely made with Kentish produce, where James hails from.
That's not the only way he'll be showing off his roots - James will also pay homage to his parents, who are West Indian and Scottish. So there's a splendid-sounding 'goat sharing board' with black-eyed pea dhal and Scotch bonnet jam, and raw Orkney scallops served with buttermilk whey, green apple and 'red meat radish'.
If you're keen to try a bit of everything, there'll be an additional tasting menu with five or eight courses, plus a separate vegetarian one too. And you may well be a bit tempted once you see the kind of dishes that'll be on offer, including:
Potato Spaghetti, Cured Egg Yolk, Truffle, Burnt Butter Cream
Organic Kent-Breed Pork, Blood Pudding, Smoked Eel, Turnip Kimchi, Apricot, Miso
Jerk-Spiced Monkfish, Iceberg Lettuce, Watermelon, Coriander
Snacks will be available for those coming by between lunch and dinner seatings, and include the likes of
Potato Crisp, Whitstable Oyster Cream, Seaweed, Vinegar
Picked White and Brown Devon Crab Tartlet, Prawn Butter
Smoked Kipper and Leek Toastie
Confit Cauliflower, Fermented Bagna Cauda, Walnuts
The wine list will be built around organic bottles from around the world, while cocktails will have all the usuals, plus a few house specials like a 1251 Bloody Mary Martini, and a Negroni made with Kentish sweet cicely.
There'll be space for 48, spread across the two floors, plus room for 8 more on the terrace – perfect for making the most of the Indian summer (that we're no doubt on track for).
More about 1251
Where is it? 107 Upper Street, London, N1 1QN
When does it open? 28 August
How to book: Book online
Find out more: Visit their website or follow them on Instagram @1251_restaurant
Subscribe to be the first to get the news from Hot Dinners