Maybe it's the fact that we actually had a great summer this year, but for some reason we're even less capable of putting up with a London winter than usual. That's why we've come up with a list of places in London that will warm the very cockles of your heart, not to mention your extremities.
Try any of the eating places on our list in the sure knowledge there'll be an open fire of sorts, somewhere on the premises, to keep you toasty while you dine.
Central
Clos Maggiore
33 King Street, Covent Garden, WC2E 8JD
Regularly referred to as London's most romantic restaurant, you can blame your blushing cheeks on the roaring open fires at Covent Garden's Clos Maggiore. Both its dining room and glass-roofed, blossom filled conservatory have log wood fires in the winter months. Add to this simple, Provencal food and an award-winning wine list and it's easy to see how a little bit of romance may be kindled.
The bar at the Rosewood Hotel
252 High Holborn London, Greater London WC1V 7EN
Holborn workers are wondering just what they did in a previous life to deserve this fabulous new bar opening in their neighbourhood. Park yourself on the table by the fire at the back of this bar and continue the heat theme by lunching here on an cracking curry and stew menu.
Cambio de Tercio
163 Old Brompton Road, London SW5 0LJ
This longstanding modern tapas joint in Knightsbridge offers cutting edge Spanish gastronomy. Visit at the weekends for a three-course twist on the classic roast. Try rustic casserole of pork (cheeks, ear, trotters, chorizo) with Bierzo chickpeas, followed by flame grill baby lamb cutlets with garlic piquillo peppers and caramelized shallots, and finish with homemade Seville orange marmalade, raisin bread and yogurt ice cream – all served up in front of the fire.
Roka
37 Charlotte Street, London W1T 1RR
Forget the normal tables, make sure you get a seat round the robata grill at this Charlotte Street restaurant so at least the front half of your body will enjoy being a decent temperature. A white miso soup with scallop will start you off nicely while you work out which skewers you're going to have from the robata grill.
North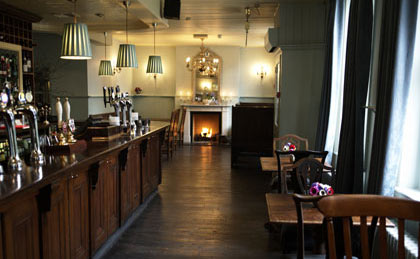 The Albion
10 Thornhill Road, Islington, London N1 1HW
In Summer, the Albion's huge garden is a draw, but in the winter you'll want to sit in the snug interior with a real fire, just inside the front door - perfect to huddle around while trying out its award winning Sunday lunch. We recommend the rib of beef for two with all the trimmings followed by warm Madagascan vanilla rice pudding.
The Drapers Arms
44 Barnsbury Street, London N1 1ER
This Barnsbury gastropub has much more offer than just its fabulous beer garden. In winter there are two open fires on either side of the downstairs dining area. The menu changes daily, but there's usually some sort of pie on offer to help you keep away the chills. 
The Bull and Last
168 Highgate Road, London NW5 1QS
Avoid the upstairs dining room at this superior North London gastropub and book ahead to ensure you nab the large table on the ground floor next to the fire. Then spend the evening hogging the flames, feeling superior (and warmer) to all the other diners. Food-wise, they do a superior scotch egg, but you might be wanting something a little more substantial, so start with the trotter wontons and follow that up with roast venison and celeriac puree.


Lion & Unicorn
42-44 Gaisford St, Kentish Town, NW5 2ED
If you find yourself in Kentish Town and you're looking for somewhere to warm up fast, head for the Lion & Unicorn for some good food and a chance to huddle by the fire. Soup of the day, venison sausage and mash, and hot sticky toffee pudding will warm your insides, and upstairs, The Giant Olive theatre company host nightly performances so there's no need to race back out into the cold.
St John's Tavern
91 Junction Road, London N19 5QU
Like the sound of Jerusalem artichoke soup with truffle oil and chives, followed by pork belly with roasted cauliflower, sprout tops, quince aioli and sage jus served up to you in front of a burning fire? Then head to St John's Tavern dining room where bread is baked daily on site, stocks are homemade, and ingredients are all sourced from around the corner. Oh, and there's a lovely fire too.
West
Anglesea Arms
35 Wingate Road, Ravenscourt Park, Hammersmith, W6 OUR
This busy, buzzing pub in Hammersmith has its seasonal menu chalked up on board. Warm up with some hearty fare and warm your cockles by the roaring fire. The wine list's vast and there's a range of ales on tap. What more could you want from your local in the winter?
Portobello House
225 Ladbroke Grove, London W10 6HQ
This old Victorian inn at Ladbroke Grove is set over three floors, with an open plan bar, lounge and bistro. Baroque antique mirrors, stained oak floors, Victorian chandeliers and wood paneling provide a marvelous background for a warm, winter hangout. Enjoy whole grilled black bream with salsa verde or onglet steak with triple cooked chips by the fire. Still can't face the cold? Then crash in one of the 12 upstairs bedrooms..
South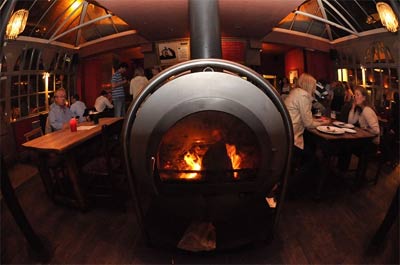 The Ship
41 Jews Row, Wandsworth, London SW18 1TB
This Wandsworth pub is a big favourite of foodie bloggers and reviewers, recently hosting the infamous Scotch Egg Challenge. There's a huge roaring fire in the middle of the room (pictured on the right), perfect if you've just come in from a walk along the Thames.
The Abbeville
67-69 Abbeville Road, SW4 9JW
This cosy spot just south of Clapham Common has all manner of nooks and crannies so you can squeeze together to make the most of your fellow diners' bodily warmth as you eat. Or, you can sit next to or near the fire in the back section of the dining area. Lunch is strong here - doesn't a cheese toastie with chips or the pumpkin, feta and pine nut pithivier, spiced tomato sauce sound like it would do you the world of good?
White Horse, Parson's Green
1-3 Parsons Green, London, SW6 4UL
This old boozer on Parson's Green had an extensive refurb last year and is looking pretty damn good. Recline in an old Chesterfield aside the roaring fire and tuck into a changing menu of soups, hot pies and sweet English puds. We hear the ales are top notch too.
The Rye, Peckham
31 Peckham Rye, London SE15 3NX
It may be known for its huge conservatory and garden, but the Rye also has a lovely fire if you're lucky enough to get close to it. You definitely want to order the duck scotch egg to help keep the cold out.
East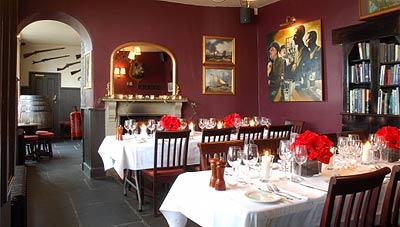 The Gun
27 Coldharbour, Docklands, E14 9NS
This east London pub from the Martin brothers is a perennial favourite in this part of town and you can take respite from the cold by having dinner in the Red Room with its large open fire. Better still gather a group together for one of their feast menus and you can enjoy whole roast suckling pig with boulangère potatoes and sage gravy or a braised venison haunch with red cabbage and glazed onions.
Mangal Ocakbasi
10 Arcola Street, E8 2DJ
This tiny Turkish restaurant gives more space over to its ocak grill than it does to the tables, so you're bound to enjoy a toasty evening. Better still, it's BYO so if all else fails, you can use a nip or two of a hipflask filled with raki to numb the pain of frostbite.
And for drinking....
The Goring Hotel has fires in both the dining room and the bar and the Jerusalem Tavern in Clerkenwell can do bangers in front of the fire if you're lucky enough to nab a seat on a cold day. Further south, the newly refurbed Queen Adelaide pub in Wandsworth has a roaring fire inside to enjoy a mulled cider by.
Everyone (including us) may be raving about Berner's Tavern in the London Edition hotel, but the Lobby Bar is the place to go if you want to enjoy a Pina Colada made with coconut fat-washed rum by the fire.
Any more we've missed? Let us know...