Yum Bun
Hot
31 Featherstone Street, London EC1Y 2BJ
Latest critic review: April 11, 2013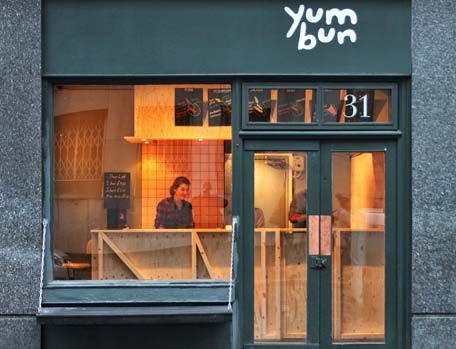 Right next door to Rotary, and joined by a door is the first Yum Bun shop. There are the usual soft steamed buns to take away that have made them such a huge hit on the street food scene.
Reviews
Victoria Stewart
Evening Standard
Reviewed on April 11, 2013
"The pork bun was faultless: spongy white bread cushions, unctuous belly meat touched up with sweet hoi sin sauce, crunchy cucumbers and a final spring from the onions."
READ REVIEW

Kelly Hussey
View London
Reviewed on March 19, 2013
"Yum Bun is not the first – and it certainly won't be the last – street vendor to come in from the cold, and Londoners can only benefit from this trend. Finally, cheap and tasty grub without any pretension. Visit before the word gets out."
READ REVIEW

User reviews
There are no user reviews for this listing.


Map and more information
31 Featherstone Street, London EC1Y 2BJ
 07919 408 221
Old Street
Takeaway available