Brasserie Chavot
http://www.hot-dinners.com/media/reviews/photos/original/f0/cf/f3/2385_chavot-1364377619.jpg
41 Conduit Street, London W1S 2YQ
Latest critic review: July 07, 2013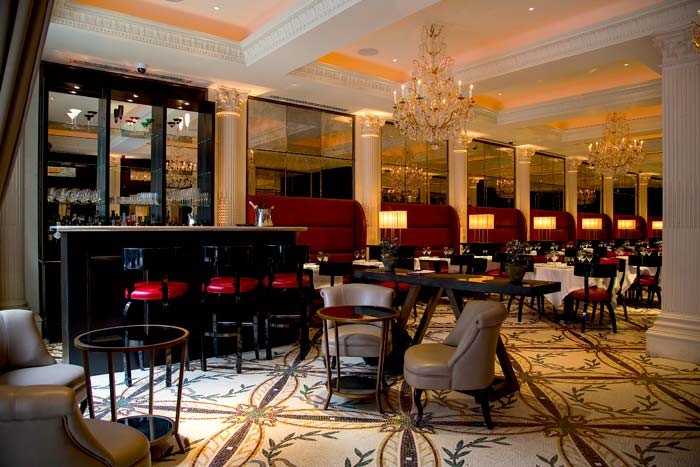 Eric Chavot held two Michelin stars at the Capital Hotel when he left London, and now he's returned to be part of the Westbury Hotel (which already has Alyn Williams's restaurant). The restaurant is a 70-75 seater with a small bar as you enter for pre-dinner drinks, banquette seating and then at the back of the room is a seafood bar with five seats for counter dining. Food wise, the dishes are 'classic modern' and range from around France and should be "very reasonably priced for Mayfair".
Hot Dinners Test Drive
Reviews and map
Amol Rajan
Independent
Reviewed on July 07, 2013
"I'm not sure The Westbury hotel, or indeed Mayfair, is quite the right spot for this passionate Frenchman. He deserves somewhere a little more understated, where the emphasis is on the food rather than the interiors. If you can avoid thinking about them too much, perhaps by sitting in one of the chairs, this place is well worth a visit."
READ REVIEW

Matthew Norman
Telegraph
Reviewed on June 11, 2013
"I will not degrade the memory of my chicken liver parfait, accompanied by a luscious fig chutney, by giving it the stock epithet of velvety. Far smoother than that, it was a poignant reminder of a time when I could almost afford to feed our resident infestation of moths on finest cashmere – and it had the delicacy of flavour to match without being remotely effete."
READ REVIEW

Richard Vines
Bloomberg
Reviewed on June 04, 2013
"The past year has seen some high-profile new brasseries, including the Zedel (from the owners of the Wolseley) and Balthazar (an import from New York). Chavot is much smaller scale, which means it misses some of the wow factor of Zedel and some of the celebrity buzz of Balthazar. In terms of the food, it stands alone."
READ REVIEW

AA Gill
Sunday Times
Reviewed on June 02, 2013
"It's all a terrible shame. Chavot has cooked so much better than this, and at a time when French bourgeois food is the style du jour, he should be playing to all his strengths. Instead, he's half-heartedly overseeing dishes that are way below his skill set and passion, in a room that echoes with boredom and lost appetite."
READ REVIEW

Zoe Williams
Telegraph
Reviewed on May 21, 2013
"The food is far more thoughtful and original than the 'trad' genre currently dominating the imaginations of the professional-lunching crowd. The room is charming. You probably won't see anyone dancing on a table, but, really, it's a restaurant, not a lager advert."
READ REVIEW

Grace Dent
Evening Standard
Reviewed on April 26, 2013
"We shared a selection of charcuterie, eating and talking rabidly, aware that we really needed to hold back, but isn't it lovely when food is so delicious that one really can't? 'Take the bread away,' we moaned at the waitress, begging for help."
READ REVIEW
Estimated score

Richard & Peter
Harden's
Reviewed on April 04, 2013
"Otherwise, though, there was nothing to complain about, and the solicitous maître d' asked several times if everything was OK. Well, it was all broadly acceptable, but he never asked the key question: why on earth would you ever come back?"
READ REVIEW
Estimated score

Giles Coren
Times
Reviewed on March 30, 2013
"I'll be coming back soon for the daube, the pork chop, the baby lamb rack and the sole Grenobloise, possibly all at once. This is the best thing to happen at the top end of British dining for a long time."
READ REVIEW

Emma Sturgess
Metro
Reviewed on March 28, 2013
"Chavot held two Michelin stars at The Capital for nine years, and when it comes to triumphant French classics, we don't doubt he's got the chops. But as dinner progresses, we begin to wonder where he's hiding them."
READ REVIEW

Guy Dimond
Time Out
Reviewed by March 21, 2013
"Brasserie Chavot is a smart, special-occasion French restaurant with appealing dishes by a great chef. But it needs to unbutton its collar just a little bit – or maybe lose that 'B' word."
READ REVIEW

Steve Dinneen
City AM
Reviewed on March 20, 2013
"(The daube de boeuf) is traditionally made with inexpensive beef braised in wine, but there was nothing cheap about this. It was a plump wedge of meat, cooked for so long you only had to worry it with a fork for it to flake. The drizzle of stew was subtle enough to let the beef have your undivided attention, which is just as well: it was flawless."
READ REVIEW

Fay Maschler
Evening Standard
Reviewed on March 20, 2013
"A little bit of interest in me dies when a gifted chef settles for a hotel environment, uncoordinated staff and a room where you know breakfast will be set up the next morning. Shame that Eric Chavot didn't get Oriel."
READ REVIEW

Stephen Farmer
View London
Reviewed on March 13, 2013
"It might be one step removed from the fancy fandangle of The Capital but in an industry perhaps now less inclined to gravitate toward the fabled guidebook, Eric Chavot's superb new spot shows exactly how things should be done."
READ REVIEW

More information
41 Conduit Street, London W1S 2YQ
 020 7183 6425

French
1 Michelin star
Oxford Circus
Bar area