British Pie Week is upon us once again (2-8 March 2015), giving us a timely excuse to pick out some of the best examples to be had in our fine capital today, from the downright decadent (why wouldn't you use champagne in the filling?) to humble-pie-and-mash-shop mince-beef. While some foodies are pedantic about pies, for us whether it was encased in pastry or topped with mash, if we cleared our plates, then it made the cut.
Piebury Corner - Holloway Road, N7
Following the London trend of street-stall to bricks and mortar, Piebury Corner was billed as the UK's "first ever Pie Deli" when it opened. The story (husband and wife team Nicky and Paul Campbell selling pies, pastries and scotch eggs from their front garden to passing Arsenal fans) is a good one, and their Holloway Road outpost is even better. Old favourites such as Steak and Ale, sit alongside newcomers like the brilliant Ray Parlour with pork stuffing and apple. All served with roast tatties or mash and topped with an unbelievable red wine gravy, it's no wonder they are bombarded by loyal fans on match days.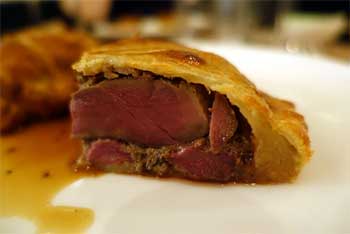 Portland - 113 Great Portland Street, W1W 6QQ
Already described as "the most photographed dish of 2015" by The Independent's Lisa Markwell, the game pithivier at Portland is so beautiful as Markwell says it's surely only a matter of time before it gets its own Instagram account. Fay Maschler called it one of her best dishes of the year and here at Hot Dinners, we were utterly blown away by its perfection. A pie in a category all of its own.
Manze's - Tower Bridge Road, SE1
The original Manze's pie and mash shop was founded here on Tower Bridge Road in 1903 and is still doing a roaring trade today. All pies are made from scratch on site, starting with the beef which is minced using only prime cuts. As for the liquor, apparently it includes a 'special secret ingredient' which they're not about to divulge now. We love the Manze website, which bigs up the fact that Jim Davidson is a regular and boldly states that, 'It is also said that David Beckham eats here when he is in England.' Well you can't blame a joint for trying.
The Guinea Grill - Mayfair
There's been a pub on this spot since the 15th century and happily the Guinea still looks fabulously unreconstructed. While it's also unabashedly pro-tourist there's a serious story to the food. All the meat comes from top London butcher Frank Godfreys in Highbury who have a dry ageing room just to supply this pub. Go for either of the pies - the steak and mushroom or the steak and kidney. At £10.50 each they're  pretty good value for this part of town.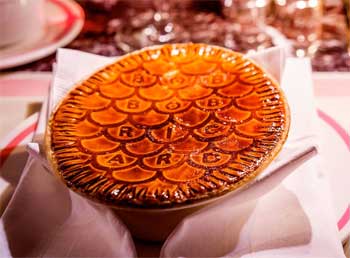 Bob Bob Ricard - Soho
Despite the hoards of Soho restaurants to come after it, the deliciously-over-the-top Bob Bob Ricard will never be out of vogue. Only they would take something as down-to-earth as a pie and elevate it to decadent heights by cooking the filling in champagne, topping it with a pretty patterned crust, then serving it with truffle gravy. Even better (if you're a vegetarian), they also do a Champagne and truffle humble pie made with mushrooms, pecorino, lee, black truffle, pearl barley and champagne - yours for £17.50. And this - this is their fish pie.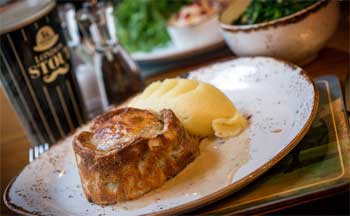 The Windmill - Mayfair
Ask a selection of pastry- loving Londoners where to get a decent pie and chances are The Windmill will come up more than once. With a pie club, a pie-dedicated You Tube channel and two 'pie rooms', there's little doubt that they take this stuff very seriously. The classic steak has won the National Pie Award three times. Enough said. We think a visit to this grand Mayfair boozer should be for life, not just for Pie Week.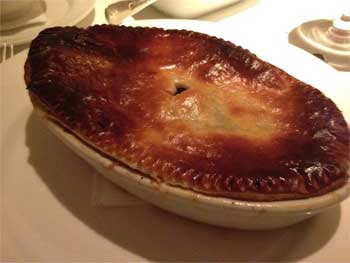 Quo Vadis - 26-29 Dean Street, London, W1D 3LL
Every day is pie day at Quo Vadis where Jeremy Lee's beautifully drawn menus feature a pie of the day. At the time of going to press it was beef pie and mash for a pretty decent £18. We've also had a stellar rabbit and pork pie there (pictured) which we can testify to being the business.
Also try
 If you want to know where else to enjoy the best of British food, view our full list of London restaurant reviews.