If you've spent the best part of the year dining out and don't see why you shouldn't continue in the same vein on Christmas Day, then luckily there are plenty of places to cater for you in London. As you'd expect, every hotel will be open, which is where you'll find the greatest choice of dining rooms, but there's stilll plenty of restaurants and gastropubs around town where refugees who'd prefer to be cooked for without having to endure a family Christmas can find a home on 25th December.
Take the stress and strain out of perfectly timing the turkey or wasting time over the washing up. Almost all of the open establishments will be serving traditional turkey but we've looked into what else is on the menu at the restaurants that are open on Christmas Day.
Hotels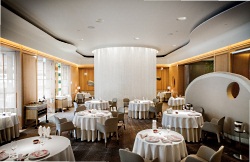 Alain Ducasse at the Dorchester
53 Park Ln, London W1K 1QA
Having said most establishments offer a traditional bird, there'll be no turkey at the three Michelin star restaurant on Christmas Day. The Park Lane restaurant will serve hand-dived sea scallop lettuce cream and caviar, duck foie gras terrine pickled carrots, black truffle condiment, Scottish langoustines, minestrone broth, seared john dory, winkles, cockles and razor clams 'marinière', Jaune des Landes' capon truffled chicken 'caillettes', cranberries and a desert of Yule log.
Price: £295 per person for six courses with wine pairings
Find out more about Alain Ducasse at The Dorchester

The Balcon at Sofitel St James
8 Pall Mall, London SW1Y 5NG
The champagne bar will be serving a four course menu including Scottish pheasant terrine, sautéed foie gras, fig and apple chutney; Roasted Aylesbury duck breast, feuilleté of porcini and duck leg confit, Madeira sauce; Free range Shalford Bronze turkey crown, traditional trimmings, orange and cranberry sauce; Clove crème brûlée, marinated dried fruits.
Price: £100 per person for four courses
Find out more about The Balcon
Bar Boulud at The Mandarin Oriental
66 Knightsbridge, London SW1X 7LA
Christmas lunch at the restaurant just a stone's throw from Hyde Park has a three course menu with a number of selections. Highlights look to be Degustation de Dinde (turkey breast, braised leg, white sausage, sage stuffing, brussels sprout fondue, sweet potato, cranberry compote) and Buche a la framboise (red velvet yule log, raspberry compote, vanilla mousse, meringue yuzu sorbet).
Price: £78 per person for three courses
Find out more about Bar Boulud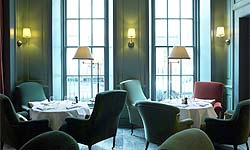 Dean St Townhouse
69 - 71 Dean St, London W1D 3SE
Head to the middle of Soho for lunch in the historic 18th Century Grade II listed building. Options on the menu include cured salmon, pickled cucumber, dill dressing; roast Bronze organic turkey, chestnut stuffing, cranberry sauce; turbot and mussels, shellfish bisque; tipsy sherry trifle; chocolate fondant, clementine ice cream.
Price: £95 per person for four courses and a glass of house champagne
Find out more about Dean St Townhouse
Galvin at Windows
London Hilton on Park Lane, 22 Park Lane, London W1K 1BE
Keep an eye out for Santa heading home from the dining room at the top of the Park Lane Hilton. There's a special Christmas menu for children and the adult menu includes such delights as Galvin Smoked Salmon, Dorset crab, horseradish cream, beetroots & dill or Ballotine of foie gras, pain d'épice & orange purée to start, followed by Pan fried fillet of halibut, cuttlefish, braised Swiss chard & spiced glaze or turkey with all the trimmings.
Price: £250 per person for a four course lunch with canapes and champagne to start
Find out more about Galvin at Windows
The Gilbert Scott
St Pancras Renaissance Hotel, Euston Rd, London NW1 2AR
Marcus Wareing's restaurant at the Renaissance Hotel at St Pancras will have a six course menu on Christmas day. It includes pumpkin soup, nutmeg, whiskey; foie gras and smoked chicken terrine, pickled quince; roasted goose, goose sausage roll, cranberry relish or Lake District sirloin, Yorkshire pudding, stout braised shallots or Scottish sea bass, baby gem, Dorset crab. For dessert there's clementine pudding with crème fraîche ice cream and also Kir Royale truffles.
Price: £105 per person plus £55 for a matching wine selection.
Find out more about The Gilbert Scott
Hoi Polloi at the Ace Hotel
Ace Hotel, 100 Shoreditch High St, London E1 6JQ
The new Ace hotel over in Shoreditch with Bistrotheque's Hoi Polloi restaurant is ideal if you're after an East London Christmas. The six course menu includes Jerusalem artichoke & black perigord truffle soup; foie gras parfait, earl grey tea jelly & brioche; butternut squash agnolotti, goats curd & hazelnuts; Roasted norfolk bronze turkey & trimmings; braised beef featherblade, celeriac & wild mushrooms; Christmas pudding & custard; chocolate tart & salted caramel ice cream.
Price: £85 per person.
Find out more about Hoi Polloi
Holborn Dining Room
Rosewood London, High Holborn, London WC1V 7EN
The newcomer at the Rosewood hotel in Holborn is opening for the first time this Christmas. The menu includes: roast parsnip soup truffled Bermondsey honey; hand carved Maldon smoked salmon spiced avocado; roast Norfolk bronze turkey red cabbage, cranberry sauce; roast ribeye "club cut" pepper sauce, crispy onions; Christmas pudding soufflé; chocolate bomb kirsch cherries.
Price: £65 per person for three courses.
Find out more about Holborn Dining Room
Marcus at The Berkeley
The Berkeley, Wilton Place, Knightsbridge, London, SW1X 7RL
Marcus Wareing has a special tasting menu of six courses which include dishes such as halibut, fennel, caviar, lobster consommé; Rhug Estate goose, turnip, sprouts, truffle and Chocolate, chestnut, clementine, spice. There's also a vegetarian tasting menu on offer too.
Price: The Tasting menu is £375 per guest with paired wines. Lighter festive children's menus are available on request at £125 for those under 13 years old or £180 for those under 18 years old.
Find out more about Marcus at The Berkeley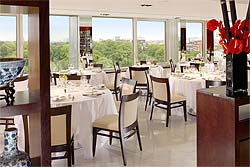 Min Jiang
2-24 Kensington High St, London W8 4PT
Enjoy the views over Kensington Palace gardens at this Chinese restaurant which is serving beef and dover sole on its seven course menu instead of turkey. Dishes include sautéed rib-eye of beef in Mongolian sauce; pan fried Dover sole in XO sauce; stir-fried spinach with shitake mushrooms in supreme stock; warm honey and ginger Cake with lychee and rose water ice cream.
Price: £90 per person for the vegetarian or five course menu, £110 for the six course menu
The Ritz Restaurant
150 Piccadilly, London W1J 9BR
The main meal at the Ritz is served in The Ritz Restaurant with live entertainment, a magician, caricaturist and entertainment for the children including a visit and gift from Father Christmas. The six course menu includes torchon of goose liver, apricot and ginger gel with toasted brioche; traditional roast Norfolk bronze turkey with chestnut stuffing or venison wellington with celeriac puree and truffle sauce and, to end,  The Ritz Christmas pudding.
Price: £400 per adult/£195 per child. There's also a Christmas night four course dinner with live entertainment for £290 per adult/£140 for a child.
The Savoy Grill
Savoy Hotel, Strand, London WC2R 0EU
At The Savoy, Gordon Ramsay's restaurant will be serving up both Christmas Day lunch and Dinner (and it's worth noting that most of his restaurants are open on Christmas Day). The Savoy's lunch menu includes a number of choices alongside the usual turkey including roast pumpkin soup with goat's curd croquette, glazed omelette Arnold Bennet with Gruyère cheese, roast young Yorkshire turkey with stuffing and turkey jus, Black Angus rib of beef with Yorkshire pudding and horseradish sauce. For dessert there's Christmas pudding with brandy butter or pouring cream or a hot chocolate fondant with malt ice cream.
Price: £165 per person for six courses
Find out more about The Savoy Grill

Sea Containers
20 Upper Ground London SE1 9PD
A newcomer this year, Seamus Mullen's Sea Containers restaurant on the South Bank will also be open for Christmas day lunch. The five course menu will include an amuse bouche and bubbly on arrival, followed by a menu with highlights including Roast quail breast, confit leg, puy lentils, white pudding, salsify; Butter poached hake, crab cannelloni,  cauliflower purée,  Brussels sprouts, crispy skin. Instead of a classic Christmas Pud (which is available too) you can end with the Selection of cheeses from Neal's Yard with quince jelly and freshly baked oat biscuits.
Price: £115 per person.
Find out more about Sea Containers

Zetter Town House
49-50 St John's Square, London EC1V 4JJ
If you fancy getting out of the house on Christmas Day after you've had Christmas lunch and are wondering what's available, we rather like the sound of the offering here. The Zetter Townhouse will be open as usual serving up their cracking cocktails as well as a menu of bites and supper bowls created by Bruno Loubet.
Price: A la carte.
Find out more about The Zetter

Shangri La at The Shard
31 St Thomas St, London SE1 9QU
If you fancy a view with your Christmas Day lunch, then the Shangri La at The Shard is the place for you. Dishes include slow-cooked Denham Estate venison loin and roasted Norfolk turkey with chestnut stuffing, goose-fat roasted potatoes, brussels tops, crushed carrots and cranberry compote. There will also be traditional Christmas puddings and Father Christmas making an appearance during service, plus Christmas cookie-making and other festive crafts.
Price: £150 per person with paired wines.
Find out more about Shangri La at The Shard

Pubs
Renaissance pubs
Lots of the Renaissance group of pubs will be open on Christmas day. Here's the menus on offer:
The Abbeville (Clapham): £65 for 3 courses including a glass of Buck's Fizz.
The Avalon (Clapham): £75 for 6 courses including a glass of Prosecco or Rossini.
The Bolingbroke (Battersea): £75 for 6 courses including a glass of Prosecco or Buck's Fizz.
The Latchmere (Battersea): £65 for 3 courses.
The Rosendale (West Dulwich): £70 for 5 courses including a glass of Prosecco or Buck's Fizz
Find out more about Renaissance pubs at Christmas 
Paradise by Way of Kensal Green
19 Kilburn Lane, Kensal Green, London W10 4AE
This Kensal Green pub will have a four course menu that includes: beef carpaccio with parmesan, rocket cress, green olives, grissini; smoked salmon with pickled beetroot, caviar, wasabi crème fraiche followed by new season turkey served with herb liver stuffing, traditional garnishes and cranberry jus; Monkfish or Confit Duck Leg. Plus there will be a cheese board and mince pies.
Price: £95 per adult. £35 per child.
Find out more about Paradise by way of Kensal Green
The Ship
41 Jews Row, Wandsworth London. SW18 1TB
Over in Wandsworth, the Ship will also be open on Christmas Day, offering a special four course menu. The menu includes roasted pumpkin soup, garlic and sage croutons; smoked duck breast, celeriac remoulade, cider jelly ; crown of English rose turkey, honey glazed gammon, pigs in blankets, goose fat roasted potatoes, honey roasted carrots, parsnips seasonal stuffing, spiced red cabbage, gravy. There's also a twice baked Stilton soufflé with sautéed artichoke and spinach, tarragon cream and black olive crôute. For dessert, choose between orange, chocolate and amaretto trifle or Christmas pudding with vanilla ice cream and rum custard.
Price: £70 per person for four courses
Restaurants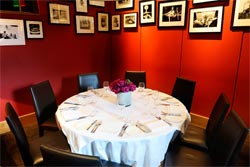 Almeida
Almeida St, London N1 1TA
The Islington restaurant is offering a four course tasting menu on Christmas Day. It includes roasted game consomme, liver parfait, beetroot, hazelnuts; roasted loin of cod, mussels, leeks, cauliflower, creamed potatoes or venison wellington, beetroot, creamed cabbage, green peppercorns, pickled pear. For dessert there's Christmas pudding, brandy sauce and vanilla ice cream.
Price: £70 per person for three courses including canapés and coffee and Paul A Young chocolates to finish.
Gordon Ramsay restaurants
As well as the Savoy Grill above, quite a few of Gordon Ramsay's restaurants are open over the Christmas period. Each have a five or six course menu with turkey and pudding always a feature.
London House: £80 per person, £40 for children 
Maze: £130 per person, £50 for children
Maze Grill: £90 per person, £45 for children
The Narrow: £80 per person, £40 for children 
York and Albany: £100 per person, £45 for children
Find out more about Gordon Ramsay restaurants at Christmas

Cinnamon Kitchen and Cinnamon Club
9 Devonshire Square, London EC2M 4YL and The Old Westminster Library, 30-32 Great Smith St, London SW1P 3BU
All of Vivek Singh's restaurants are serving on Christmas day, with these two being the more high end affairs. Cinnamon Kitchen's menu includes Scottish salmon with dill & mustard, green pea relish; grilled breast of partridge with pickle spices; grilled goose breast, cafreal spices, roasted winter vegetables; Slow braised Kentish lamb shank with rogan josh sauce, pilau rice and then spiced fruit pudding with cinnamon anglais.
Cinnamon Club's menu includes Keralan style lobster soup flamed with brandy, garlic naan; Tandoori breast of Cartmel Valley pheasant with soola masala, coriander chutney; South Indian style stir-fry of goose breast with red onion and curry leaf, layered paratha; Slow-braised Herdwick lamb shoulder with saffron sauce, lamb galauti kebab. Dessert is Garam masala Christmas pudding with nutmeg custard.
Cinnamon Club: £85 per person
Cinnamon Kitchen: £60 per person for three courses plus an arrival aperitif.
Find out more about Cinnamon Kitchen
Cinnamon Soho
5 Kingly St, London W1B 5PF
Soho's probably not going to be the busiest place on Christmas Day, but this has one of the best value menus available. The menu includes rann-braised lamb shoulder with saffron sauce and stir-fried turkey with pepper and curry leaf.
Find out more about Cinnamon Soho
Duck and Waffle
Heron Tower, 110 Bishopsgate, London EC2N 4AY
No a la carte menu items or turkey will be served on the day but the tasting menu includes: devilled quail eggs with truffle, parmesan;  roast barbary duck with pearl barley & confit leg ragout, pumpkin purée & trompettes;  port infused Stilton with homemade oatcakes, grapes;  Torrejas with maple glazed apples and Christmas pudding ice cream. Plus they'll have Dan Doherty's much sought after mince pies.
Price: £85 per person for a five course tasting menu
Find out more about Duck & Waffle
108 Brasserie
108 Marylebone Lane, Marylebone, London W1U 2QE
The just-revamped brasserie is ideal if you're looking for somewhere in Marylebone. The menu will include seared scallop, celeriac and apple; foie gras parfait, mulled wine jelly, brioche toast; Norfolk bronze turkey, chestnut stuffing, bread sauce and Christmas pudding.
Price: £80 per person for five courses.
Find out more about 108 Brasserie
Gorgeous Kitchen
Heathrow Terminal 2
Flying on Christmas Day can be relatively stress-free but it doesn't mean you have to miss out on Christmas lunch as Gorgeous Kitchen will be open in Heathrow Terminal 2. The menu includes several Christmas specials including roast turkey, roast potatoes and cranberry sauce, £14.95, and complimentary mince pies with coffee.
Price: A la Carte.
Find out more about Gorgeous Kitchen
Hoxton Grill
81 Great Eastern St, London EC2A 3HU
This Shoreditch spot will open for Christmas lunch with a four course menu. Dishes include Jerusalem artichoke soup, truffle oil; roast turkey & trimmings; Champagne sorbet; Christmas pudding and brandy cream.
Price: £78 per person for four courses
Find out more about the Hoxton Grill.