If you've spent the best part of the year dining out and don't see why you shouldn't continue in the same vein on Christmas Day, then luckily there's plenty of places to cater for you in London. As you'd expect, every hotel will be open, which is where you'll find the greatest choice of dining rooms, but there's still the odd restaurant and gastropub around town where refugees who'd prefer to be cooked for without having to endure a family Christmas can find a home on 25th December.
Take the stress and strain out of perfectly timing the turkey or wasting time over the washing up. Almost all of the open establishments will be serving traditional turkey but we've looked into what else is on the menu at the restaurants that are open on Christmas Day.
Hotels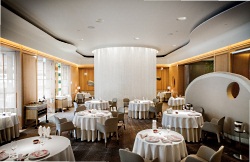 Alain Ducasse at the Dorchester
Having said most establishments offer a traditional bird, there'll be no turkey at the three Michelin star restaurant on Christmas Day. The Park Lane restaurant will serve courses like roasted duck foie gras with potato gnocchi and black truffle, truffled chicken with cranberries and Yule log followed by petit fours.
Price: £295 per person for six courses with wine pairings
Find out more about Alain Ducasse at the Dorchester

Alyn Williams at the Westbury
Have a Michelin-starred feast with canapés to start followed by a chilled pumpkin soup with sage oil and ricotta dumplings, a fore rib of Galloway beef with heritage beetroot, parsnips and creamed potatoes and dessert of baked apple calvados with vanilla ice cream.
Price: £180 per person for nine courses.
Find out more about Alyn Williams at the Westbury

Bar Boulud at The Mandarin Oriental

Christmas lunch at the restaurant just a stone's throw from Hyde Park includes a roasted chestnut and celeriac soup with black truffle and loin of venison with seared foie gras and brioche croutes. And who needs mince pies when a honey roasted apple with panna cotta and cinnamon ice cream is on offer?
Price: £75 per person for three courses
Christmas lunch at Eric Chavot's place kicks off with a liver parfait with spicy figs and prunes, followed by marinated salmon with lemon jelly. The main course is a roast turkey fillet with potato cake and to finish a Coupe de Noel.
Price: £100 per person to include a house aperitif on arrival and tea and coffee
Find out more Brasserie Chavot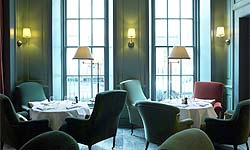 Dean St Townhouse
Head to the middle of Soho for lunch in the historic 18th Century Grade II listed building. Start with the potted ham and wild rabbit with piccalilli and then roast rib Hereford with Yorkshire pudding and horseradish before the tipsy sherry trifle. [Update - there's now a waiting list of 100 here]
Price: £95 per person for four courses and a glass of house champagne
Find out more about Dean St Townhouse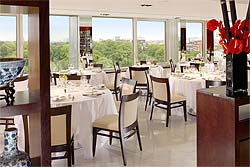 Min Jiang
Enjoy the views over Kensington Palace gardens at this Chinese restaurant which is serving Beijing duck rather than turkey. Other dishes include cumin spiced fillet of beef with foie gras, honey and soy roast black cod and a chilled ginger and orange soup with cranberry ice cream.
Price: £90 per person for the vegetarian or 5 course menu, £110 for the six course menu
The Ritz Restaurant
The menu includes a terrine of wild duck and woodcock with a truffle and walnut vinaigrette, venison wellington with swede puree and red wine jus and the famous Ritz Christmas pudding served with brandy butter.
Price: £390 for adults, £180 for children, includes six-course lunch, live entertainment and a visit from Father Christmas.
The Balcon at Sofitel St James
The champagne bar will be serving four courses including a Scottish game and duck foie gras pate en croute, seared scallops with truffle scented mashed potatoes and lobster dressing, roasted cod with a butternut squash puree and brown shrimp butter plus Christmas pudding with brandy sauce.
Price: £100 per person for four courses
Find out more about The Balcon
Corner Room at Town Hall Hotel
For the first time, the restaurant at this East London hostelry will be open for both lunch and dinner on the big day. The menu features aged pumpkin with port, stracciatella and sage, beef tartare with sorrel and smoked yolk, hanger steak with swede, mustard and ricotta and apple and hazelnut with frozen panna cotta.
Price: £55 per person for four courses including a glass of fizz on arrival
Find out more about The Corner Room
Pubs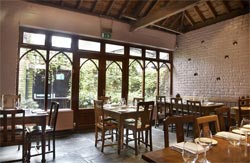 The White Horse
The west London pub is serving starters such as artichoke and roasted pear soup, venison loin or monkfish with clams for main course followed by pudding with brandy butter. All this and over 100 beers and 80 wines by the bottle - great if you want to make Christmas a very merry one.
Price: £70 per person for a three course meal followed by fudge and coffee.
Find out more about The White Horse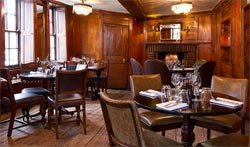 The Spaniards Inn
Sit beside the open fire in one of London's oldest pubs and enjoy a modern take on Christmas with dishes such as a pork and rabbit terrine with piccalilli and savoury ice cream, braised duck leg with sweet potato mash and salted treacle tart with walnut ice cream for dessert.
Price: £70 per person for a three course meal followed by coffee and petit fours.
Find out more about The Spaniards Inn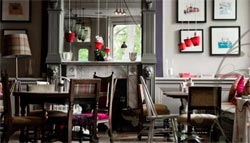 Brook Green
Starters include a whisky oak cured Scottish beef salad and seared scallops with air-dried wild venison, mains of vegetable nut roast and 21-day aged British beef followed by Baileys cream-filled profiteroles.
Price: £60 per person for four courses and a glass of bucks fizz on arrival.
Find out more about Brook Green
The Engineer
Start Christmas dinner in the trendy Primrose Hill pub with a baby beetroot salad with truffle honey and goats' curd, continue with the braised beef skirt with truffle white polenta, peas and crisp shallots and complete the meal with the untraditional chocolate brownie with peanut butter ice-cream before walking the whole thing off in the park afterwards.
Price: £80 per person for three courses followed by coffee and petit fours.
Find out more about The Engineer
Restaurants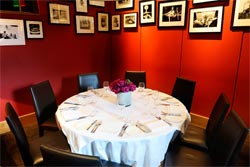 Almeida
A choice of three starters includes a foie gras terrine with spiced prune puree, main course is a traditional turkey served family style with all the trimmings followed by three dessert options such as the dark chocolate fondant with kumquat compote.
Price: £70 per person for three courses including canapés and bucks fizz on arrival and coffee and mince pies to finish.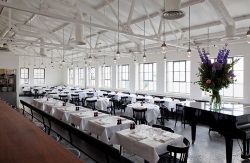 Bistrotheque
Over in Shoreditch, Bistrotheque will be kicking off their Christmas day lunch with oyster shooters before cured salmon, salt beef, turkey or goose with all the trimmings, finishing off with stilton and port and either Christmas pudding or floating islands.
Price: £80 for five courses..
Find out more about Bistrotheque

An Indian twist on the classic British dinner; kick off with clay oven roasted black chicken leg with saffron and almond. Instead of turkey there's grilled goose with vindaloo spices or chargrilled saddle of lamb for main and buffalo milk kulfi with cinnamon anglais for pudding.
Price: £60 per person for four courses including a Christmas Martini on arrival.
Find out more about Cinnamon Kitchen
One of the best value menus available on the day and not a turkey in sight. The menu starts with South Indian spiced crab and haddock cake, mains include fiery Rajasthani lamb curry with cloves and pilau rice and lunch is completed with a garam masala pudding with cinnamon ice-cream.
Price: £40 per person for four courses including appetisers to share at the table.
Find out more about Cinnamon Soho
No a la carte menu items or turkey will be served on the day but the tasting menu includes wild mushroom croquettes with goats curd mousse, artichoke and truffle ravioli with pecorino and hazelnuts, roast Barbary duck with salt bake turnips and panettone bread pudding, to name but a few.
Price: £65 per person for a special tasting menu followed by mince pies.
Find out more about Duck & Waffle
Another London restaurant offering a high rise dining experience on Christmas Day is Hutong. They have two menus on offer - one vegetarian - with such delights as Wagyu beef puffs and their amazing Red lantern soft shell crab with Sichuan chilli. Round the meal off with mini egg tarts, steamed sweet lotus seeds buns or seasonal berries and honey ginger ice cream
Price: £155 per person for four courses (£100 for the vegetarian menu)
The seven course tasting menu here on Christmas Day will include dishes like warm pumpkin and gingerbread balls, smoked goose with foie gras and cranberry, Lake District beef with braised oxtail and Yorkshire pudding and spiced sticky toffee pudding with custard ice cream.
Price: £105 for the tasting menu, £160 with matching wines
Find out more about The Gilbert Scott
This Shoreditch spot will open for Christmas lunch with a three course meal with additional Champagne sorbet course and mince pies to finish. Dishes include Jerusalem artichoke soup and truffle oil, Mushroom Wellington with Madeira beurre blanc and caramelised pear cheesecake.
Price: £78 per person for four courses
Find out more about the Hoxton Grill.
Plus something rather special for Boxing Day
Le Gavroche
Finally, if escaping the family festivities on Christmas Day is a three-line whip, treat yourself to a special dinner on Boxing Day instead. Le Gavroche will open its doors for Christmas for the first time since opening in 1967. The menu, created by Michel Roux Jr, is priced at £220 per person and includes eight courses and fine wines from around the world.
Courses include lobster and sauternes gratin, grilled Dover sole with truffled hollandaise, fillet of Galloway beef with duck fat potatoes and an assortment of the chef's favourite desserts.
Price: £220 per person.
Find out more about Le Gavroche
See also: Over in Camden, Namaaste Kitchen will be offering a delicious six-course tasting menu with Indian dishes such as Turkey Hazari Murgh Tiikka and Kadhai Spiced Pan Seared Scallops. The tasting menus with wine and Kir Royal is a respectable £59.95 per person and without the wine is a bargainous £44.95.